By David Gignilliat
The holidays are a time for celebration, good cheer and sharing good tidings with family and friends. In Prince William, revelers can choose from an eclectic assortment of yuletide happenings to make this year's holiday season more merry.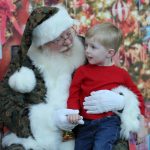 What: Santa Run, Walk & Roll
When: Saturday, Dec. 7, 2019, starting at 9:00 a.m.
Where: 9751 Ox Road, Lorton
Be a Claus for a Cause! Walk or run! Athletes of all abilities are encouraged to participate in this festive event. Wear some Santa apparel or even a full Santa outfit while supporting the great work of The Arc of Greater Prince William/INSIGHT, Inc. "We are especially excited to welcome people with intellectual and developmental disabilities who may not be able to participate in other races," said Karen Smith, executive director.
What: "Laser Holidays" & "The Alien Who Stole Christmas"
When: Saturday, Dec. 7, 14 and 21, 2019 at 1:00 p.m. ("Alien"), and 2:30 p.m. and 7 p.m. ("Laser Holidays")
Where: Irene V. Hylton Planetarium, C.D. Hylton High School, 14051 Spriggs Rd., Woodbridge
"Laser Holidays" includes an intriguing mix of classical and modern holiday music, set to a visually stunning laser show and digital artwork. "The Alien Who Stole Christmas" includes a tour of the winter sky and tells the story of Santa Claus and Mr. Freep, an alien, as they explore the solar system's planets and meet the Christmas Eve needs of their fictitious inhabitants."The holiday shows are an amazing way to experience a little holiday magic for children age 1 to 99," said Anthony Kilgore, planetarium director since 2008 and a former astronomy teacher at Battlefield High School in Manassas. "Each show is a unique experience."
What: "A Celtic Family Christmas"
When: Sunday, Dec. 8, 2019 at 9:00 p.m.
Where: Hylton Performing Arts Center, 10960 George Mason Circle, Manassas
Originally from Cape Breton Island, an Irish-heavy settlement on the eastern end of Nova Scotia, husband and wife — and world-renowned fiddle players — Natalie MacMaster and Donnell Leahy (and their seven children) bring their traditional and contemporary Irish holiday performances to the stage in a rollicking family-friendly performance. The duo has won multiple Junos, the Canadian equivalent of a Grammy. Fiddles, step dances, toe-tapping and hand-clapping will be the yule of the day, with performances in both English and Gaelic.
What: "Holiday Pops": American Festival Pops Orchestra
When: Friday, Dec. 13, 2019 at 9:00 p.m.
Where: Hylton Performing Arts Center, 10960 George Mason Circle, Manassas
For those who enjoy a more classical take on the holiday songbook, the Holiday Pops concert (featuring Leroy Anderson's "Sleigh Ride," "A Christmas Festival" and an energetic caroling sing-a-long) is one not to miss. "The annual Holiday Pops concert of the American Festival Pops Orchestra is a highlight of the season, and one of our most popular concerts all year," said Rick Davis, executive director of the Hylton Performing Arts Center. The orchestra is led by Anthony Maiello, a professor of music at George Mason University, an acclaimed musician and a frequentcover conductor with the National Symphony Orchestra. "Maestro Maiello's warmth and wit comes through in his banter with the audience, inventive programming and, most of all, in his inspired conducting of some of this region's most accomplished professional musicians," said Davis, who also is dean of George Mason's College of Visual and Performing Arts.
What: Old Town Manassas Christmas Market and Holiday Craft Show
When: Saturday and Sunday, Dec. 14 and 15, 2019 from 12:00 noon to 4:00 p.m.
Where: Harris Pavilion, 9201 Center St, Manassas
Holiday shoppers can find unique holiday gifts from a variety of vendors, everything from arts and crafts to jewelry and homemade baked goods, to body and hair care products.
What: WinterFest 2019
When: Saturday, Dec. 14, 2019 from 3:00 to 7:00 p.m.
Where: Lake Ridge and Historic Town of Occoquan
It's a magical time of year in Lake Ridge and Occoquan! You won't want to miss this year's WinterFest. WinterFest begins with "Santa's Lake Ridge Parade" from 11:00 a.m. to 12:00 noon. Tackett's Mill's Winter Wonderland lasts until 2:00 p.m. and includes a meet and greet with Santa, plus a parade award ceremony, live music, treats and giveaways. WinterFest continues from 3:00 to 9:00 p.m. in Historic Occoquan. Enjoy shopping, dining, strolling carolers, holiday music, fire pits, and marshmallow roasting. A festive display of fireworks after dusk is sponsored by Prince William Marina.
What: 2019 Gar-Field High School Music Boosters Holiday Craft Show
When: Saturday, Dec. 14, 2019 from 9:00 a.m. to 3:00 p.m.
Where: Gar-Field High School, 14000 Smoketown Road, Woodbridge
The Gar-Field High School Music Boosters will host its 37th annual Holiday Craft Show, featuring over 160 different crafters and artists. One of the largest shows in the area, it is the perfect place to get those special handmade and unique holiday gifts. Conveniently located across from Potomac Mills, admission to the popular event is free, and two of the area's favorite food trucks (a surprise?) will be nearby when patrons need a snack break from shopping.
What: Visit With Santa, National Museum of the Marine Corps
When: Saturday, Dec. 14, 2019 through Tuesday, Dec. 17, 2:00 to 4:00 p.m.
Where: 18900 Jefferson Davis Highway, Triangle
Free to the public, the afternoon Christmas-themed activities include a puppet show, pictures with St. Nick and noon showings of the popular holiday animated film "The Polar Express" at the Medal of Honor Theatre.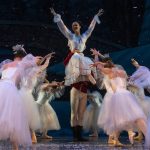 What: Manassas Ballet Theatre, "The Nutcracker"
When: Wednesday, Dec. 18, 2019, 7:30 p.m., Thursday, Dec. 19, 2019, 7:30 p.m., Friday, Dec. 20, 2019, 7:30 p.m., Saturday, Dec. 21, 2019, 3:00 and 7:00 p.m., Sunday, Dec. 22, 2019, 3:00 and 7:00 p.m.
Where: Hylton Performing Arts Center, 10960 George Mason Circle, Manassas
The Manassas Ballet Theatre in Northern Virginia is performing its most popular production of The Nutcracker, a traditional holiday program appropriate for the entire family. The production features over 25 professional dancers with live music by the Manassas Ballet Orchestra. Nearly 100 student dancers also are included in the cast in children's roles.
What: "Winter Sounds" from Old Bridge Chamber Orchestra (OBCO)
When: Friday, Dec. 21, 2019, from 7:30 to 9:30 p.m.
Where: 13600 Minnieville Road, Woodbridge
OBCO will perform Vivaldi's Winter featuring Sheyna Burt on violin. Also on the program are Tchaikovsky's The Nutcracker Suite, Rimsky-Korsakov's Russian Easter Overture and Anderson's A Christmas Festival.
"This will be our first winter/holiday themed concert in many years," said OBCO concertmistress and board president Sheyna Burt. "The orchestra is thrilled to show off some of the most beloved sounds of the season."
A Hit Parade
Several cities and towns in Prince William will also be taking it to the streets in local holiday parades:
What: Greater Manassas Christmas Parade
When: Saturday, Dec. 7, 2019, from 10:00 a.m.to 12:00 noon
Where: Old Town Manassas
Featuring 2,000 participants and 300 volunteers, the annual Greater Manassas Christmas Parade is one of the largest holiday events in Northern Virginia. Now in its 74th year, the event will include over 100 floats and will be judged by actual jurists in the local Prince William County court system.
What: Town of Dumfries Christmas Parade & Tree Lighting
When: Saturday, Dec. 14, 2019, from 12:00 noon to 6:00 p.m.
Where: 17755 Main Street, Dumfries
What: Santa's Lake Ridge Parade — A Storybook Christmas
When: Saturday, Dec. 14, 2019, from 12:00 noon to 6:00 p.m.
Where: 13020 Harbor Drive, Lake Ridge (near Ebenezer Baptist Church and Tackett's Mill Shopping Center)
David Gignilliat (dgignilliat@princewilliamliving.com) is a contributing writer for Prince William Living. He enjoys keeping up to date on local happenings and the people who make our area special.