By Reagan Turbak
Sponsored by Stonebridge Potomac Town Center
Even without the annual tree lighting this year, there is plenty for families to do at Stonebridge! This winter marks the first opening of the Stonebridge Ice Rink.
Bringing Holiday Cheer to Stonebridge
Located in front of the Alamo Drafthouse, the nearly 5,300 square foot ice rink returned holiday spirit to Stonebridge. This year several of Stonebridge's big events were canceled due to COVID restrictions. However, this winter was the first time Stonebridge opened an ice rink.
"We're excited to see people back at Stonebridge and having fun again," said Anastasia Podorski, Senior Property Manager with JBG Smith. This past summer, Stonebridge's Summer Concert Series had to be canceled. This winter, the popular tree lighting event was canceled because of social distancing restrictions. "One of the hardest things this year was not seeing people out enjoying Stonebridge," she said. The ice rink has brought that enjoyment back, even with all the restrictions.
The ice rink opened for the first time on Nov. 25, and its first weeks have been successful. One Sunday the rink opened at 12:30 p.m. By 2:30 p.m., all reservation slots were sold for the day. Because of the limited sessions, Podorski recommends making reservations and checking the Stonebridge Facebook page for updates on session availability. The weekends are especially busy.
"It's been a two-fold benefit," said Podorski on having the ice rink. The ice-skating attraction brings people to Stonebridge to ice skate and shop. Stores and restaurants have also seen hard times due to restrictions. "We're definitely hoping that it helps our retailers and our restaurants to get some people in their doors," she said. Stores and restaurants in Stonebridge are open and accommodating customers. Food is available for takeout or dine-in. If you are willing to brave the cool air, you can also dine outdoors and watch the skaters for extra winter cheer.
Making Winter Fun Possible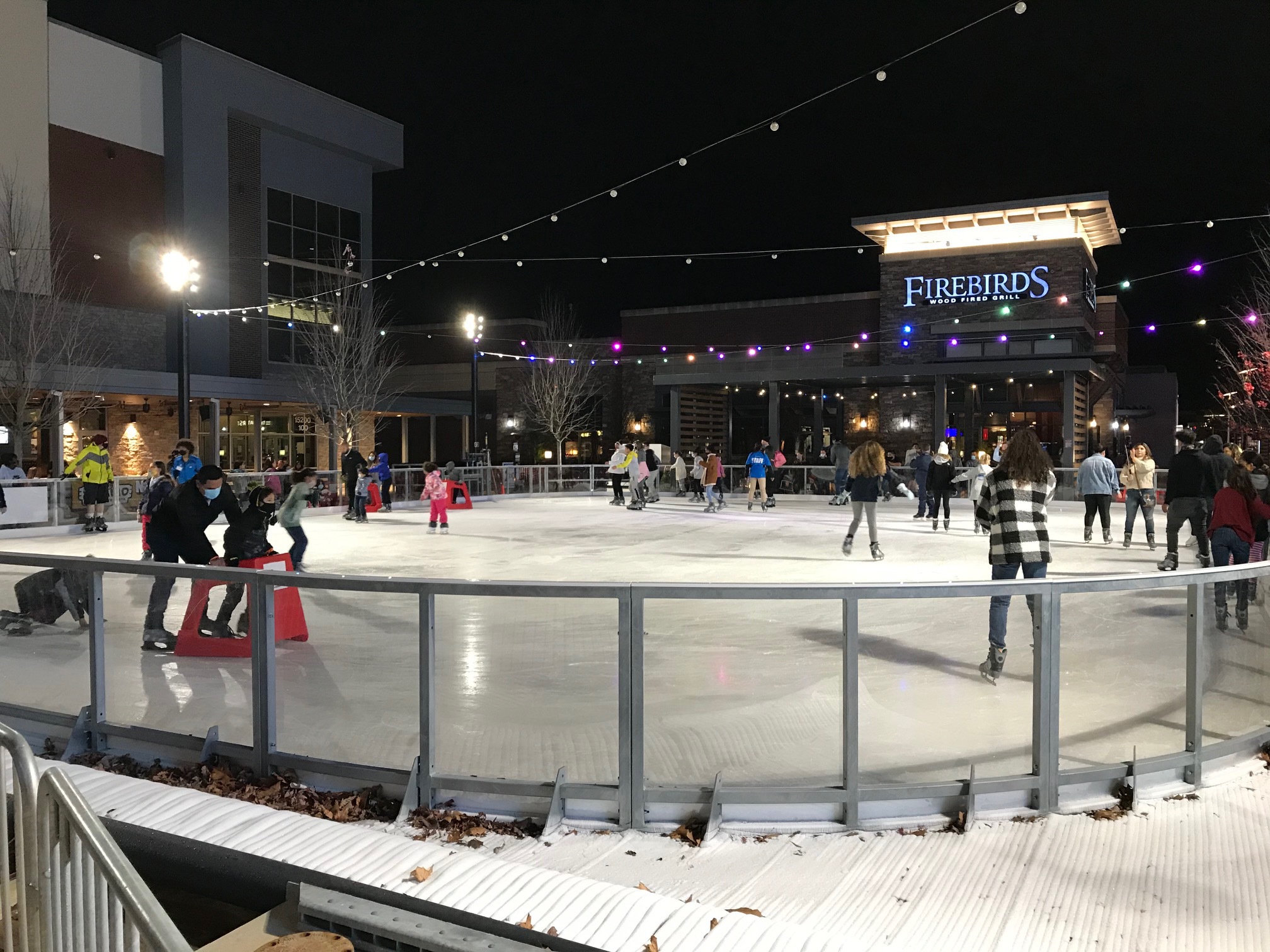 According to Podorski, the ice-skating rink has been in the works for a couple of years now. It was made a reality this winter by restrictions set by Rink Management, the company running the rink. Rink Management limited the number of skaters on the ice at one time to 60, and skaters are required to wear masks. In addition, there's no need to worry about skates or skill since Stonebridge Ice-skating Rink has rental skates and skate aids available.
The rink will be open through January, possibly longer, depending on weather and if people continue to come. Either way, this will not be the last year of Stonebridge's ice rink.
"If we could have done our tree lighting, we would have been like our own little Rockefeller Center." Podorski said. "A skating rink and a giant Christmas tree." Luckily, the rink will be here "for the foreseeable future," so there's still time for a tree lighting and an ice-skating event in upcoming years.
If you are looking to skate, you can reserve a one-and-a half-hour session and pay online at stonebridgeptc.com/skating. While you can purchase sessions on-site, reservations are encouraged due to the popularity of the rink.
Be sure to check Stonebridge at Potomac Town Center on Facebook or Instagram for updates on whether the rink is sold out for the day or for any updates on hours and inclement weather.
For any information about the ice-skating rink, email skatestonebridge@gmail.com. For any questions about Stonebridge, email Anastasia Podorski at apodorski@jbgsmith.com.