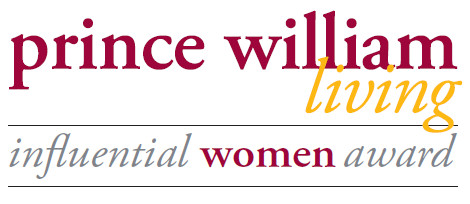 Prince William Living Influential Women Award
When Prince William Living launched its first Influential Women Awards nine years ago, we quickly realized that this topic resonated with readers. Entries poured in, and the issue announcing the inaugural winners was one of our most-read to date. Choosing just five women from the impressive entries was no easy task for our judges.  Today it isn't any easier, but we are proud to see how the awards have grown and our judges include past winners! Many women in Greater Prince William give of themselves to strengthen our community, leaving their marks in the business world and serving as inspirations to others. 
Thank you to our 2022 Influential Women Awards Sponsors:
All proceeds from this event go to GiveBackPW, our non-profit, for scholarships and quality of life issues in Prince William, Manassas, and Manassas Park.
All qualified nominees will be listed on pwliving.com, and the five top entries will be featured in the March issue of Prince William Living magazine. Winners will be selected by a panel of last year's Influential Women Award winners and PW Living staff. *WINNERS WILL BE CHOSEN BASED ON THE INFORMATION INCLUDED IN THE NOMINATION, THEREFORE THE QUALITY OF THE APPLICATION IS ESSENTIAL.* Nominations will be chosen based on leadership, philanthropy, and impact on OUR community.
Nominees must live in Prince William, Manassas, or Manassas Park and approve the nomination in order to qualify. Please do not nominate candidates that will be on vacation or have prior commitments during the timeframe of our celebration event (March 2022).
Nominees must have a history of volunteer work in the community. Current, incoming, or those planning to run for elected office during 2021 are ineligible. Applicants who are previously elected officials must demonstrate their qualifications OUTSIDE of their accomplishments directly tied to the office they held.

Previous winners cannot be nominated again.

Nominations are now closed for 2022 – Save the date,  for our awards presentation, March 2nd, 2022 at Sweeney Barn!
Questions?  Check our FAQ here.
Read About our 2021 Influential Women
Read About our 2020 Influential Women
Read About our 2019 Influential Women 
Read About our 2018 Influential Women
Read About our 2017 Influential Women
Read About our 2016 Influential Women
Read About our 2015 Influential Women
Read About our 2014 Influential Women
To follow awards updates on social media, look for hashtag #pwlInfluentialWomen. For questions, contact info@princewilliamliving.com.