Like this article? Support us by subscribing here. Your donation will help us continue to provide quality of life news and make local impact possible.
By Wendy Migdal
If you haven't yet experienced the zany art of John Hartt, it's likely you soon will. It's a style that could be described as surrealism, but happier. Hartt has been gracing the art spaces of the Prince William area professionally with his unique, off-beat style for several years now. But in the past two years, he's
begun taking it to the streets, fairly literally.
Playground art and murals now comprise the bulk of this talented artist's commissions. Hartt says he's completed about half a dozen works for playgrounds and has also done a few murals in Washington, D.C. Art for playgrounds might involve a stylized hopscotch board made to look like the planets in the solar system or a segmented alphabet worm. There could be a color wheel with funny faces or a huge number board with a chutes-and-ladders look to it. And there are some things that are just pure whimsy.
The playground art, located at various schools in the area including Yorkshire, Bristow Run, and Mullen Elementary Schools, is often completed per specific requests from staff. In addition to covering some reading, math, and science skills, Hartt sometimes receives special requests from other teachers. He's done an obstacle course with elements to help students learn their right from their left for the physical education
teacher, and a "How Do You Feel Today?" wheel with wacky balloon faces at the request of a guidance counselor.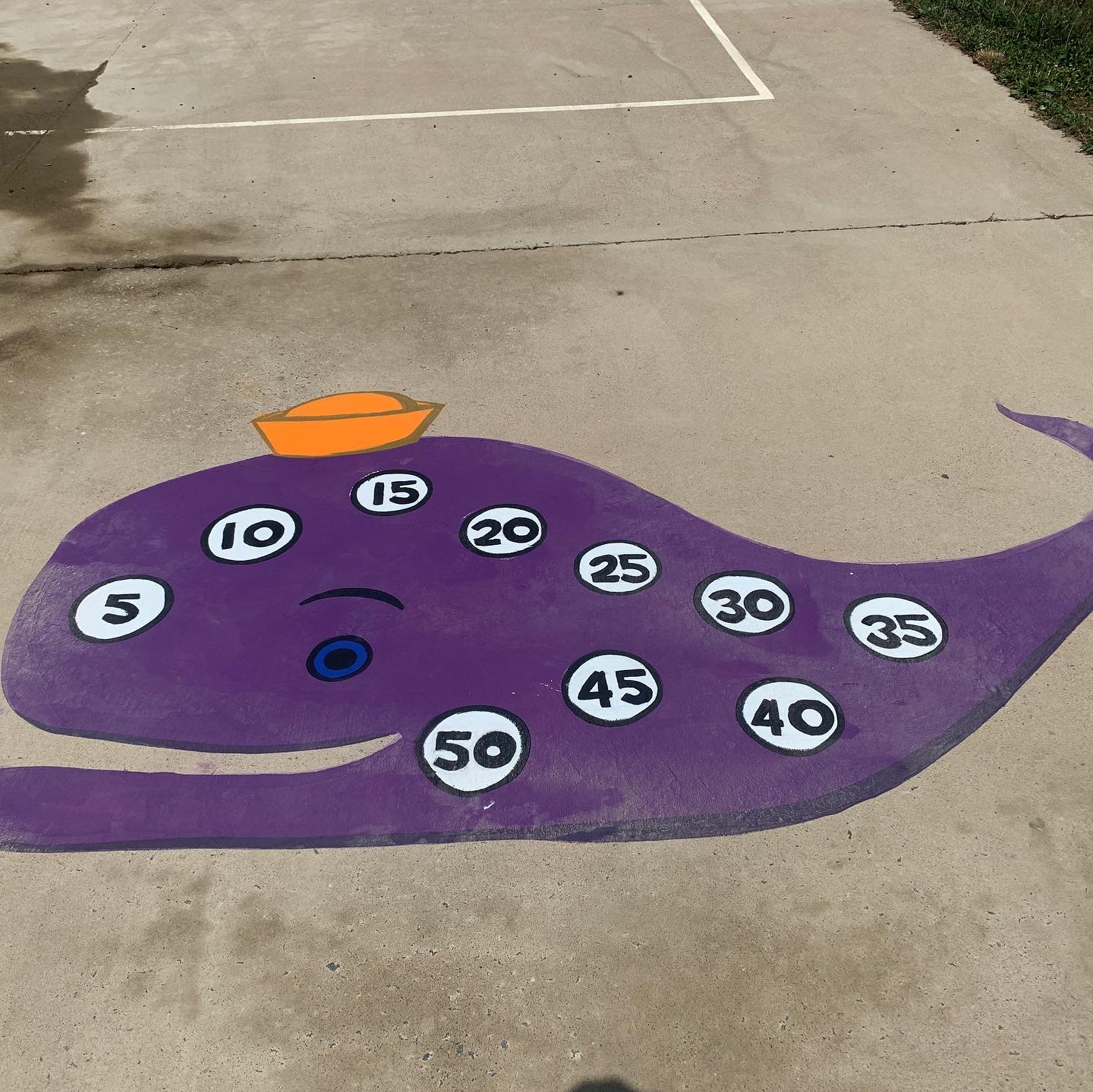 Completing a playground piece takes about a week. Hartt often calls upon his extensive network of friends for help. "I'm pretty active in the Prince William art scene," he says. "I'm in the Prince William Arts Council — I pretty much stick my nose into everything." Hartt assigns parts of the project to people to complete based on their particular skills. "And before I'm even done — I might be halfway through a project — I come back
the next day, and there's chalk all over the part that's completed. The kids are already interacting with the art."
One mural he's particularly proud of was on the side of a house in DC. The homeowner commissioned a cherry blossom scene for the side of his house. "The side of the house faced this ugly alley, and now there's this beautiful piece of art there," he says.
Hartt has been supporting himself full-time as an artist for about three years. Formerly a graphic designer, he had begun painting professionally on the side. Then his aerospace company was bought out by a larger one, and several people were let go, including Hartt. He decided at that point to make the leap and to myself, 'I don't want to be on my deathbed and regret not doing this,'" he says. "It's been wonderful and difficult. But mostly wonderful."
Hartt's family, including two grown children, has been very supportive. Which is good, because he's currently painting in his basement. An upcoming project might require finding a larger space to rent though, because he'll be working on a set of 8' by 4' plywood cutouts of his own unique creatures, inspired by a Bigfoot cutout he did as a commission. It may be displayed on the side of a road or at an events center.
Hartt says he'll paint anything people want him to, but he particularly loves doing his own crazy, whimsical creatures. He was that student sitting next you in high school who was always drawing in the margins of his notebooks. "I was really into underground comics, horror, anything that wasn't real." These days though, he tries not to get too close to the creepy, which he admits is easy to do. "I want my art to make people happy. I want them to smile when they see it," he says.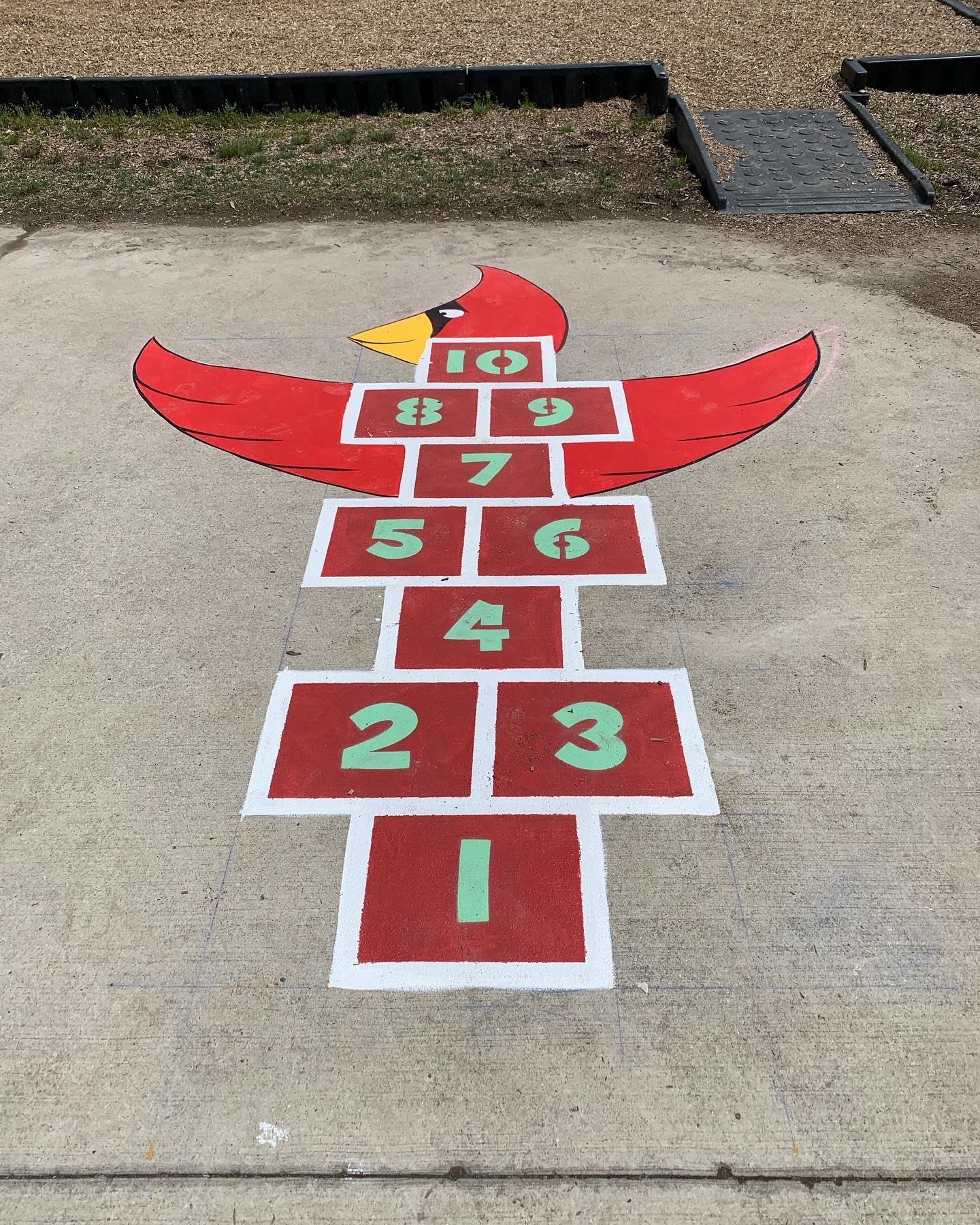 Right now, the large-scale art is paying the bills. But getting up on a ladder, being outside all day, and completing such large pieces is hard work. He has other projects going on, such as a recent show in Lorton with a batik artist, called "Batik Meets the Bizarre." And yes, you can buy prints, T-shirts, and stickers.
Hartt is already taking commissions for next summer's playgrounds and plans to keep doing it as long as he can. But he also loves sitting down in front of canvas, and the long-range plan is to be able to command prices for his smaller works that will sustain him when the playground period ends. A particularly unique category are his portraits, described on his website (jortt.com) as "strange and wonderful." They're certainly nothing like the traditional family portrait.
Regardless of what the piece is, Hartt says he loves being able to create something original and put it out there for people to see. "I love it so much. I'm living my best life now."
Wendy Migdal is a freelance writer who has lived in the Northern/Central Virginia area since 2000. She has written extensively for The Free Lance-Star and also works for online educational companies. Wendy enjoys traveling around the area to learn about parks, restaurants, attractions, and especially history.