By Erin Pittman
May is Brain Cancer Awareness Month, and local author and brain cancer survivor Kristina Kotlus is doing her part to spread awareness of this disease. Kotlus's book, "I Quit: Facing Cancer with Faith, Family, and Friends," was released on Feb. 4 of this year. This part cancer-fighting story/part spiritual and advice book shares her journey through two rounds of cancer diagnoses and treatments and provides hope for those in similar situations.
Kotlus's Experience
In the fall of 2012, Kotlus was experiencing severe headaches. She was diagnosed with migraines and given a medication that she was unable to take because of severe side effects. She pushed through the pain for three more months. In January of 2013, as she was helping one of her sons get ready for hockey practice, she passed out in the hallway. This time she was given an MRI very quickly.
"They called with my results the same day, and that's never a good sign," Kotlus said.
She was diagnosed with ependymoma, brain cancer.
"My husband and I decided to grieve for 24 hours. We cried and ate lots of Ben and Jerry's. Then I put on my big girl panties and trusted that God was going to deal with it," she said. She chose joy, as she did countless times over those next few years. Even when she was diagnosed a second time in 2017, when the same cancer had metastasized in her spine.
Throughout her years of treatment, Kotlus endured a 16-hour brain surgery, six weeks of radiation, spinal surgery, six more weeks of radiation, and a full year of chemotherapy.
It was during chemo that she went to lunch with some friends, two of whom were currently writing books. They said she should write a book, too. Kotlus is the owner of Prince William County Moms, pwcmoms.org, so writing was not new to her. She was in.
About the Book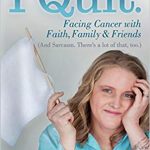 "I titled my book 'I Quit' because when I was diagnosed, I said, 'Here's the deal, God. I'm incapable of doing this; you're going to have to deal with this. I will find doctors and go to appointments, but I'm quitting — quitting worrying and carrying this myself. I'm not doing this. You're going to have to do this," she said.
Kotlus approached her story like she approached her treatment process — with humor, honesty and a healthy dose of sarcasm. Readers will discover a new way of thinking about healing from cancer.
"I reject the warrior mentality many people have against cancer," she said. "No one ever says when someone dies of old age that they lost their battle with old age or their heart, but they do with cancer. This mentality puts extra pressure on people with cancer, like if they don't live, then they've let others down. There's a responsibility on the person with cancer to triumph over this disease, and I find that ridiculous."
Kotlus encourages readers not to put pressure on people with cancer for something they have no control over. In the second part of her book, she shares advice with chapters like "My Friend Has Cancer and I Don't Want to Suck: A General Guide," offering advice on how to help loved ones with cancer, and "Contrary to What Your Teacher Told You There Are Stupid Questions," sharing things not to ask someone with cancer.
Kotlus notes she's not trying to win "the suffering Olympics," but she hopes that people will read her story and say, "If she can have that situation and still have hope, then I can, too." Readers will find the theme of choosing joy woven throughout her story — from keeping a gratitude and blessings journal as a family to
addressing the hard times with laughter through tears. "I fully believe that you can train yourself to choose joy, just like prayer, running, etc. It's a discipline," she said.
Kotlus Today
Kotlus continues to get MRI scans every three months to monitor her ependymoma. Her scans have remained stable since her last treatment ended.
Today, you'll find her writing on her blog and website, homeschooling her three children and speaking with women's groups, through the North Star Network, to cancer survivor groups and anyone else who invites her. She loves speaking with others about "parenting, faith, cancer, choosing joy, and, of course, general joking/sarcasm."
"It's been great, because the benefit of doing all this is being able to encourage people. I tried to write the book so that you wouldn't need to be a brain cancer patient to glean hope from it. People going through divorce, marriage struggles, different types of cancer and more can pull hope from it," she said.
To learn more about Kotlus or to order a copy of her book, visit kristinakotlus.com.
Erin Pittman has been a writer for 10 years, but a lover of words her entire life. Her work is published in local magazines and on local and national blogs. Contact Erin at epittman@princewilliamliving.com.