By Marianne Weaver
Meredith Harris worked at L&B's Pizzeria and Sports Bar carry-out counter when she was 16 years old. She
served tables and as an adult, stepped up as a part-time bartender. When the original owners decided to sell the business that has drawn locals to Mapledale Plaza since April 1991, she took on a new title: co-owner.
"It was going to be turned into a night club and I didn't want to see the local neighborhood pizzeria ruined," she said. "My best friend and I didn't want to see anything change. There is a great clientele base. I checked the numbers. We had the funds, so we made the sale happen."
And the locals couldn't be happier.
"I grew up a few blocks away from L&B's and I watched them build the place from a single parcel storefront to what it is today," said Michael Pigg. "I have had almost everything on the menu. They have amazing pizza — New York style; big slices with right amount of soft, crisp, flop and juices. Spaghetti is wonderful (my daughter won't eat her mother's anymore). I often get angry pasta 'extra angry,' and boy is it. Cheese steak
and chicken cheese steak are probably among my favorites. Wings are really good. Darts, billiards and spin machines. The place is great."
Keeping Tradition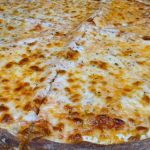 The restaurant was originally owned by brothers from Sicily. They named it Little Brothers Pizzeria, hence L&B's. They earned loyalty from the neighborhood by serving traditional Sicilian dishes. Under Harris, not much has changed.
"If something is not broken, we're not going to fix it," she said. But, she noted, she has tweaked some recipes. "I'm 25% Sicilian and 50% Northern Italian. The basis of our menu is Sicilian — I didn't want to change any of the recipes too much, because it changes the taste — but I have made some small changes over the years."
One thing that hasn't changed is the quality of the food.
"Everything is fresh and homemade," she said. "We make all of our sauces and all of our dough is made daily. We grate our cheese. We have hand-tossed New York style pizza."
Cindy Wynn was introduced to L&B's in 1998, when she settled on her house.
"The agent took my boyfriend and I there for lunch and we had cheese pizza;" she said.
A New York native, she said her slice was the closest to New York style pizza she'd had since leaving the Big Apple. "We live close by and go there or have delivery at least once a week. Their steak and cheese is amazing. Their pizza is outstanding."

Live Music — Big Changes
L&B's has established itself as one of a handful of venues that offers live music regularly.
"We have a diverse clientele," said Harris. Some nights, she said the band might draw in the 40- to 50-year-old crowd. But the next night, a band might pull in a much younger crowd. The juke box bounces from Wayland Jennings to Top 20 then back to Alabama. "It is crazy what plays. There is such diversity and
everybody has fun together."
Although recipes have mostly remained the same, customers can expect one big change: the bar is now nonsmoking. Harris said L&B's was one of the last bars to make the transition. But during the COVID-19 shutdown, she undertook the big renovation project.
"We took down the paneling, put in new drywall and did a lot of disinfecting," she said. "We don't allow any smoking."
Community Connections
The new no-smoking policy has allowed Harris to schedule more family-friendly events. Prior to the COVID-19 shutdown, Harris hosted monthly paint and sips — one in the afternoon for kids and one in the evening for adults.
"People loved that," she said. Although they haven't restarted the classes yet, she has partnered with another local vendor,Treatsandsweets4u, to provide a to-go project: cookie kits.
Themed kits vary week to week; check L&B's Facebook page for the most up-to-date information. Soon, Harris said, she hopes to introduce a pizza set.
Harris said it's also important for her to give back to those in need. "Sometimes someone loses a family member, gets diagnosed with cancer or they are just in need and they ask us to help raise money," she said.
She uses her contacts to line up bands, who donate their time, then passes the funds along to families in need.
"I do some vetting and I make sure the money is going where it needs to go."
She said she is hoping the support she's always given the community will be repaid.
"COVID-19 has been a nightmare," she said. "I would love any support the local community can give us."
Harris said that, other than a one-month layoff, she kept all employees on the payroll.
"I tried to take care of everyone," she said.
And now she is hoping loyal customers will do the same. Takeout, she said, is about as brisk as this time last year. Dine-in is not keeping pace. And the bar isn't pulling in the profits as in years past. She said she is holding out hope for a return to business as usual, with the return of long-time patrons as well as new customers.
Marianne E. Weaver (mweaver@princewilliamliving.com) is a freelance editor and writer. She earned a BA from the University of Pittsburgh and an MJ from Temple University.