By Amy Taylor
Sponsored by Congregation Ner Shalom
We are moving into the season of some very important Jewish holidays. Learn more about these traditions and how members of Congregation Ner Shalom, as well as other congregations, celebrate during this season.
Passover celebrations
To prepare for Passover, many families will clean their homes and toss or donate "bready" items and shop for kosher foods, according to Rabbi Elizabeth Goldstein of Congregation Ner Shalom.
"In many houses, families hold a Seder on the first night the holiday falls, with extended family and friends coming from out of town. Other nights throughout the week-long festival may also be used for family seders, depending on the days of the week where the holiday falls, but first and second night seders are most traditional.
"Many of our congregants do not keep kosher throughout the year, but do observe Passover dietary laws and do not eat bread or anything with leavening during Passover, only matzoh and other kosher for Passover foods," Rabbi Goldstein said.
On the Saturday of Passover, which falls on the second night, there's a congregation Seder at Congregation Ner Shalom.
"The Seder involves telling the story of the Exodus from Egypt and teaching about slavery and freedom, oppression and justice. There are ceremonial foods on the table and our event also comes with a full meal and grape juice provided, but the wine is BYOB (we drink four glasses of wine or grape juice throughout the Seder ceremony)," said Rabbi Goldstein.
Children in the congregation get to learn about the Seder with a fun exercise before the actual event.
"During Religious school, ahead of the actual date, we hold a model Seder so the students both learn about Passover and have an idea of what to expect. It is often a "Chocolate Seder" where all the ceremonial traditional foods are replaced with sweet alternatives, and the kids love it. Then we send them home all sugared up," Goldstein said.
Passover teaches,"…in every generation, free and/or liberate those who are enslaved or oppressed," according to Rabbi Goldstein.
Shavuot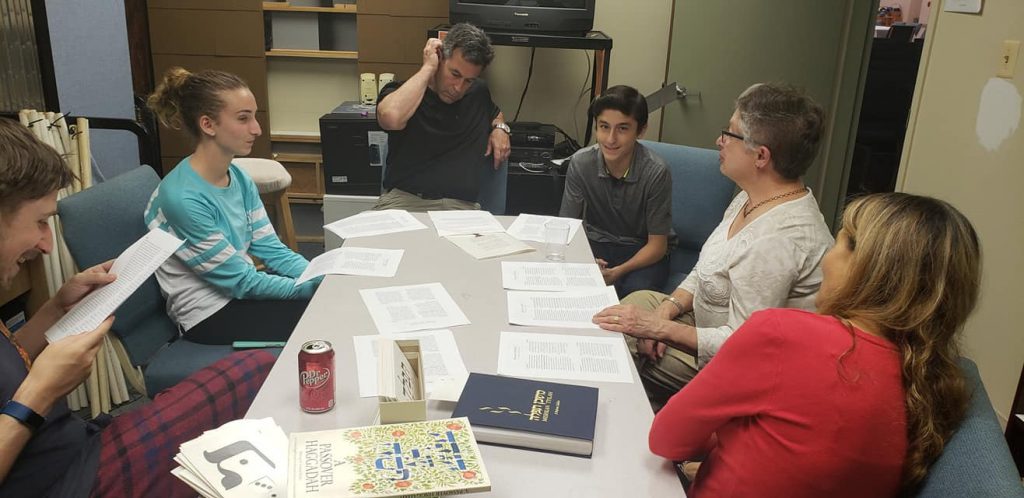 According to Rabbi Goldstein, "Reform (and some Conservative) Jews also connect our Confirmation services with Shavuot. For some, it may be on Shavuot itself, but for us, we have the teens lead the Friday night service closest to the holiday."
"Shavuot celebrates receiving the Torah on Mount Sinai, and Confirmation celebrates teens continuing to learn after the Bar or Bat Mitzvah, confirming with their more developed brains that they embrace Torah and Judaism. I assume there is a similar connection for why Christian Confirmations tend to be around Pentecost, around the same time of year," she continued.
Traditionally, people celebrate Shavuot with all-night learning.
"At our congregation, we've amended it slightly to have late night learning. Dairy foods, particularly dairy sweets like cheesecake, blintzes, ice cream, and noodle pudding, are associated with Shavuot. So our Shavuot event is to have a cheesy, creamy, potluck dinner, and engage in some intergenerational learning until about 9:00 p. m. ," said Rabbi Goldstein.
After the adults have gone home to get some rest, the children of the congregation celebrate by having a shul-in, or lock-in.
"They do stay up all night, but there is a lot less learning involved after 9:00 p. m. We play games, put on a movie, and talk until morning. A traditional up-all-night learning session for all generations would end with a sunrise service. For the sake of those adults from our synagogue who have gone home to try to get some sleep, we have extended sunrise a bit and have the morning service at 7:00 a. m., along with breakfast, before sending everyone home to take a good earned nap," Rabbi Goldstein said.
The traditions surrounding Shavuot are primarily based in the community, unlike the home celebrations of Passover.
"There really aren't many home traditions for Shavuot! You could eat cheesecake and study Torah with your family, but the main thing is to be in community, like the congregation at Sinai," Rabbi Goldstein said.
Amy Taylor (Ataylor@princewilliamliving.com) is a freelance writer and editor. She earned her BLS in English from the University of Mary Washington in Fredericksburg.