By Erin Pittman
Since 2003, members of the Lifelong Learning Institute of Manassas have been learning and growing together. This welcoming and inclusive group of people, age 50 and up, who gather together in support of their mission of providing affordable, educational and social opportunities in a friendly atmosphere.
LLI-Manassas is one of many LLIs across the United States, and are all based on the philosophy that keeping your brain active and inquisitive, and maintaining social connections are important components of healthy aging. 
LLI-Manassas partners with local volunteers: the Manassas campus of NOVA Community College, the Hylton Performing Arts Center, Bethel Lutheran Church, Trinity Episcopal Church, the Manassas Park Community Center and Dar al Noor Islamic Center. Together with their partners, they offer programming,
social events and trips that appeal to their members. The generosity of such people and organizations allows LLI-Manassas to continue to operate.
The Courses
LLI-Manassas's courses come together through their program committee, made up of about 12 to 15 members.
"These are the champion arm twisters of the world," said President Mike Ahern. "They are active in the community with contacts in various industries like government, the arts and education. These members are very active in getting people to deliver instruction to our members."
Some course instructors come from NOVA Community College and George Mason University. Many courses are born from one member attending a stimulating lecture at the Prince William Historical Society or experiencing a musician giving a unique presentation on the history of the guitar, for example.
"It's a matter of shaking the bushes. This committee meets for several months in advance and spends a great deal of time working their contacts," said Ahern.
Topics are always varied to ensure they are appealing to all of their members and prospective new members and may cover subject areas like history, fine arts, literature, science, philosophy, health and fitness, government and more. Some courses that were planned for this spring included:
A Musical Journey: From Classical to Popular Jazz
Understanding Opera: A Guide for the Passionate and the Puzzled
Pottery 101
Creating Art Through Photography
Poems That Tickle Your Fancy
Making Space: The Art of Decluttering
LLI-Manassas offers about 50 classes and events per semester. Members can purchase full or half-year memberships. Ahern noted that they work to keep their dues affordable.
The Social Side
In addition to keeping active minds, LLI-Manassas members enjoy social benefits. The group schedules a couple of bus trips each semester. This spring, they had planned trips to the Dumbarton House and Tudor Place, and Wilson's Presidential Library and the Frontier Culture Museum.
"In the past, we've had lectures ahead of time and trips related to the topics," said Ahern. "We had a lecture on the Library of Congress and then took a trip downtown to visit."
The group has also taken trips to Civil War Battlefields, cultural sites  and architectural places of interest.
If trips aren't what members are looking for, they can join one of several interest clubs, such as the book, bridge, mahjong and lunch clubs. These clubs are centered around specific activities, allowing easy conversation and shared interests to naturally grow friendships.
"We also have some informal groups who go out to lunch after classes or attend movies together regularly," said Ahern.
The Members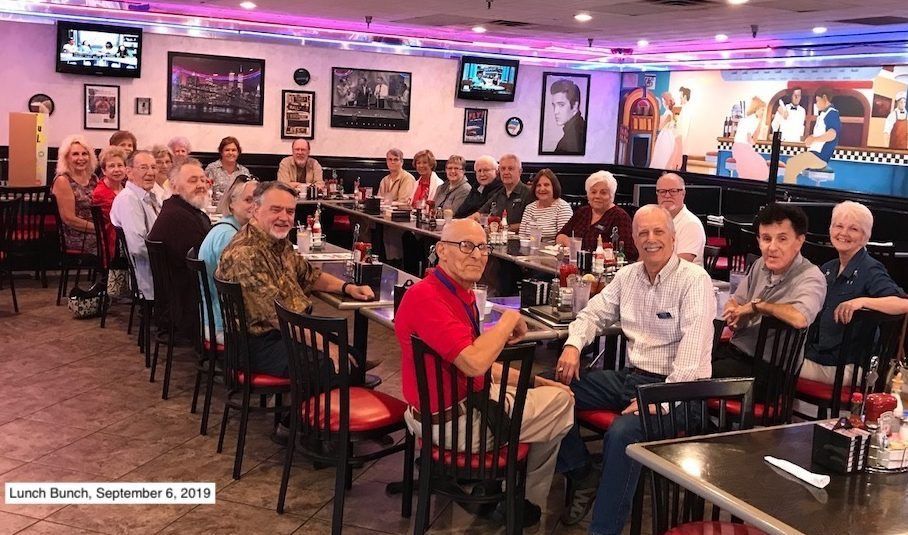 LLI-Manassas is made up of about 350 members, making it a medium-sized LLI group. Most members were like Ahern, looking to keep their brains active and expand their social contacts.
"I retired and was looking for something to do in 2008," he said. "My wife joined first. I watched her and saw how much fun she was having, so I joined, too."
This type of recruitment isn't atypical, as Ahern reports that most of their new members come through word of mouth.
LLI-Manassas is 100% volunteer-driven. Members do all the legwork to keep this social and intellectual group of people going.
"We would not exist without our volunteers. We are all so grateful to the people in this organization for the time, effort and the love they devote to it," said Ahern. "And our gratitude extends to the community organizations that have partnered with us and made this possible.
To learn more about LLI-Manassas, visit their website at llimanassas.org. They invite other seniors in the area to join them in living their motto of "Learn as if you were to live forever."
Note: The spring semester has been canceled to comply with social distancing to combat the COVID-19 outbreak, but club members look forward to welcoming new members at an appropriate time in the near future when courses and social events resume.
Erin Pittman has been a writer for 10 years, but a lover of words her entire life. Her work is published in local magazines and on local and national blogs. Contact Erin at epittman@princewilliamliving.com.