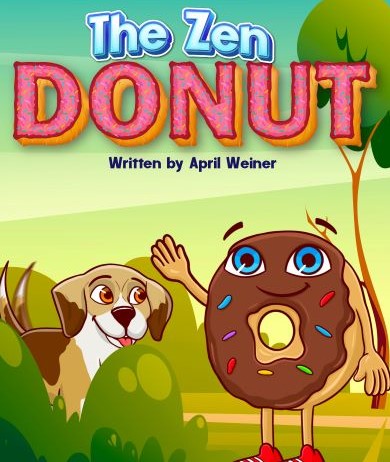 Provided by The Zen Donut
April Weiner released a children's book last week entitled The Zen Donut. The book follows Denny the Donut, who is bullied at school for being too round to do yoga, but then meets Bubbles the Beagle who teaches him that yoga is for every body. The book is available for $14.95 on Amazon and at TheZenDonut.com/Shop.
Weiner was inspired to write the book based on her own experience recovering from an eating disorder and negative body image.
"A big part of my eating disorder recovery has been unlearning beliefs that I had about my body and my self-worth. It made me think, 'what if I hadn't had to unlearn these thoughts? What if I'd been taught that all bodies are good bodies and that my body does not define my self worth?' I don't want other little kids growing up hating their bodies like I did, which is why I wrote the book," Weiner said.
"We know that the first five years of a child's life are critical for their development. I believe that we need to start teaching children about self-love, body positivity, size diversity, and Health at Every Size in these formative years in addition to the standard things they're taught. The Zen Donut is the first book in a series that will tackle all of these topics in an age-appropriate way."
Weiner graduated from the University of Tampa with a B.S. in Sport Management in 2012, followed by a Master of Business Administration and Master of Science in Marketing in 2014. She spent six years working in the nonprofit sector before choosing to pursue writing full-time. She lives in Woodbridge with her family and three beagles.