Provided by Semper K9 Assistance Dogs
Nationally recognized veteran service organization Semper K9 Assistance Dogs has been selected as beneficiary for the Manassas Rotary's First Annual Cornhole Tournament. The inaugural event, which is powered by Irish Rose Cornhole and The Bone BBQ, will take place Oct. 15, 2023 at Harris Pavilion in Manassas. Cash prizes & giveaways are available throughout the event, which begins at 12:00 p.m.
Participants from across the community are invited to join in the spirited competition and show off their cornhole skills while contributing to a meaningful cause. The event promises a fantastic atmosphere for all attendees, with a friendly and competitive cornhole tournament as the centerpiece. Teams will go head-to-head in a battle of precision and accuracy, vying for the coveted title of "Cornhole Champion." Prizes, medals, and bragging rights will be awarded to the winning teams, making it a day of thrilling competition. All skill levels are invited to attend, which begins with the Kids Tournament at 12:00 p.m. The adult social portion of the event begins at 1:00 p.m. and the competition tournament starts at 4:00 p.m.
"Irish Rose Cornhole and I are so honored to be running this Cornhole event for the Manassas Rotary to benefit Semper K9," said Rob Rose, Owner of Irish Rose Cornhole. "This event is going to be huge. We have over 16 boards and will have something for all levels. It's a perfect event for the whole family, whether you are serious about cornhole or just want to come out and support an amazing charity that helps our local veterans. Plus, there will be dogs!"
Registration for the Cornhole Tournament is now open, and participants can sign up here. For those who prefer to watch and support from the sidelines, the event welcomes spectators to join in the festivities.
Semper K9 extends its heartfelt thanks to the event sponsors, volunteers, and participants who have come together to make this tournament possible. Their generosity and dedication exemplify the Manassas Rotary Club's commitment to serving the community and assisting those in need. Top event sponsors include East to West Embroidery & Design, Wi-Not Stop, Acorn Financial Services, Tang's, Weber Rector Commercial Real Estate Services and others.
Participants will enjoy a great day of cornhole, and they will also have the satisfaction of knowing that their registration fees and contributions will directly benefit Semper K9 Assistance Dogs. This nonprofit organization is renowned for its commitment to providing service dogs to disabled American veterans, offering them independence, support, and an improved quality of life.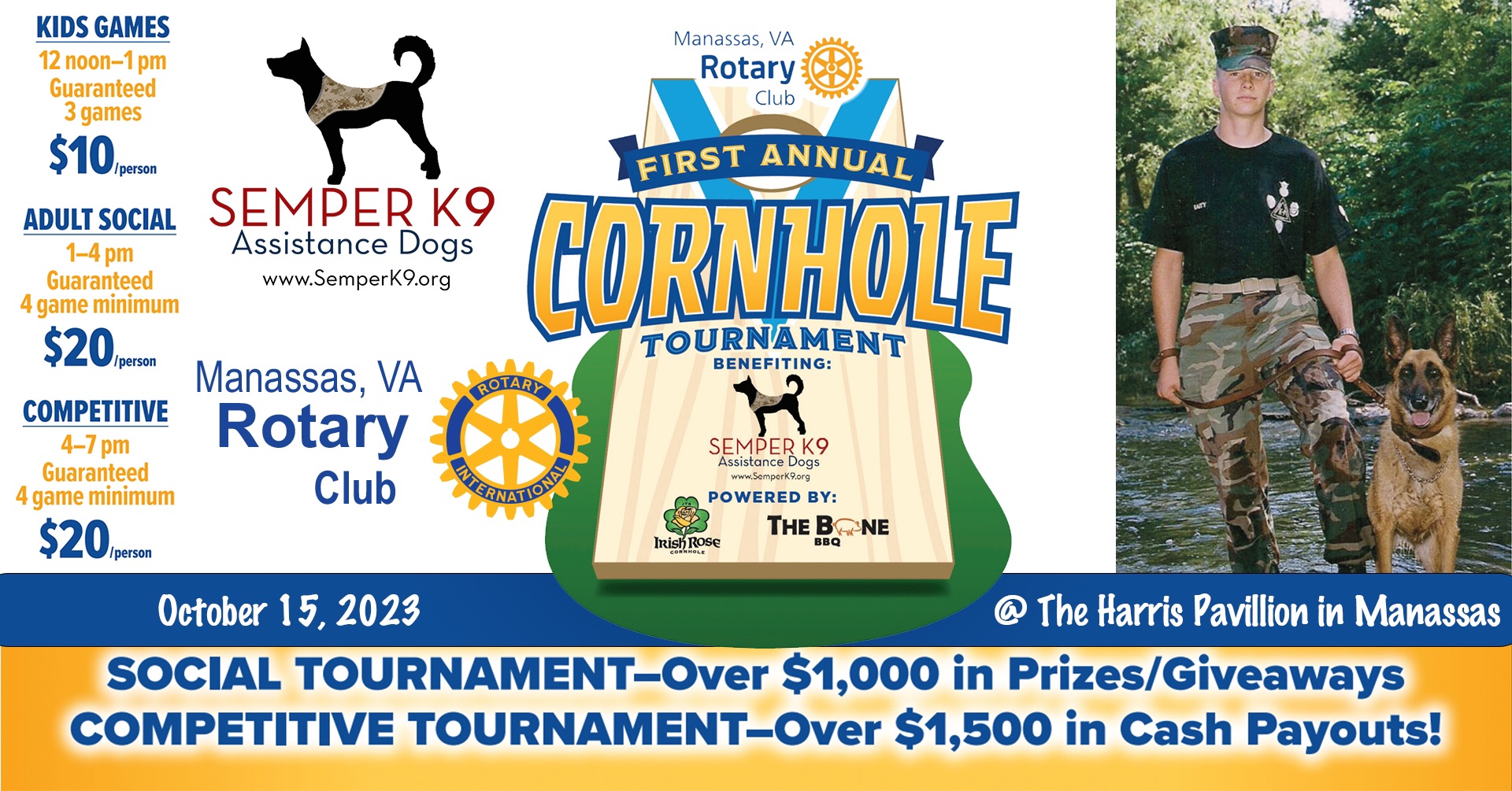 "We are excited to be selected as beneficiary for this event as it will provide funds for our life-saving mission," said Amanda Baity, co-founder of Semper K9. "It is through community support that we are able to continue providing custom-trained service dogs to wounded service members."
Semper K9 will be onsite with information about their programs. Semper K9 supports wounded service members who have mental health challenges with PTSD, TBI, MST, and other mental health diagnoses, as well as mobility challenges due to their disabilities. To learn more about Semper K9, click here.
About Semper K9 Assistance Dogs: 
Semper K9 Assistance Dogs is a combat veteran founded and operated 501(c)(3) nonprofit that provides service dogs for wounded members of the U.S. Armed Forces and their families. Christopher Baity, Semper K9's Executive Director, is an OEF/OIF combat veteran Marine Corps military working dog handler, trainer and kennel master with three combat deployments to Iraq, one civilian deployment to Afghanistan and two additional overseas deployments with military working dogs. Learn more about Semper K9 at SemperK9.org and follow them on social media: @SemperK9.