Like this article? Support us by subscribing here. Your donation will help us continue to provide quality-of-life news and make local impact possible.
By Jennifer Halter
The thought of dining out with kids can be overwhelming — and at times, even a parent's worst nightmare. What if there are spills? What do I do if the kids fight or are too loud? How can I keep them busy while we wait for our meals? Is this really worth it?!
The short answer is, yes! Dining out with kids can be a great experience and provides an opportunity to teach them important skills that are necessary to learn as they grow. Plus, as parents and caregivers, we deserve time out of the kitchen and more time focusing on enjoying a meal with our family instead of thinking about the prep and clean up.
Here are sanity-saving tips to help you successfully enjoy dining out with children of all ages.
Choose a Family-Friendly Dining Establishment
Save the fancy restaurant for a date with your spouse or a night out with friends. Setting expectations for how your child will behave at a restaurant may be more stressful if you choose a place where there are already added "rules." Formal attire, a low noise level, and a fancy menu may not be so kid friendly. Find a restaurant that is comfortable for everyone, especially if you have younger children or if it's their first time dining out.
One terrific way to know if a restaurant is well-suited for families is if they offer a "Kids Eat Free" or cheap
option. Check out a listing of some of the best kids eat free/cheap spots in Prince William on Woodbridge Macaroni KID at woodbridgeva.macaronikid.com/guides.
Review the Menu Before You Go
Check out the menu before you go. Look for places that have a fun kids' menu that will appeal to your children. Talk about the menu ahead of time and have each child choose their meal. This can change once you go and prepare to order, and that's OK! Giving them an opportunity to think about meal choices ahead of time instead of feeling pressured to choose on the spot will not only give children something to look forward to, but will also help alleviate any issues with them picking something they don't really want just because they feel rushed.
Bring a Snack
Waiting for anything can be difficult for a young child (and even some adults!). Before heading to a restaurant, consider the time it will take to get there, how long you may be waiting in line to be seated, and how long you may have to wait before your meals are served. Bringing a small snack can be a lifesaver if you have an impatient or hungry child. Depending on the restaurant, you may be able to ask for bread or another complimentary food item, such as chips and salsa, to help hold them over until their meal is served.
Pick a Time That's Best for Your Child
Eating out doesn't just have to be about dinner. Breakfast and lunch are also terrific options, especially when you have kids. If your child is an early riser and is at their best in the morning, head out for breakfast. If your child naps in the afternoon, be sure your dining time doesn't interrupt naptime. Earlier dinner times at restaurants can also be less crowded, especially on the weekend, which can reduce overstimulation from crowds and noise.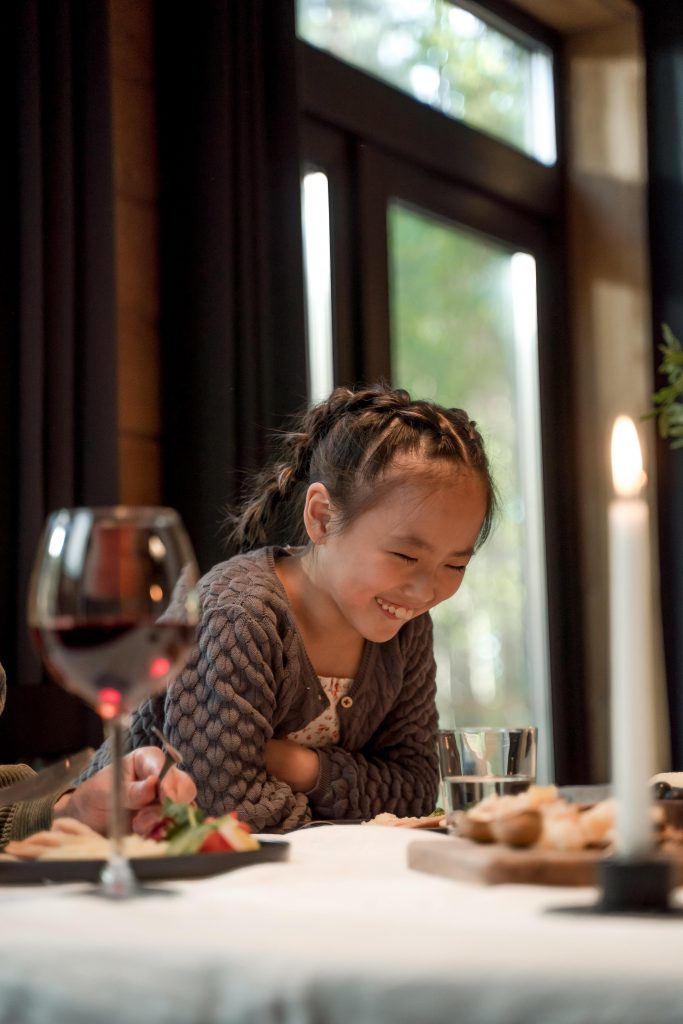 Talk About What They See
Dining out is a great way for children to learn about how to behave in that setting, but also provides an amazing opportunity to learn about new things. Talk about what you see. Discuss the roles of each employee and why they are important. Read the menu together and discuss different foods, what they like and what they don't like.
You can talk about sounds and smells. Teach them how to order food (and if they are old enough, allow them to order for themselves) and how to put a napkin in their lap.
Bring the Entertainment
Many family friendly establishments provide crayons and menus with games and coloring pages to entertain your kids while you wait. However, this might not keep them busy for long. Feel free to bring your own activities, such as coloring books, small toys, or travel-sized board games. If you're still having a hard time, this may be a good time to whip out the phone or tablet and let them play games or watch shows.
Just Have Fun
Not every dining experience is going to be 100% perfect. And, not every one is going to be bad. But
you'll never know how they will turn out if you don't try! Take the plunge and make a date with your family.
Spills happen. There may be crying. You may have to cut your experience short and ask for a doggie bag.
But, remember, we were all beginners at some point, and giving your child an experience to learn and grow is something they will appreciate in their future.
Jennifer Halter is the Publisher of Macaroni Kid Woodbridge and Macaroni Kid Gainesville/Manassas,
free online calendars and resources to help you find your family fun all year round.