By Jennifer Halter
This was an unprecedented school year for students. Now that it's winding down, you may be looking
for ways to implement more educational activities into your days to supplement or expand upon what they
learned. Here are some tips for helping your child stay on track and beat the summer learning slide.
Explore Museums, Zoos and Historical Sites
We are fortunate to live in an area rich in history and full of landmarks and museums for your family to
explore, many at low or no cost. Plan a field trip to visit one, maybe for a "Take a Trip Tuesday" or "Field Trip
Friday" adventure. Before you head out, have your child help with planning tasks like finding driving directions using a map and setting a budget based on the cost of admission, meals and gas to travel. Have them research to learn about the things they will be seeing, activities happening during your visit, as well as finding those important amenities, like restrooms or picnic areas, to name a few.
Once you are at your destination, let them participate in hands-on exhibits or take guided tours, if available.
Some places may have information packets just for kids, so be sure to inquire. As you explore new areas, ask your children questions about what they see, feel and hear. A great follow-up activity would be to have them write stories about their adventures or do additional research about what they learned.
Write Letters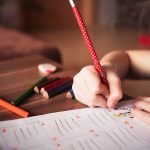 In an era where technology is everywhere and communication can happen with the click of a button, the art of letter writing is no longer the exciting activity that it once was. However, writing letters develops many important skills and is great for children of all ages.
Connect with friends and family, even if they are local, to set up a summer pen pal program. Try to match children of close ages together so they have more in common and have similar reading and writing abilities. For younger children, their letters could be focused on pictures instead of words as they are still learning. This activity provides a great opportunity for children to learn how to format a letter, address an envelope, purchase stamps and get things into the mail, either through your personal mailbox or by visiting the post office. Imagine how excited they will be receiving their own mail from their pen pal(s)!
Visit the Library
Reading to your child and/or having them read to you or themselves each day will keep them in their school
year reading routine and help them maintain or grow their skills. Plus, reading can be a huge boredom buster, especially on those rainy days or on long car rides. To keep your child interested in reading, make it fun! One way to do this is to set up a Summer Reading Challenge of your own or participate in one through the local library system. If incentives motivate your child, create a system where they can earn small rewards for reading a certain number of books or minutes each day.
You can also keep things fresh by planning weekly or bi-weekly visits to the library. During the summer months, there are often more programs and activities taking place where children can participate in special story times, crafts or other events.
Bake and Cook at Home
Baking and cooking provide opportunities for children to use their reading, math and science skills. Think of
the skills involved in researching and reading recipes and budgeting and planning to shop for groceries.
Not to mention the measuring involved in making the recipe. While cooking or baking, they will be able to
keep track of cooking time and temperature of the oven, if applicable. When serving their creations, they
can measure portions, which could even lead to doing some work using fractions.
Looking for interesting, hands-on ways to create teachable moments in your child's day will benefit them
in so many ways. They'll be ahead of the game for next school year by keeping them excited and learning in fun ways all summer long.
Jennifer Halter is publisher of Macaroni Kid Woodbridge and Macaroni Kid Gainesville/Manassas.