By Amy Taylor
Sponsored by ATW – All Things Writing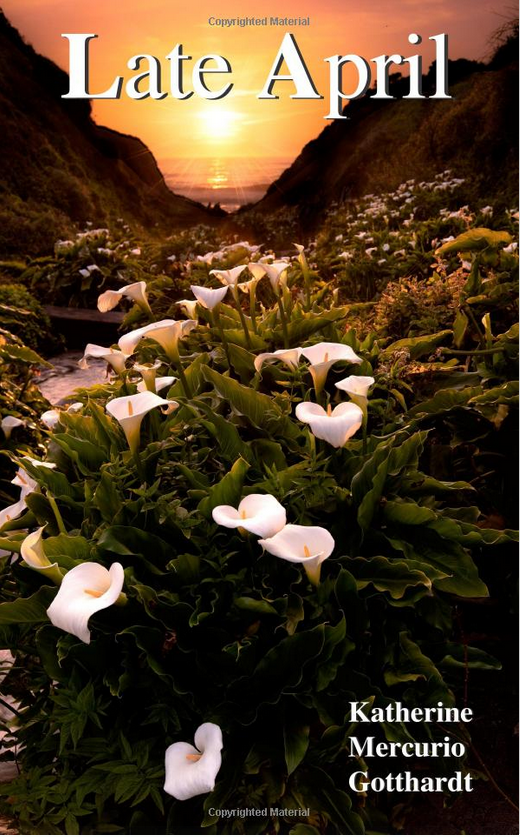 If there's one thing Katherine Mercurio Gotthardt, M.Ed., is passionate about, it's making poetry accessible.
"If I had to name one of my goals as a writer, it would be to create high-quality, accessible work," said the Bristow author. "I love poetry. I love imagery, symbolism, word play. I want more people to read poetry and get something from it. But so much of what's out there is academic — poetry written for poets in MFA programs. That has its own place, and I'm not saying it's bad. But if you want more people reading poetry, in my opinion, you need to be aware of your audience."
"I believe it is possible to write meaningful, creative, intelligent pieces without making your audience walk away not knowing what the heck they just read. You should not need a degree to be able to understand and enjoy poetry," she said.
Late April Brings Accessible Poetry to the World
Gotthardt used National Poetry Month as an opportunity to create her sixth book, Late April. Her other books include Bury Me Under a Lilac, Weaker Than Water, Furbily-Furld Takes on the World (a children's book), Poems from the Battlefield and a novel.
Late April is a standalone book of poetry largely influenced by her mother, who passed away in 2014.
"My mother always encouraged me to write, which I did, shortly after she taught me how to read. Many of the poems reference her, but there are a myriad of themes that run through the poems," Gotthardt said.
The collection was penned over the span of two National Poetry Months (April 2018 through April 2019). "It's an eclectic, accessible collection that I'd like to think most people can take something from," said Gotthardt.
For this book, Gotthardt allowed herself the freedom of enjoying the process, making it her favorite work to date.
"I think Late April is my most mature work. In this collection, I let myself forget about trying to please editors and publishers and just enjoyed the process. As a result, I think my voice is stronger in this book. I also wrote a lot of these pieces live, meaning, on Facebook. I hashtagged them #KatherinesCoffeehouse and later went back and edited them for the book," she said.
A Prolific Writer Encouraging Others to Create
A former writing instructor, Gotthardt encourages aspiring writers and authors to just write.
"I'd say, sit down and write. Ignore the voices in your head that tell you you're not good enough, that you're wasting your time, that you should be cleaning the house or washing the car or changing out the doorknob on the kids' bedroom door. Just write. Don't worry about what comes out, either. You can always go back and edit. At first, what you're looking for is material to work with, and you don't get that by holding yourself back," she said.
Gotthardt herself writes every day for work, so she is accustomed to writing a lot, but she attributes her prolific creative writing to goal setting.
"During the month of April, I write one poem a day, usually in the morning. Late April has poems from April 2018 and 2019, so that's 60 poems right there. Not all of those poems made it into the book, and I included some that were written during other months, which made up the difference and accounts for the poems about various seasons.
"I am working on my next book now, and I've committed to writing at least one chapter per week. This is going to be a series of essays on inspiration and motivation, coupled with poetry. I'm pretty pleased with how it's coming along so far, and the goals I've set are doable," she said.
Besides writing poetry and prose, Gotthardt serves as president of Write by the Rails, the Prince William Chapter of the Virginia Writers Club, and Editor in Chief for Prince William Living. Find more of her poetry by searching #KatherinesCoffeehouse on Facebook, and learn more about her work at KatherineGotthardt.com.