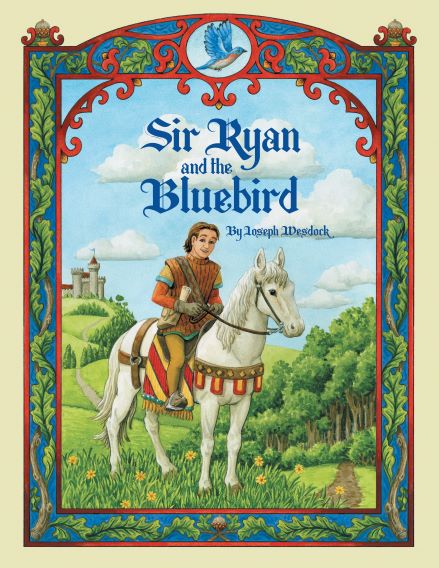 Provided by Lavidge
There is no shortage of stories to share with kids as their parents settle them into their nightly bedtime routine. But for children's author Joseph Wesdock, a cornerstone of this regular opportunity for connection with one's child is the chance to twine entertainment with moral enrichment.
In his latest book, "Sir Ryan and the Bluebird," Wesdock shares the magical tale of a young knight named Sir Ryan who enters a mysterious forest on one of his many adventures and finds himself facing challenges at every turn. His first difficulty comes when he and his horse encounter a river that is too wide to safely traverse. Sir Ryan crosses paths with a strange duo – a grumpy troll and a lively bluebird – who hold the answers to relieving him of his troubles if only he is willing to help them in return.
Peppered with classic elements of mystery and adventure, "Sir Ryan and the Bluebird" begins with a foreboding premise and concludes with a favorable and satisfying ending. When Sir Ryan first encounters the troll and the bluebird, he is suspicious and doubtful of their motivations. Yet there remains an underlying awareness that, behind the scenes, these characters are working together to help Sir Ryan tap into his inner goodness so that he can endure and solve his problem.
"'Sir Ryan and the Bluebird' is a short bedtime story that teaches the morals needed to help build a young child's character," Wesdock said. "As the story progresses, it allows the child (reading for themself) or the adult (reading for the child) to pause and ask, 'what would I/you do?' It also promotes dialogue between a parent and a child and works to strengthen their relationship."
Ultimately, "Sir Ryan and the Bluebird" appeals to the adventurous spirit of young children through its central character, allowing them to place themselves "in the story." Wesdock's colorfully illustrated book teaches crucial life lessons that readers can carry forward with them through the difficulties of life.
"Sir Ryan and the Bluebird"
About the Author
Joseph Wesdock is retired from the U.S. Government after 35 years of service. Wesdock is a graduate of the United States Merchant Marine Academy and earned engineering degrees from Virginia Tech and George Mason University. He wrote "Sir Ryan and the Bluebird" to commemorate a bedtime story that he enjoyed telling his son, Ryan, and this is Wesdock's fourth published children's book. His other works include "Sir Ryan and the Dragon," "Skippy's Magical Christmas," and "Shine on Me." Wesdock lives in Manassas with his wife, Mary Jo. Together they have six grown children, two adopted cats, an affectionate pet rabbit, and three not-so-affectionate parakeets.