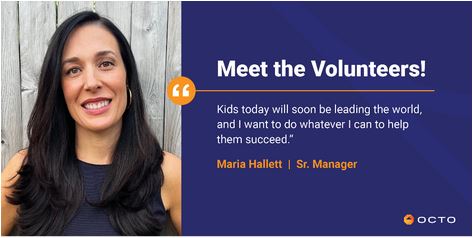 Volunteerism is a huge part of Octo's commitment to seva – selfless services – which is one of our values. That's why we enjoy highlighting the good work our volunteers do, wherever they work – and in this remote work environment, that could be many places! We were pleased to interview Maria Hallett, Senior Manager, who has been with Octo for more than three years. Maria is a veteran, an IT and cybersecurity professional, and a member of Octo's Corporate Social Responsibility (CSR) Committee which encourages and supports volunteerism.
Maria, thank you for taking the time to speak to us today. Let's start with your experience. How would you describe your background?  
Wow, I suddenly feel old! I spent about 25 years working in Information Technology and Cybersecurity, the first eight of which were while in the Army. A couple of years ago my manager asked if I had any interest in program management, so I gave it a try and have been doing that ever since.
In what capacity do you volunteer and for what organization(s)?  
Octo provides so many opportunities for employees to volunteer, but my favorite has been as a participant in the Virtual STEAM Expo which benefits youth from disadvantaged and underserved communities.
Outside of Octo, I have organized and participated in various clothing and school supply drives for organizations such as Cradles to Crayons, Rosie's Place, or Second Chances, all of which aim to assist homeless and low-income families and individuals. This past year I also participated in fundraisers and supply drives to aid injured and displaced Ukrainians.
How has Octo encouraged your volunteer/giving-back efforts? 
Participating in Octo's STEAM Expo is one way that I've been able to reach out to kids who are eager to learn and experiment, and to inform them of the many opportunities awaiting them in the science, tech, engineering, arts, and math fields. I even enlisted the help of my daughter when she was 11 and 12 and filmed her conducting experiments that the kids were able to watch and try on their own during and after the live event.
What led you to serve in the ways you do now? 
Kids today will soon be leading the world, and I want to do whatever I can to help them succeed. As someone who grew up in a low-income city in Greater Boston, I know that children in similar communities don't have access to a lot of the high quality, technical resources that kids in more affluent towns do. I also know that it's extremely difficult to learn when you're hungry or cold or don't have adequate school supplies. If I can help even one kid realize his or her potential and get excited about learning, I'm happy.
What inspires you to keep volunteering even when the going gets tough? 
Seeing the amazement and sense of accomplishment on a kid's face, or the joy it brings to their parent or guardian makes it all worth the effort. Some of these families are experiencing tougher times than I've had to face, and if I can help to make their day a little brighter, that's all I need.
What advice would you provide to anyone at Octo interested in volunteer work?  
Listen to your heart. If something tugs at your heartstrings, get involved. There are so many ways to volunteer – the opportunities are endless.
"Corporate Meets Community" is a column highlighting Octo's corporate culture and opportunities.
About Octo
Octo is a technology firm dedicated to solving the Federal Government's most complex challenges, enabling agencies to jump the technology curve. We don't just modernize. We create lasting change through best practices that help agencies implement and integrate at-scale next-generation technology and innovation. With a mission and service first mentality, we provide Agile, DevSecOps, Artificial Intelligence, Cybersecurity, Blockchain, Cloud, and Data Management and Analytics solutions, collaborating to solve customers' pressing problems. Headquartered in Reston, Virginia with offices throughout the United States, Octo delivers proven technology vital to the intelligence community and health care, defense, national security, and civilian agencies that directly impact our nation. Visit octo.us.