Provided by Masroor Mosque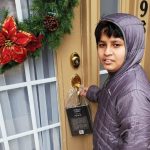 At Masroor Mosque, the holiday season is a time of sharing happiness with our neighbors, friends and giving back to the community. Following this annual tradition, members from Masroor Mosque went out in the neighborhood to share sweet treats and New Year greetings. We reached about 500 homes. As always, it was a very heartwarming experience appreciated by the neighbors. Some of the neighbors sent thank you notes later, welcoming the mosque to the neighborhood.
A group of youth from Masroor Mosque participated in a food packing event at Burke Community Church on Christmas Day to provide for needy families.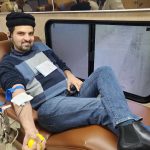 Ahmadiyya Muslim Youth Association from Masroor Mosque held a blood drive in collaboration with Inova Blood on Saturday, Dec. 29. Eighteen men and women donated blood.
Members from Masroor Mosque started the New Year with congregational Tahajjud (pre dawn) and Fajr (dawn) Prayers and turning to God.  On New Year's Eve, young boys held an educational and fun program with a sleepover at Masroor Mosque.  It was an excellent opportunity for boys to bond with each other. Several interactive discussions were held on bullying and New Year's resolutions. Participants enjoyed dodgeball, video games, and dinner followed by a bonfire.
In the morning, congregational Tahajjud for the New Year started at 5:30 a.m., followed by the Fajr Prayer at 6:30 a.m.  Two hundred men and 160 women and children were in attendance.  Breakfast was served, after which members returned to their homes with prayers and wishes for a Happy New Year.