By Emily Carter
In March 2020, Masroor Mosque in Manassas decided to help out families in the area by starting a food pantry. The mosque collaborated with Humanity First, a non-profit organization that aims to promote peace and reduce suffering for those in need. Masroor Mosque was closed due to COVID-19, but they did not want to shut their doors for the entirety of the pandemic, so the food pantry was born. What started as a small food pantry has now grown to help between 100 and 120 people in the community every two weeks.
Lending a Helping Hand
The food is donated by Prince William Food Rescue. PWFR began providing the mosque with non-perishable foods and then started donating perishable foods like meat and produce. Once the mosque receives the food from PWFR, it is stored in the mosque until the day the food is picked up by people in the community.
Food pantry volunteers are mostly members from Masroor Mosque, who help with picking up, sorting, and distributing the food, as well as additional tasks that help the food pantry run day to day.
"All the members who are working with the food pantry are members of the mosque. There's a team buying the food and there's a team of volunteers who were coming and making the food bags. A day before the actual distribution, we send an email to whoever has requested to pick up a reminder that tomorrow is
pick up," said food pantry Manager Shehla Ahmad.
Assisting Others
Anyone from the areas can request an order from Humanity First's Masroor Mosque food pantry webpage and can pick up their food on distribution days. If they are unable to leave their homes, there is a delivery option. The mosque's goal is to reach everyone with their kindness regardless of limitations.
"[The food pantry] is open to anyone. Whenever we have a distribution, we try to advertise or announce it so that anyone can come. We want to serve anyone regardless of [their situation]. Whoever has placed an order online, they just need to place an order in advance and they can come and they can collect their food," Ahmad said. "We also offer delivery on the online form and there is a question asking if you are in quarantine or if you have any disability and your food needs to be delivered to your home. This is something really great because there are so many people who need who cannot come because they have a
condition or for another reason."
Distribution days are typically the second and fourth Sundays each month, and the mosque recommends people put in their order via the Humanity First webpage by Friday in order for them to prepare a bag in time. The food pantry can also make special food accommodations for larger families if needed.
Despite the food pantry being open for such a short amount of time and already helping so many people, Ahmad says they have not run into any difficulties or shortages of food. "The system we are using is working quite well. But we don't have people showing up unexpectedly. Even if the registration is closed on Friday, if anyone reaches out to us on Saturday, we always try to accommodate everyone," Ahmad said.
Thinking Positively
Ahmad says the food pantry has received a positive response from the community and some have even given donations, as well. Ahmad thinks food pantries are important, especially during this year when so many families in the area are struggling.
"I think [food pantries are]very, very important. Whenever people submit their request, there is a comment section, some people share their stories, and some people say, 'I don't know how I would have survived.'
Initially they were mentioning that they have not received any other support and then some people
say, 'Oh, my unemployment or whatever they were getting is ending,'" Ahmad said.
The food pantry was another way for Masroor Mosque to show kindness and hospitality to others in the community during a difficult year, and they hope to continue helping others in the community with the food pantry if they are still able.
"I think that if the need is still there [we can continue helping others]. I don't know how long it will stay, but we hope that we can continue to serve others. We want to do as much as we can," Ahmad said.
For more information on the Masroor Mosque food pantry, visit husa.humanityfirst.org/masroor-mosque-food-pantry/.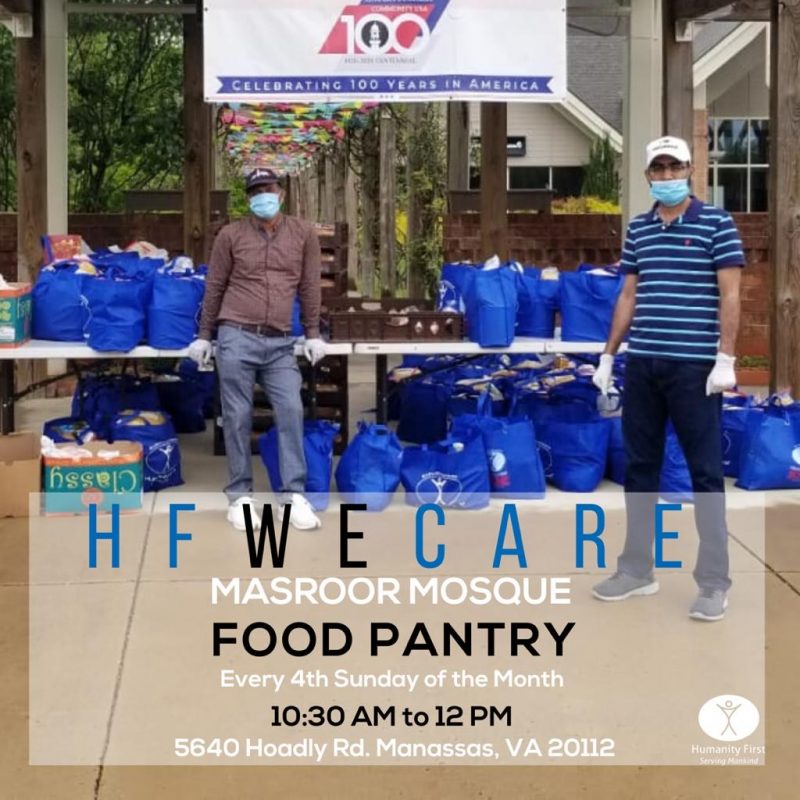 Emily Carter is a senior at Virginia Tech majoring in Multimedia Journalism. She is currently the Lifestyles Editor at Virginia Tech's student-run paper, the Collegiate Times. When she is not writing, she is either dancing alone to Taylor Swift or cooking herself a giant bowl of pasta.