By Marianne Weaver
Sponsored by Community Foundation for Northern Virginia
In 2018, The Community Foundation for Northern Virginia awarded more than $7.1 million in grants and scholarships, according to Tara Nadel, the Foundation's vice president of marketing and events.
"Over our 40-year history, we have awarded more than 50 million dollars," she said. "Our mission is to grow philanthropy to respond to critical need and seed innovation in the region."
She said they now manage $66 million in philanthropic assets.
Comprised of donor advised funds, permanent funds, giving circles and other charitable endowments, she said the Community Foundation connects donors to the community and promotes a more equitable and inclusive prosperity that marries the region's economic strength with the full breadth of our diverse community.
In Prince William, that means matching residents who care about their community and want to leave a lasting legacy for future generations to local organizations that need financial backing. In 2012, the foundation awarded a grant to SPARK, the education foundation of Prince William County Public Schools, to support a new cyber security program at Potomac High School. All of this was possible thanks to an anonymous donor to the Community Foundation's Innovation Fund, developed in 2012 to support creativity, technology and new design across Northern Virginia.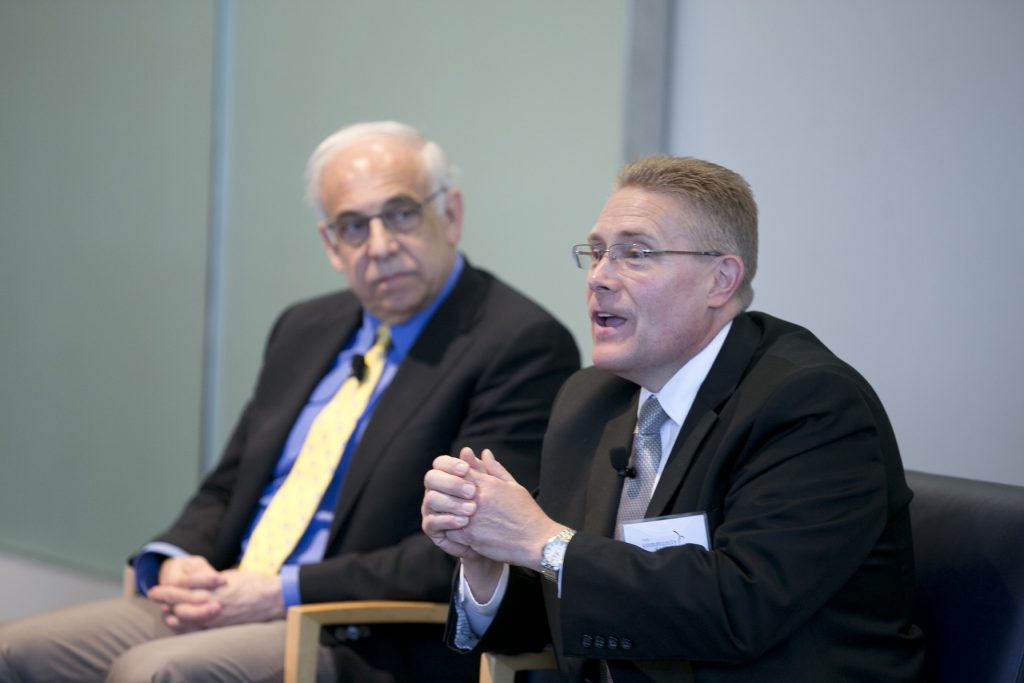 "The Community Foundation had a donor who lived in Prince William County, had had a career in IT and cyber and was looking to support students to get into that area and that type of technology," said Doug Wright, PWCS curriculum supervisor career and technical education. "The Community Foundation knows their sources of funding and how they want to spend their money. They were the broker, connecting us with that individual. They did all of the leg work and we were able to enjoy the benefits of it."
The Cyber Security Program began with the construction of the Cyber Security Lab in July 2015 and the courses launched in the 2015-2016 school year. Offered to students enrolled in the networking strand of the IT curriculum at Potomac High School, Wright said almost 500 students have benefitted from the courses.
He said the partnership does more than just fund the course. The Community Foundation tracks how the funds are spent, compiles the data and reports, which are then turned over to the funders. Wright said the school district would never have enough bandwidth to fulfill the reporting requirements associated with this type of funding without the support of the Community Foundation.
But that's not all, he said. As much as the program has benefitted from the cash infusion, it has also gained recognition from local businesses who will, ultimately, employ students who have passed through the program.
"When someone from the industry who worked in this field provided the funding for us, that validated what we are doing," said Wright. "It shows parents, students and business leaders that we are doing something right in our schools."
Nadel said Prince William County residents who care about their community and want to leave a lasting legacy for future generations may do so at the Community Foundation through The Permanent Fund for Northern Virginia.
"There are ways to make both current and planned gifts," she said. "At the Community Foundation for Northern Virginia, we care about this place we call home. So many of us have made our homes here, our wealth here. Our families have benefited from the excellent local schools, the world class health systems, and the vibrant local economy. We love this region and want to see it continue to grow and thrive."
But, she said, the Community Foundation is reliant upon continued support from donors.
"The Permanent Fund is a permanent community endowment for our region," she said. "All grants from The Permanent Fund provide opportunity and help level the playing field for people who call Northern Virginia their home."