Like this article? Support us by subscribing here. Your donation will help us continue to provide quality-of-life news and make local impact possible.
Sponsored by McCall Studio Gallery | By Carolyn Moore
The owner/director of DM Visual's McCall Brand Studio and Outreach Division Art Gallery and Museum is Ms. Denise McCall, a true multimedia artist, creative director and curator in her own right for over 43 years.
Ms. McCall strives to give back to her community by her monthly events with shows and exhibits as well as her positive influence on the young and adults interested in creativity through judging contests, directing, curating, teaching, creating gallery programs and exhibits and collaborating with local groups. McCall, through her creativity, has aided thousands of clients for 35 years and over 135 diverse genres of community art talent through her gallery's over 73 events, galas and studio promotions of diverse artists' shows since 2017.
Along with many other recognitions for market communication creative arts, branding, fine arts, and community services, Ms. McCall recently won the 2023 Seefeldt Arts Excellence Award presented at the Hylton Performing Arts Center. The award was archived by the United States House of Representatives Congressional Record on May 9, 2023.
"It was nice to win among our studio local clients and diverse genre of artists that my community gallery has helped since 2017 in Historic Manassas (and also in Prince William County as well as nationally with our studio), who were represented at the event and/or won, also. Empowering and helping others creative, creating multimedia creative for others and promoting others and diverse genre arts is what we have done for over three decades. We are thankful for this honor and share this award, this 35th Anniversary year, with the diverse people we have helped and promoted through the years." said Ms. McCall.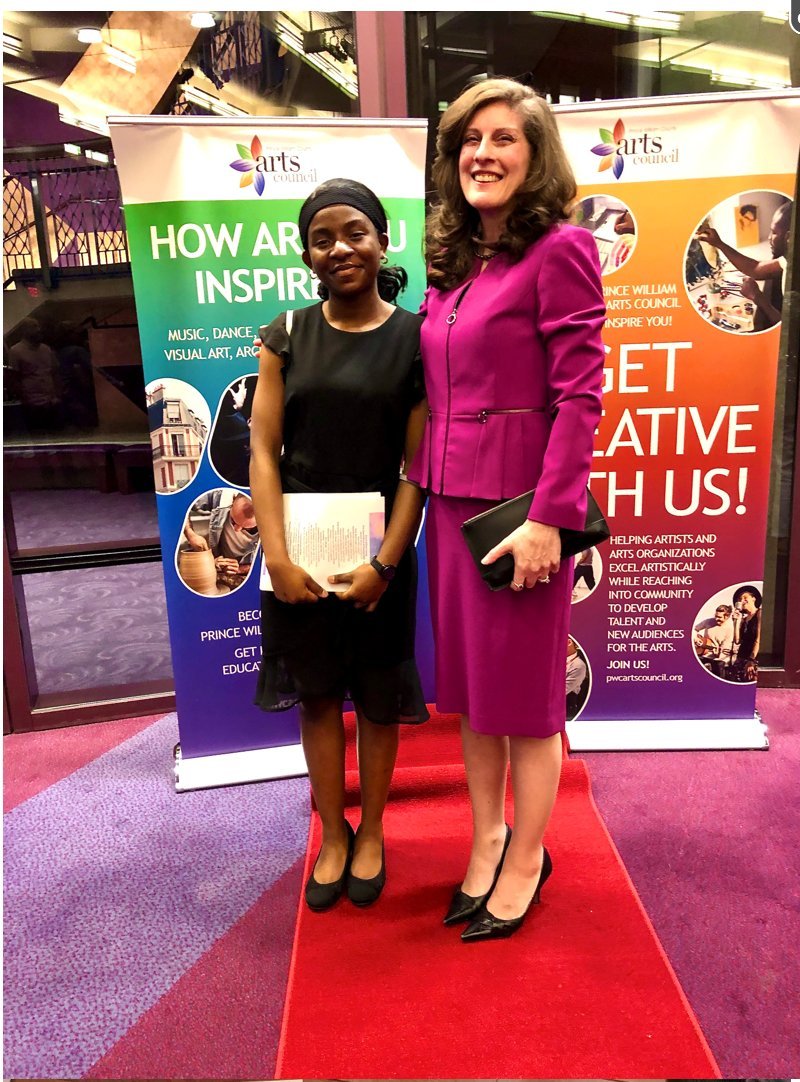 Seefeldt awardee Ms. McCall with community artist. The award is given by the 2023 Seefeldt Awards Committee and the Prince William Arts Council. The presenter of the award was poet laureate emeritus Kim B. Miller, whose poetry art has been showcased at prior McCall Gallery community events and celebrations through the years.
The 25th Annual Seefeldt Award was presented for Art Excellence, Outstanding Arts Patron and Community Service Criteria in the name of Kathleen K. Seefeldt for service excellence in the community. The award was given on May 8, 2023 on the stage of the Hylton Performing Arts Center.
This recognition is bestowed upon a nominee who is picked to win by the Seefeldt Awards Committee and is based on Art Excellence, Outstanding Business Community Arts Service and Excellence Criteria along with other programs created by nominees in benefit of the community at large.
The Galas and Events
McCall Studio Gallery/DMVISUAL LLC is located at 9409 Battle Street, behind the bright blue middle door, in Historic Downtown Manassas. Art exhibits, shows, events and galas, as well as historic museum tours, are part of its local community outreach tourism attractions and have been since 2017.
Special Red Carpet Galas are held at the gallery every winter and each of them feature an art show and artist. There are monthly spring and summer events and art shows also for the community. The winter occasions are more formal and allow the community to celebrate the gallery's featured artists, show debuts and other exhibits at the McCall Studio Gallery and Museum (Divisions of DMVISUAL LLC) and diverse multimedia creative owned by Ms. McCall.
The most recent of these red-carpet affairs was the 2023 New Year Gala in January with #JanuaryShow, and the 2023 Valentines' Gala with #FebruaryShow. Around 25 people attended the galas and shows, and these guests are treated to a complimentary spread of diverse food and champagne. The "Most Fashionable" or "Most Artistic" are rewarded with creative door prizes. In the way of entertainment, there are featured speakers, poetry readers and live musicians. Art sales take place each month. In March 2023 the brand studio celebrated its 35th Anniversary and the sixth Anniversary of the Outreach Gallery in Manassas. The celebration observance was held on March 3 with a #MarchShow also celebrating the 150th Anniversary of Historic Manassas.
CONTACT McCall Studio Gallery/DMVISUAL LLC – For branding creatives. You can reach McCall Studio here, and the community outreach McCall Gallery and Museum here. Email McCall at mccall@dmvisual.com or call McCall at 571-379-7598. TOGETHER WE CREATE & FOSTER ENDURING IMAGE!
Carolyn has been a successful artist and award-winning writer for many years. She enjoys reading, writing, painting and computers. She holds a Bachelor's Degree in Education and a Master's Degree in Educational Media/Computer Education. She has traveled extensively and has visited Russia, China, Germany, England, Scandinavia, Holland, Switzerland, England, Canada and Mexico. She lives happily with her husband and cat.