By Amy Taylor
Sponsored by McCall Studio Gallery
Located in Historic Manassas, McCall Studio Gallery is helping local businesses build their brands by lending their expertise in visual communications.
Denise McCall, director and founder of McCall Studio Gallery, explains. "Services encompass multimedia brand image communications from print design and illustration media to online branding, as well as content social media PR content communications and crisis communications. Our tagline is 'We Create and Foster Enduring Image!'"
Award-Winning Brand Image Identity Services
Their work has received many national and international awards over the years. They have received over 40 honors in the past 31 years, including many Academy of Interactive & Visual Arts (AIVA) Awards for multimedia brand communications with the latest award in 2018. They also received national recognition when they won the 2018 Telly Award.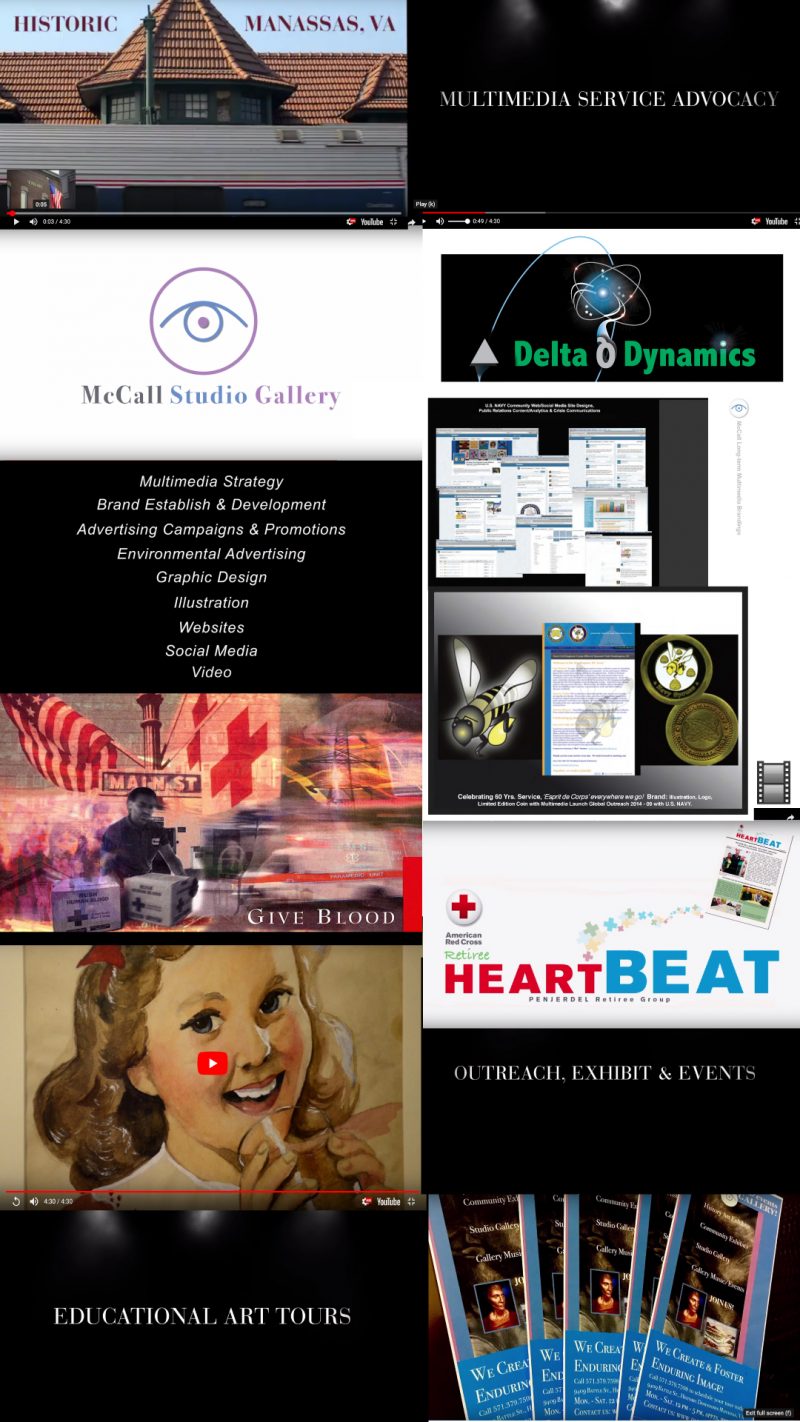 Other recognition for their work includes "Art Directors Award, American Institute of Graphic Arts (AIGA) Featured Case Study, 14-time ADDY® Award Winner, and many other client national awards for meeting and exceeding their goals, long-term," McCall said.
Thanks to their vast experience, McCall Studio Gallery has helped a variety of businesses build their brands, including "national and community nonprofits, educational institutions, associations, musicians, artists, military, military communities, and local diverse small businesses," McCall said.
McCall said that at a young age, she was drawn to this type of work. "The visuals of commercials on TV when I was very young emotionally connected to me," she said, "and my artistic family's encouragement of my innate talents."
She attributes much of her and her clients' success to helping clients emotionally connect with their target audiences. "With my skills mastered through the years, with diverse clients, as an artist whose eye and vision has been refined," she said. "The case study work I do helps target audiences as well. Our training from Harvard University in this is what makes us uniquely postured to help more clients."
"Clients like our personal customer service and communication effectiveness long-term, and our volunteer work in our community over seven years through our leadership services and integrity," she said.
To see their work, visit their portfolio online at dmvisualstudio.com/Creative-Solutions.html.
Giving Art a Home in Manassas
The gallery side of McCall Studio Gallery is home to a diverse array of artwork. McCall said they have "diverse local, national, and international original and limited edition visual arts is in our gallery: acrylic and oil paintings, watercolors, pastels, charcoals, still lifes, abstracts, sculpture, relief art/woodcuts, graphic design, illustration, photography, jewelry and curated antiques… my art as well as others' art.  For example, surrealist Salvador Dali's art," she said.
They hold shows seasonally and have revolving community art exhibits monthly. Original art is available for purchase.
They also hold historic art tours.
McCall said, "Experience diverse art of the 1920s to the last century with our private art collection tour at the historic building of McCall Gallery, at 9409 Battle Street from 12:00 noon to 5:30 p. m. Monday through Saturday."
The cost of a tour is $10 per person, with a 10 percent discount for students or those with military IDs. They offer community group tours at a discount and provide tea service. To make a reservation, email mccall@dmvisual.com.