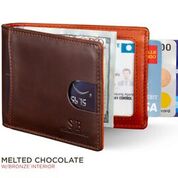 I've worn my wallet in my back left pocket for my entire adult life, so it should come as no surprise that I have developed some considerable back issues. At times, My back is painfully crooked and I have to hang on an inversion table almost every morning to straighten it out.
My girlfriend took notice and, a couple of weeks ago, left your wallet it in a gift box on my sink in the bathroom. Honestly, my first thought on seeing the wallet was "wow, this won't hold much", but she told me it would be easier to keep my wallet in a front pocket. Weighing my options of either carrying a lighter wallet or walking like a backup dancer in the "Thriller" video, I decided to give it a shot.
The first thing I noticed was how much it could actually hold, which was everything that was in my standard bifold wallet. The use of space is brilliant, with areas to hold far more cards than I expected (nice touch with the pull tab – that took me a minute to figure out but it's genius). The next thing I noticed was how easily it fit into my front pocket. It wasn't something I was used to, but after the first week, it became a habit.
Now that it's been a couple weeks of using the wallet, it seems silly to go back to the wallets I had used until this point. It's super thin, compact, and doesn't cause me to walk like a zombie. Would I have rather received the Canyon Red one? Sure, but I'll gladly buy it when this one finally wears out.
Patrick K. Gainesville, VA
——————-
In 2015 Vitaliy Serman and his then 16-year-old son, Leo Serman, set out to create the ultimate minimalist travel wallet. It was sleek, beautiful, highly functional and it took the world by storm. In fact, it received almost 10,000 reviews on Amazon alone. Today, Leo, his Dad and the rest of his family (11 in all) are back with some awesome upgrades to the original. Introducing the new SermanBrands 1.0.
See at http://kck.st/2T4pzkH
Made from the finest top-grain leather, the new SermanBrands 1.0 minimalist wallet is a full feature, indispensable travel accessory. Designed to carry your cards (up to 8) and cash like a champ, its patented construction creates zero bulk in your pocket while it keeps everything secure. With features like RFID blocking technology, an easy access front pocket, smart strap and a built-in money clip, the new SermanBrands 1.0 is the perfect addition to your everyday carry essentials.
The new SermanBrands 1.0 is available in several unique color combinations and for the first time in a Special Edition stamped design … it's a must-have accessory for any trip.