By Marianne Weaver
If the quarantine taught us anything, it's that sheltering in place doesn't have to feel like imprisonment. Social media feeds were filled with photos of home-cooked, four-course meals and picture-perfect baked goods. What better way to compliment a meal or finish an evening than with a creative cocktail? According to local experts, you can put together an at-home bar to accommodate any taste.
Latin Flavors
Add a twist to Taco Tuesday (or any day) by putting together a margarita and mojito bar.
The standard margarita is made with tequila, orange liqueur and lime juice and is typically served in a glass — on the rocks or blended — with a salted rim. The mojito is a traditional Cuban highball, usually made with white rum, sugar, lime juice, soda water and mint.
Miguel Pires, owner of Zandra's, which has locations in Manassas, Haymarket and Fairfax, said these two drinks pair perfectly with his restaurants' most popular items, the a la carte tacos. He suggested building a home bar with a wide selection of liquors.
"You definitely need some rum and tequila varieties of Blanco, Reposado, Anejo," he said. Blanco is un-aged tequila that is bottled shortly after distillation. Reposado is aged for 60 to 364 days. Anejo is aged for at least one year, but less than three.
"Espolon Anejo is currently my personal favorite, and Jose Cuervo Tradicional, Patron, and you definitely need Brugal rum."
Specialty Cocktails

Some entertaining calls for something a little "extra." Trummer's Coffee & Wine Bar, a European café that opened in the Virginia Gateway in 2015, has earned a reputation for creating specialty cocktails to complement their Austrian cuisines and fresh baked pastries.
"We make fresh, balanced cocktails with our own fresh squeezed juices, flavored syrups and sometimes frozen components," said owner Victoria Trummer. "Our signature cocktail is called a Titanic and has a champagne sorbet floating in the martini."
Although many people like vodka, she said it doesn't add much flavor to a cocktail. Instead, stock up on gin and rum to add a depth of flavor.
She said she likes fresh fruit mixers, like Fever Tree ginger beer and tonics (especially the elderflower flavor). To garnish, she advised stocking up on fresh fruit, olives and onions.
"Balance is everything," she said. "You must have enough acid, sweetness and liquor to give it just the right flavor. It takes a lot of practice (trial and error) but once you find the perfect measurements it can be easy to replicate. Also, use lots of ice shaken to cool down drinks!"
In fact, she said, keep an extra bag of ice stocked in the freezer. "When making cocktails, ice is crucial and often the ice maker in your refrigerator can't keep up with a night of mixing drinks!"
As for barware, as much as she'd like to "go big or go home," she said glass size depends upon the drink.
"Cocktails often look better in smaller unique glassware," she said. "It really just depends on what you're making, so try hitting up a thrift store and buying a variety of unique glasses to try out."
She added that she likes to serve salty snacks — mixed nuts or olives — or a cheese and charcuterie board.
Wine Bar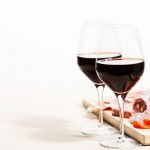 Not into mixed drinks? Arthur Lampros, owner of Winestyles at 4394 Kevin Walker Drive, Montclair, said it's easy to set up a wine bar at home. All you need are a few basic pieces of equipment, glasses and a few bottles of wine.
"Definitely include a bubbly," he said. "There is always room for bubbly at any time of day. Then add a light red, a heavy red, a light white and a heavy white, and something sweet."
For the bubbly, he suggested prosecco or cava. Sauvignon blanc or Vinho Verde were his top picks for the light white, and chardonnay for a heavy white. For reds, he suggested a light pinot noir and for heavy, either a cabernet sauvignon or syrah.
He said a port is the perfect sweet wine.
"Make sure your white wines are kept in the refrigerator," he said. "Red wines should be kept in a cool, dark place with no changes in temperature, no rattling or movement. So, not on top of refrigerator or on top of dishwasher.
He advised buying a good corkscrew.
"Get a really good wine opener like waiters use — not the drill kind, but the loop," he said. "Every house needs a really good opener."
As far as glassware, he suggested buying a decanter and two sizes of wine glasses — one set that is narrow and one with a bowl.
Older bold wines, and those than are really tannic, should be poured into a decanter to aerate.
"Bigger, bolder wines need more aeration, so use a glass with a bigger bowl," he said. "For wines that are lighter, have a higher acidity or are bubbly, use a smaller glass."
To complete the experience, he suggested serving cheese or a charcuterie board.
Marianne E. Weaver (mweaver@princewilliamliving.com) is a freelance editor and writer. She earned a BA from the University of Pittsburgh and an MJ from Temple University.