Provided by Kristina Schnack Kotlus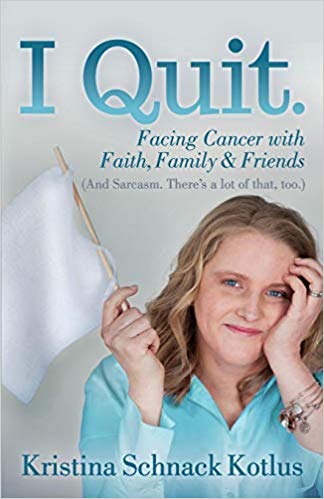 "I Quit!" isn't exactly what you'd expect to hear connection architect Kristina Schnack Kotlus say. She is a multi-year InsideNova blog of the year winner, recognized PWL "Changemaker" and Influential Woman, and George Mason University Outstanding Alumna award winner. Kotlus seems like the type of person to say "I Persist!" or "Try Me!" but nevertheless, her new book proudly exclaims that she's had it.
From the cover of her book, I Quit. Facing Cancer with Faith, Family & Friends (And Sarcasm. There's a lot of that, too.): "There's more to cancer than chemo and radiation. When she found herself diagnosed with brain cancer for the second time, Kristina Kotlus chose to quit on day one. But rather than meaning she gave up, her quitting meant getting a whole new lease on life. I Quit offers readers a chance to do the same. Inside, Kristina shares how she survived both diagnoses with the help of her family, friends, and faith in a relatable, funny way from her original diagnosis to finding doctors to telling her kids (hint: make someone else do it). She shares openly and honestly, with just a touch of sarcasm and a heavy dose of humor and faith and encourages readers to decide that it's time to stand up, wash the tears off their face, and keep going."
"I Quit is a rallying cry for anyone facing a difficult situation to choose joy and faith and embrace humor to make the best of their experience." said Kotlus. The book is available beginning Feb. 4 from Amazon, Target, Barnes and Noble, and other fine booksellers. Kotlus is also available to speak to local groups who would benefit from her message of hope, and a solid dose of humor. She can be contacted via her website.