By Amy Taylor
The Harbour Grille isn't new to Woodbridge, but successful restauranteurs Leo LaPointe, Lisa LaPointe and Todd Compton are bringing their own flair to a place to which they have strong personal ties.
The new owners, who took over in October 2018, have successfully run Fredericksburg staple Brock's Riverside Grille for the past 19 years. They are bringing the same quality and service from Brock's to the Harbour Grille.
The LaPointes have a personal history and emotional ties with their newly acquired restaurant. They met in the building that's now the Harbour Grille more than 22 years ago when the restaurant was called Gecko's.
"We bartended together for years before we started dating," Lisa LaPointe said. "Then we got engaged here surrounded by all our friends. In 2000 we got married at Brock's, and I stayed on here for a couple more years while Leo was running Brock's. Todd and Leo have been lifelong friends for over 30 years, and we all are great friends and love the restaurant business."
LaPointe highly recommends the crab cakes, Old Town salad, seafood carbonara, crab stuffed shrimp and New York strip. If you're looking for a unique beverage, the restaurant offers a selection of seasonal cocktails and a wide variety of craft beers.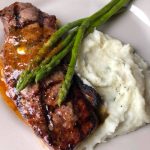 Diners at the Harbour Grille can expect to enjoy fresh American cuisine, made from scratch, in a beautiful waterfront atmosphere with prompt and friendly service. "We love to see people enjoying themselves and eating our great food! We take pride in what we do. It's not easy for independent restaurants today, but we've done it once, and we believe we can do it again. The Harbour Grille is very special to us and holds a lot of memories, and we intend to make it great again!" LaPointe said.
The owners aren't afraid to roll up their sleeves and work hard to make sure diners have a pleasant experience. You'll see them working side by side with staff to provide top-shelf customer service in the front and back of the house.
Coming up, the Harbour Grille will offer a special menu for Valentine's Day and a lively St. Patrick's Day celebration.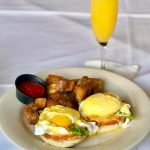 Throughout the year the restaurant features live music Friday and Saturday nights. Sunday's diners are invited to brunch, complete with a Bloody Mary bar, from 10:30 a.m. to 2 p.m.
A variety of spaces are available for hosting private events like rehearsal dinners, corporate functions, birthday parties or any special event celebration. The Port Room is perfect for groups up to 50 and is equipped with audio-visual equipment. The Captain's Room is quaint and can accommodate groups up to 40. For larger events, the main dining room, the Starboard Room, can seat up to 120 guests. For more information, call 703-548-0088 or email info@theharbourgrille.com.
Amy Taylor is a contributing writer for Prince William Living magazine.