Provided by IKEA
Starting Oct. 1, IKEA U.S. stores will roll out NEW products in its pet collection – LURVIG.
Our pets are our constant companions at home, with little quirks and big personalities that bring joy to our everyday lives. IKEA brought in pet-loving designers and trained veterinarians to help develop the LURVIG collection which consists of beautifully designed, long-lasting and affordable products that fit with your existing home furnishings. More importantly, it is designed with the pet's perspective in mind. By using pets' natural needs and behaviors as starting points, LURVIG covers all the bases of our shared life with our furry loved ones. New products include: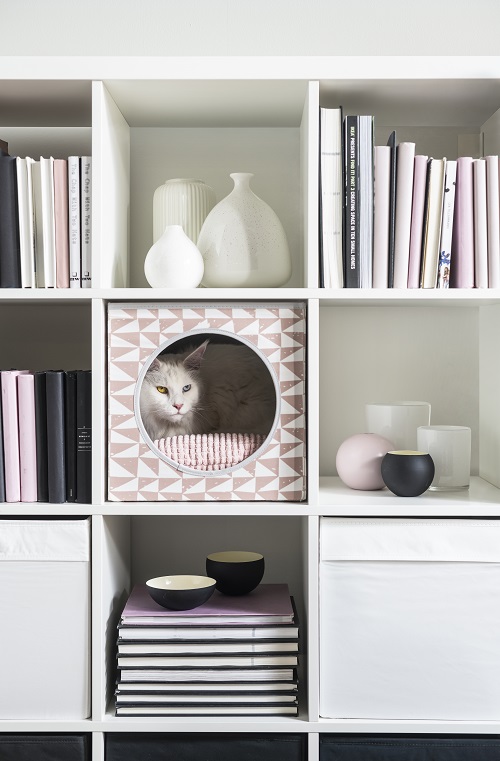 LURVIG Cat house ($4.99): What's wonderful about LURVIG is how it easily fits with IKEA classics, like a cat house that fits perfectly into a KALLAX shelving unit. The range comes in Scandinavian design-inspired colors, textures and patterns that seamlessly fits into your existing home interiors.
LURVIG Cat/dog bed ($49.99) & LURVIG Cover for cat/dog bed ($15): You know when they say that a pet is a reflection of its owner? With this pet-sized version of the iconic KLIPPAN sofa, they mirror your good taste too. The seat folds out and creates a spacious bed where your furry loved one can fully stretch and relax. Plus, the removable cover is easy to clean and can be machine washed
LURVIG Frame for pet bed ($27) & LURVIG Cushion $12.99: Dogs are cute and cuddly. But sometimes they can be messy too; plopping down on the furniture right after rolling around outside. No worries, you can easily keep this cozy cushion clean. Just take off the removable cover and toss it in the machine
LURVIG Travel bag for pets ($24.99) and LURVIG Bowl ($1.99): Of course your furry friend should join on trips. This travel bag keeps them safe and can easily transform into a bed at your destination. The matching travel bowl is great for snacking and drinking on the run.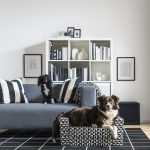 NOTE: Some products in the LURVIG collection will roll out after October (Winter/Spring).
Additional new products coming to IKEA starting Oct. include:
ODGER Swivel chair ($99): With a bowl-shaped seat, rounded back and armrests, the ODGER swivel chair – made of renewable wood and recycled plastic – is great for long hours by the desk or dining table.
LOMMARP Desk ($149): This desk provides a neat workspace in a beautiful design. It has a traditional style with crafted details combined with a large practical drawer and cable management holder. The size of the desk lets it blend into many corners of the home, just like its subtle colors (beige or dark blue-green).
RAMSELE Pendant lamps ($69.99/ea): Transform your lighting experience by the simple pulling of some strings. RAMSELE pendant lamps are a sure design statement in shapes that resemble a magical flower or geometric masterpiece. Made with sheets of felt or textile, the shapes change in an exciting way and the light is dimmed when the cords are pulled.
VEGGIE BURGER Children's meal ($3.49 / for sale in IKEA U.S. restaurants): IKEA U.S. store restaurants are introducing a new children's meal with a plant-based burger and more vegetables. The new meal combines good food with good fun. The burger – a colorful bun, a plant-based veggie patty, lettuce and tomato – is served in a box, ready to be "assembled" by young restaurant guests. Apart from the plant-based burger made from millet, oat and vegetables, the meal is served with veggie sticks mixed with French fries, making a well-balanced dish for children.
RÖDHAKE Baby textiles & UPPTÅG Children's textiles: Children need sleep to grow, gain energy and feel good. That's why creating a safe and secure sleeping environment is so important. The soft RÖDHAKE duvet covers feature patterns inspired by Swedish fairy tales and are woven from pure natural materials. Add the RÖDHAKE bed canopy over a cradle, crib or bed to create a calm place that makes the child's room extra cozy. Meanwhile, the UPPTÅG textile series – based on the theme of the holiday season and traveling — in a hot air balloon, boat or bus – appeals to the imagination and takes children on an adventure. The colorful graphics appear on everything from curtains to duvet covers, as well as a rug and a lamp shade.