Provided by City of Manassas Economic Development Department
'Great Eats' to Bring Two New Restaurant Concepts to Former Okra's in Downtown Manassas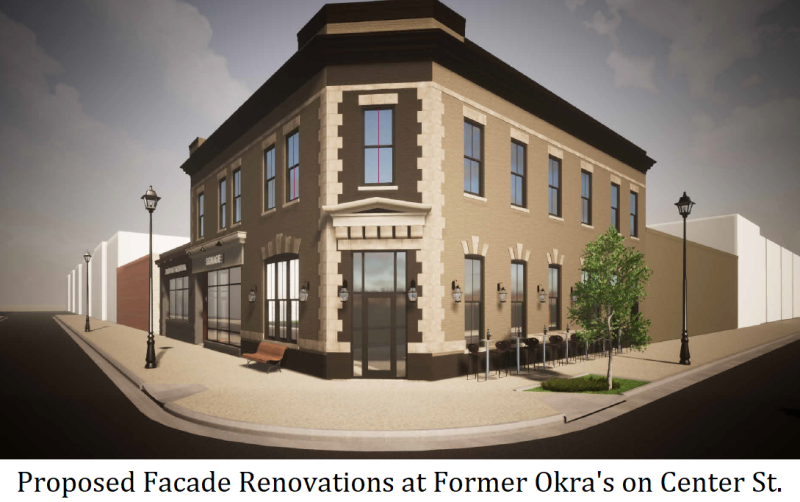 Two new restaurant concepts are in the works for Historic Downtown Manassas in the former Okra's restaurant at the corner of Center and Battle Streets. Great Eats Hospitality, led by Manassas serial entrepreneur Miguel Pires and his recently expanded City-based management team, is in the midst of extensive renovations of the building at Church and Battle Streets to restore much of the historic character of the building and make way for the new restaurants.
In the former Okra's banquet room adjacent to Zandra's, Great Eats Hospitality will open up an Asian street food concept called Zengo's. Featuring dishes like pot stickers, satay skewers, bao buns, and more, Zengo's will have an approachable but upscale, trendy vibe similar to the wildly successful Zandra's Taqueria next door (which is also a Great Eats restaurant).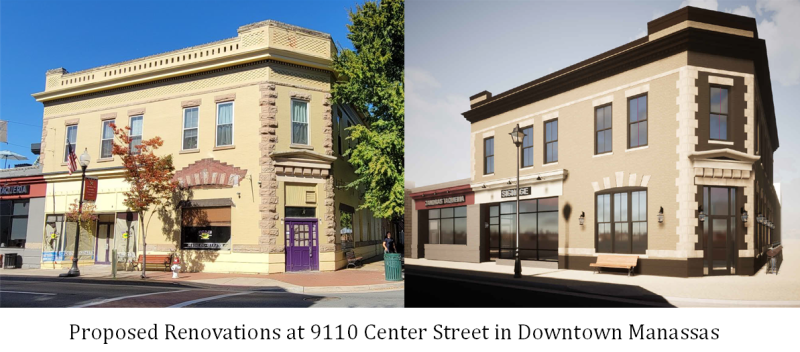 The larger portion of the building – once home to Okra's main bar and kitchen – will become the Gadfly Gastro Pub. The new restaurant, which will also encompass the former coin shop on Battle Street and include outdoor seating, will feature a rotating menu of seasonal dishes and elevated pub fare.
"With the new capabilities and team members of Great Eats Hospitality team, we're extremely excited to bring these new concepts to Downtown Manassas," says Pires. "Downtown is the heart and soul of Manassas and has so much going for it – we're thrilled for the opportunity to invest in the City again and continue to revitalize this one-of-a-kind location."
Building out Zengo's and the Gadfly is no small task for the Great Eats Hospitality group, who thankfully bring a breadth of dining experience in Downtown Manassas to the project. The building will be extensively renovated with a new kitchen, dining areas, entrances, and other enhancements that will restore much of the original architectural elements to the historic structure as part of the expected $500,000 investment from Great Eats. The restaurants are expected to open summer 2023.
Virginia Economic Development Partnership: Helping Virginia Companies Expand

Economic Development is a team sport. Successfully attracting, retaining, and helping businesses expand involves a wide array of stakeholders in areas like real estate, workforce development, industry connections, public partners, and often in Virginia – the Virginia Economic Development Partnership (also known as VEDP).
VEDP is a strong ally for the City of Manassas in the work of helping businesses choose Manassas for their location. Staff at VEDP routinely assist the City with identifying new prospects, helping Manassas businesses access state and regional workforce programs, build industry partnerships, and at times, even incentivizing businesses to locate and create new jobs in Virginia and Manassas. For example, Micron's 2018 historic $3 billion decision to expand in Manassas was significantly aided by support from VEDP – securing the international company's transformational investment in the City of Manassas.
Virginia Economic Development Partnership also has programs for supporting existing Virginia businesses. If your business is facing a ramp up in hiring, looking to enter new international markets, increase exports, or have outgrown your existing location, contact Manassas Economic Development staff to determine if working with VEDP could benefit your company.
Retail Spaces for Lease at Davis Ford Crossing on Liberia Avenue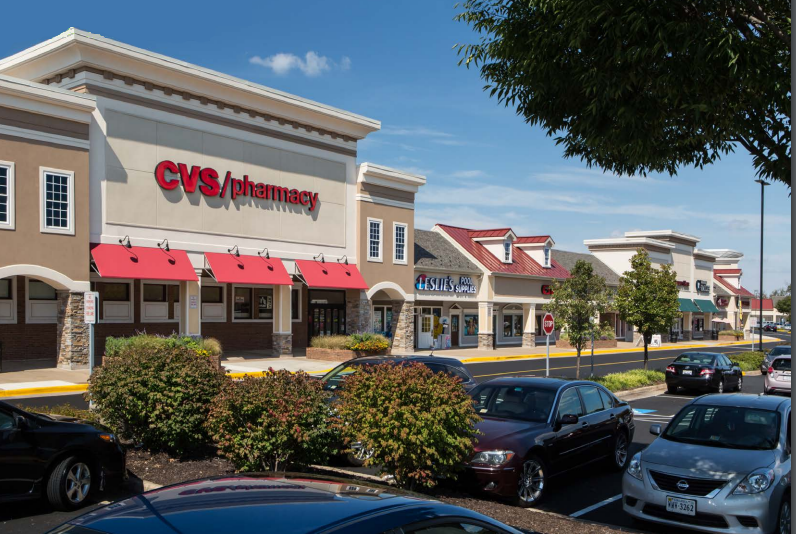 Join anchor tenants like CVS Pharmacy, LA Fitness, and Staples in the City's bustling Liberia Avenue commercial corridor.
The Davis Ford Crossing shopping center currently has two retail spaces available for lease. The two units – a 2,200 square-foot retail space and separate 1,600 square-foot storefront – offer convenience of access, ample parking, and a high density of other popular commercial uses. Fronted by Liberia Avenue (41,000 avg. vehicles per day) and Wellington Road (15,000 vehicles per day), the shopping center is one of the most visible retail locations in the City.
For more information on this or other commercial properties, visit the Rappaport website or search other available Manassas properties.