Provided by JR Communications
On Saturday, Sept. 9, Northern Virginia Family Service (NVFS) teamed with Amazon Web Services (AWS) to bring its mobile refrigerated van, donated by AWS, to a community in Woodbridge. The event was part of the organizations' efforts to raise awareness about food insecurity during Hunger Action Month.  
The pop-up event at Elevations One Apartments in Prince William County helped bridge the food insecurity gap for residents through the distribution of fresh fruits, vegetables, dry goods, and meats. It also included access to community resources, grilled food and ice cream, live DJ music, face painting, and raffle prizes. 
The refrigerated van has been supporting NVFS' community in-reach efforts – providing fresh food directly into the community since early this year to meet the growing need. AWS volunteers packed bags of food and were on site at the Sept. 9 event, as part of both its ongoing collaboration with NVFS and Amazon's Global Month of Volunteering efforts across Maryland, Virginia, and Washington, D.C.
"Thank you to Amazon Web Services for the refrigerated van which has been instrumental in meeting clients where they are through food distribution events like this one, bringing fresh and cold food directly to those in need," said Darrell Dixon, Hunger Resource Center manager for NVFS. "We couldn't do this vital work without the generous support of our corporate and community partners, like AWS, and the individual volunteers who help keep our shelves stocked."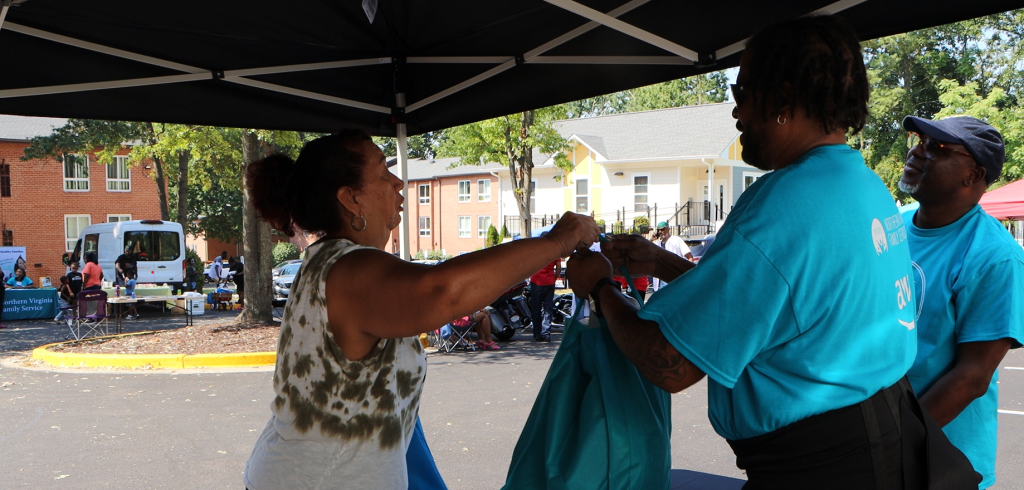 Residents of the Elevations One Apartments in Prince William County attended the Northern Virginia Family Service and Amazon Web Services pop-up event where families received valuable resources and a bag of fresh food, plus enjoyed games, music, and face painting.
Hunger Action Month (September) and Hunger Action Day (Sept. 15) were created to raise awareness about food insecurity in our communities. Due to the rising costs of day-to-day living and the termination of the Supplemental Nutrition Assistance Program (SNAP) Emergency Allotment program this spring, many families in Northern Virginia have slipped into financial hardship. Northern Virginia Family Service (NVFS) has seen a dramatic increase in the number of families seeking food assistance. 
A large number of families served by the NVFS Hunger Resource Center (HRC) relied heavily on the SNAP Emergency Allotment funds, which expired six months ago. According to The Community Foundation for Northern Virginia Insight Region Report, "In Northern Virginia, seven percent of families – 20,000 households with one or more children under the age of 18 – officially live in 'poverty': their annual income falls below the minimum set by the federal government for what they need to feed, shelter, and clothe their families."
"Statistics from The Community Foundation for Northern Virginia and others highlight the personal cost of inflation in Northern Virginia and represent the monthly difficulties families have in choosing between paying for the basic necessities, like food, electricity, and clothing for their children, or rent," said Stephanie Berkowitz, president and CEO for NVFS. "Northern Virginia Family Service's Hunger Resource Center bridges the gap between decreased food allotment benefits and increased prices. Each year, the Center provides healthy and nutritious food to nearly 5,000 residents from more than 1,300 families in the Greater Prince William community."
  "Organizations such as NVFS offer vital services that are helping address the rising rates of food insecurity here in Virginia. Amazon is proud to contribute to the work that they do to help combat hunger and to help enable them reach even more families in need," said Ian Allen-Anderson, spokesperson for Amazon.
Community members can help alleviate food insecurity in Northern Virginia by donating to the NVFS Hunger Resource Center to help keep shelves stocked. To support the Hunger Resource Center, visit nvfs.org/support/fall-food-drive/.
About Northern Virginia Family Service
"Northern Virginia Family Service's (NVFS) breadth, depth and scope of services offer the resources and support to ensure that everyone in need, at every stage of life, maximizes their potential and fully contributes to a thriving community. We provide the essential building blocks for financial, emotional and physical well-being, serving as leaders and innovators for the Northern Virginia community. Every year, we empower more than 30,000 individuals to achieve self-sufficiency. With these essential resources, our community is better equipped for future success and engagement among all of our neighbors." nvfs.org/