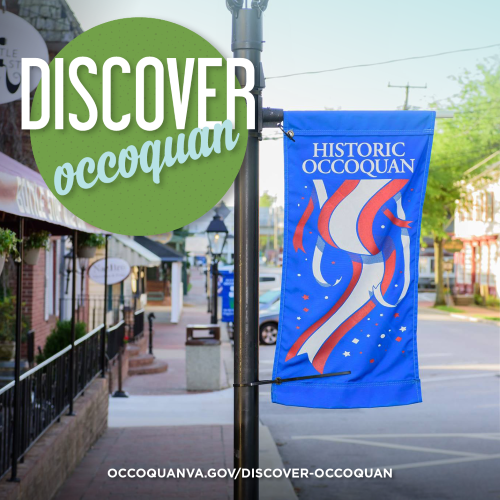 Provided by Town of Occoquan
Explore the brand new Discover Occoquan Live and Virtual Event! The Town of Occoquan and the Occoquan Merchants' Guild will host Discover Occoquan Week from Aug. 17 to 23. Virtual and live activities include Facebook Live shopping, in person, outdoor events, workshops, demonstrations and tutorials. This hybrid event will appeal to those who wish to shop from home as well as those who want to visit to shop.
What is your OCQ passion? Crafts and home décor? They have you covered, from candle and card crafting to mosaic making and textile transfers. Is your passion personal style or health and beauty? They'll showcase special fashion looks and feature makeup demos. Are you an athlete? Check out online yoga classes and watch a river dive. Antiques and collectibles? Check. Are you interested in art? See the works of Occoquan's many talented artists with virtual screenings and in-person demos, door prizes, and more, including a special presentation on building a leaded glass window!
The Week's Activities
The week kicks off Monday, Aug. 17 with a Facebook Live event at 6:00 p.m., highlighting special Occoquan-themed art and home decor. Friday through Sunday, join Occoquan Spirits for a Haunted Pub Crawl and Ghost Tour!  To wrap up this fun-filled week, there's a special, social distanced screening of The Princess Bride in River Mill Park on Saturday night!
Each activity is being planned with contingencies in mind depending on local COVID-19 conditions, and the Town is monitoring details on a daily basis.
Julie Little is Occoquan Event Director. She said, "Discover Occoquan Week celebrates our town businesses and community in a new and exciting way … [We're offering] a combination of virtual demonstrations and workshops and in-person activities, featuring many outdoor dining opportunities … Visitors can appreciate all that Occoquan has to offer, whether it's from home or in-person."
Check with individual businesses for possible event supplies or fees.  Visit occoquanspirits.com for ghost tour and pub crawl registration. Free on-street and public lot parking is available in town. If you do visit in person, the Town asks that you wear a face covering and practice social distancing.
Come Discover Occoquan!  For more information or a schedule of the week's events, visit occoquanva.gov/discover-occoquan/ or Facebook.com/OccoquanCraftShow, or contact Julie Little, Events and Community Development Director.