By Erin Pittman
Sponsored by Town of Occoquan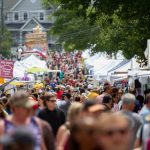 Whether it's the delicious food, a day in the quaint town, bands, fun family activities, or the hundreds of artisans and crafters from all over the country, the Fall Occoquan Arts and Crafts Show calls to thousands of people each year to attend. This year, the event will be on Sept. 28 and 29, from 10:00 a.m. to 6:00 p.m. on Saturday and 10:00 a.m. to 5:00 p.m. on Sunday in downtown historic Occoquan.
The show is celebrating its 50th anniversary this year, and this award-winning outdoor street festival has even more fun in store for visitors.
"It's our 50th, and we're celebrating one of the most popular events of the region with a beer garden in River Mill Park both Saturday and Sunday, 12:00 to 5:00 p.m., featuring Water's End Brewery and two local bands," said Events and Community Development Director Julie Little. "Visitors are welcome to Occoquan to start their holiday shopping early at the don't-miss-event of the season!"
Vendors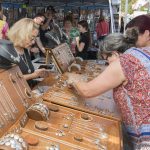 The charming riverfront town will be filled with hundreds of vendors. Families can enjoy a variety of hands-on children's activities including face painting by Fairy Jennabelle and My Gym Burke's challenging obstacle course. Occoquan-Woodbridge-Lorton Volunteer Fire Department will host their popular Touch-a-Truck event, too.
After the kids get their energy out, stroll the streets and take in the artisans and crafters featuring an amazing array of hand-crafted goods — fine art, pottery, jewelry, home décor, gourmet food items, bath and body care, baby and children's items, pet products, woodcrafts and more. This year, keep your eyes peeled for limited-edition items in celebration of the 50th anniversary.
"Since this year is our 50th anniversary, to celebrate, we've invited our vendors to share in the festivities by creating a special one-of-a-kind or limited-edition item to display and sell at their booths, depicting what Occoquan means to them," said Little. Look for the "I Love OCQ" badge displayed on merchants' tents.
Shops and the Arts
Many of the local shops will also be open for business each day. Be sure to stop in to see their new fall inventory.
In addition to shopping, visitors can take in dance exhibitions by the Conservatory of Classical Ballet and Rockledge Assembly of English Country Dancers and enjoy music from Mars Rodeo and Just Wanna Play. Be sure to enter the drawing for a 1996 Ford Mustang Convertible — you just might be driving home in style!
Admission for the show is free, and plenty of off-site parking is available. Find lots at the Workhouse Arts Center and the Lake Ridge, Route 123 and I-95 commuter lots. Shuttle bus service is available from each lot for a $5 round-trip fee for those age 13 and up; children under 12 ride free. Accessible parking for people with disabilities is available in town.
Visit the Town of Occoquan's website for more information and daily schedules at occoquanva.gov.