By Erin Pittman
Sponsored by Town of Occoquan
 Historic Occoquan has both tasty spirits and ghostly spirits, and the town is bringing them both together for a spooky good time during Spirits & Spirits Oct. 29 and 30.
"The Town of Occoquan and Occoquan Business Partners are excited to launch the second year of Spirits & Spirits in historic Occoquan! After taking a break in 2020 due to COVID-19, this popular fall event is back October 29 and 30 with new hauntingly fun activities for adults, kids, and families," said Town of Occoquan Events and Community Development Director Julie Little.
Be Prepared to be Scared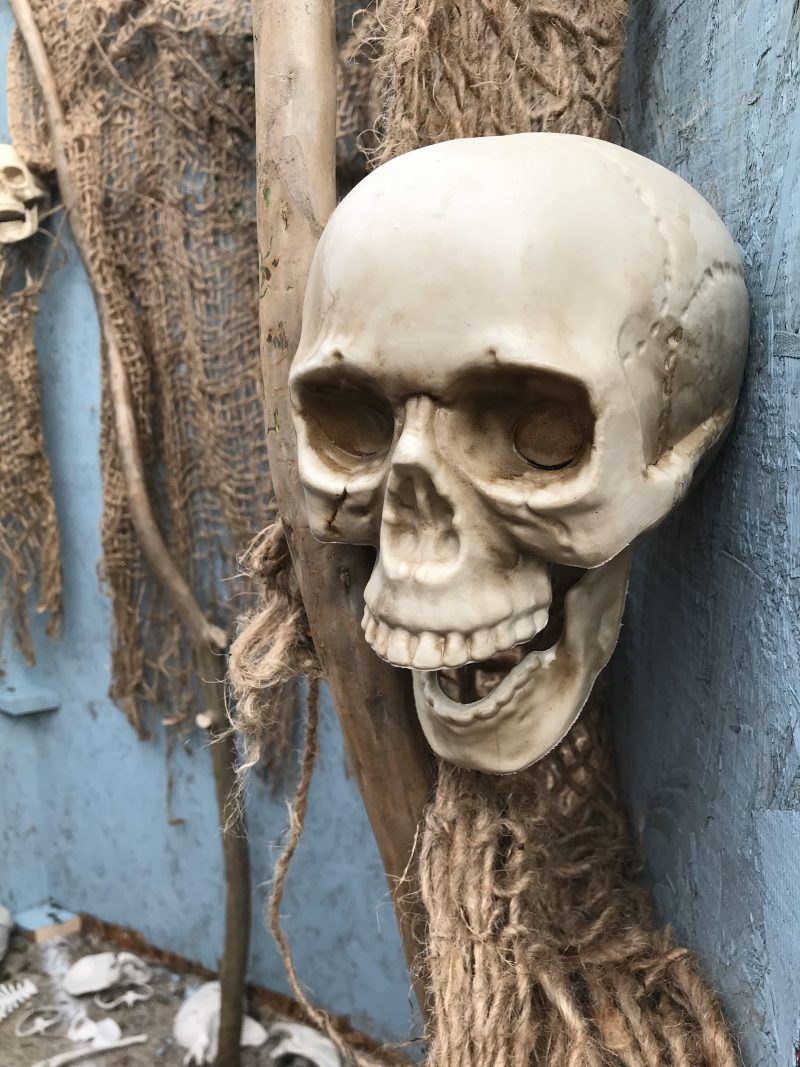 Are you ready to get spooked? On Friday, Oct. 29 and Saturday, Oct. 30 from 5:00 to 10:00 p.m., Patriot Scuba, at 305 Mill Street, will host the Haunted Maze. This event is rated PG-13 (for adults and brave, older kids). The maze is not recommended for young children, as it may be too scary.
Enter the maze through the spooky Spirit Garden, then navigate your way through 15 themed areas full of scary skeletons, creepy crawlies and ghoulish goblins. You might even run into the grim reaper in one of the 32 scare zones.
When you are sufficiently spooked, quench your thirst at the DIVE Bar located just outside the maze in the Spirit Garden.
"Guests can order a Halloween themed spirit as a DJ spins dance music fit for all ghosts and ghouls. Plenty of seating will be available, so grab some food from D'Roccos Grill while you're there," said Little.
Admission to the maze is $10 for ages 13+ and $5 for 12 and under. There are no tickets required for the Spirit Garden. Tickets are available for purchase at the door or in advance. All proceeds from the Haunted Maze & Spirit Garden benefit local non-profit Patriots for Disabled Divers.
Costume Parade and Contest
Join the Town of Occoquan's family friendly costume parade and contest on Saturday, Oct. 30 from 10:00 a.m. to 12:00 noon. Parade participants will line up near the Riverwalk Shops at 125 Mill Street. There is no fee to participate. This event is open to everyone!
Town of Occoquan Mayor Earnie Porta will lead the parade down Mill Street to River Mill Park, where costume judging will take place. Judging categories include cutest, scariest, funniest, most original and family/group. First place winners in each costume category will be awarded $25 gift certificates to select businesses throughout town.
Vote & Win Contest
Stroll through historic Occoquan on Friday and Saturday, and as you shop, vote for the best decorations, costumes and jack-o-lanterns at your favorite businesses. Voting ballots are available at all participating businesses. Cast your vote in the red mailbox at Town Hall and be entered to win gift cards to use around town. There's even more time to shop on Saturday, as many businesses will be open until at least 8:00 p.m., so stop by and shop late! The Vote & Win Contest is hosted by the Occoquan Business Partners.
Ghost Tours
Ready for some real-life ghost stories? On both Friday, Oct. 29 and Saturday, Oct. 30 at 7:00 p.m., adults 21 and up can take a haunted pub crawl. Crawlers will visit four famous haunts —which the living also enjoy—and spend 30 to 40 minutes in each establishment toasting to the ghosts and listening to the stories of the ghosts who still reside there. In between each stop, you will hear more spine-tingling tales as you pass by haunted homes and businesses along the way. Learn more at occoquanspirits.com or book your tickets now.
Free shuttle service for the events and activities will be available both days from 4:00 to 10:00 p.m. Park at the Route 123/Old Bridge commuter lot and ride directly to the Haunted Maze and Spirit Garden. Masks are required onboard the shuttles.
For updates on these or other events, go to visitoccoquanva.com/events.
Note: The CDC now recommends the wearing of masks in public indoor settings in areas of substantial or high transmission. The health and well-being of our residents, patrons and businesses and local community is paramount. The Town of Occoquan continues to closely monitor information from the Centers for Disease Control (CDC) and local health and government authorities to guide decisions about Town events.