Provided by Rise Phoenix Rise, Inc.
Reston government contractor and IT company Octo has provided funding for mental health non-profit Rise Phoenix Rise, Inc. (RPR) to distribute free copies of Get Happy, Dammit: Staying Inspired and Motivated in an Often-Unhappy World. The book was written by Octo employee and award winning author Katherine Gotthardt. The donation was made through Octo's Corporate Social Responsibility committee. It enables RPR to reach a broader audience of mental health peers who receive support through its one-on-one and group programs.
About the Book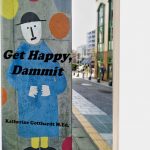 The book is made up of short essays, exercises and poems that explore two elements of happiness – inspiration and motivation – and offers techniques to develop both while improving quality of life. Gotthardt, who hails from Bristow, along with RPR's Executive Director Traci Jones of Longmont, Colorado, is running a free, corresponding 11-week online discussion group. The group further supports RPR's mental health initiatives and bolster readers' understanding of the chapters. Gotthardt also offers a Facebook group for anyone interested in building motivation and inspiration.
"We are extremely grateful to Octo for supporting this effort," said Jones, who is a certified peer recovery specialist. "Especially during a time when people are feeling more disconnected and facing greater financial difficulties, this donation really helps. The fact that the book is written by one of their employees also speaks to the way Octo supports their staff's volunteerism outside of work hours and their commitment to corporate social responsibility. We're very impressed and appreciative."
"I want to formally thank the folks at Octo who made this happen," said Gotthardt, a professional writer in Octo's marketing department with a background in adult education. "There are so many people struggling. When we band together like this to share tools and support, we have the power to reframe, refocus and refresh, things we all need to do, especially now. We're fortunate RPR is there to help guide people through that journey."
CEO of Octo Mehul Sanghani said, "Octo is pleased to support the great work RPR is doing … [W]e're even happier that the author is one of our own. We wish RPR the best as they continue to deliver quality mental health programs."
Headquartered in Longmont, Colorado, RPR is a 501(c)(3) non-profit serving mental health peers in Colorado and Virginia. Visit RisePhoenixRise.org for more information. For more information on the book, visit GetHappyDammit.com.