Like this article? Support us by subscribing here. Your donation will help us continue to provide quality-of-life news and make local impact possible.
By Wendy Migdal | Sponsored by OmniRide
Quinn from Quantico needs to get to the doctor, but the family car is being used for other purposes. Theresa from Triangle wants to go to the Target at Fortuna Center Plaza but can't stand the thought of dealing with traffic. Damion from Dumfries would like to use the bus to get to work, but he never knows exactly when his shift will end. The answer to all these problems? Microtransit!
OmniRide Connect is the New Microtransit Service
People living on the eastern side of the Prince William area can now benefit from the same services that the Manassas Park area has been enjoying for about a year now. On June 5, OmniRide vans hit the road in the eastern corridor, and Director of Planning and Service Delivery Perrin Palistrant says the new program has been successful.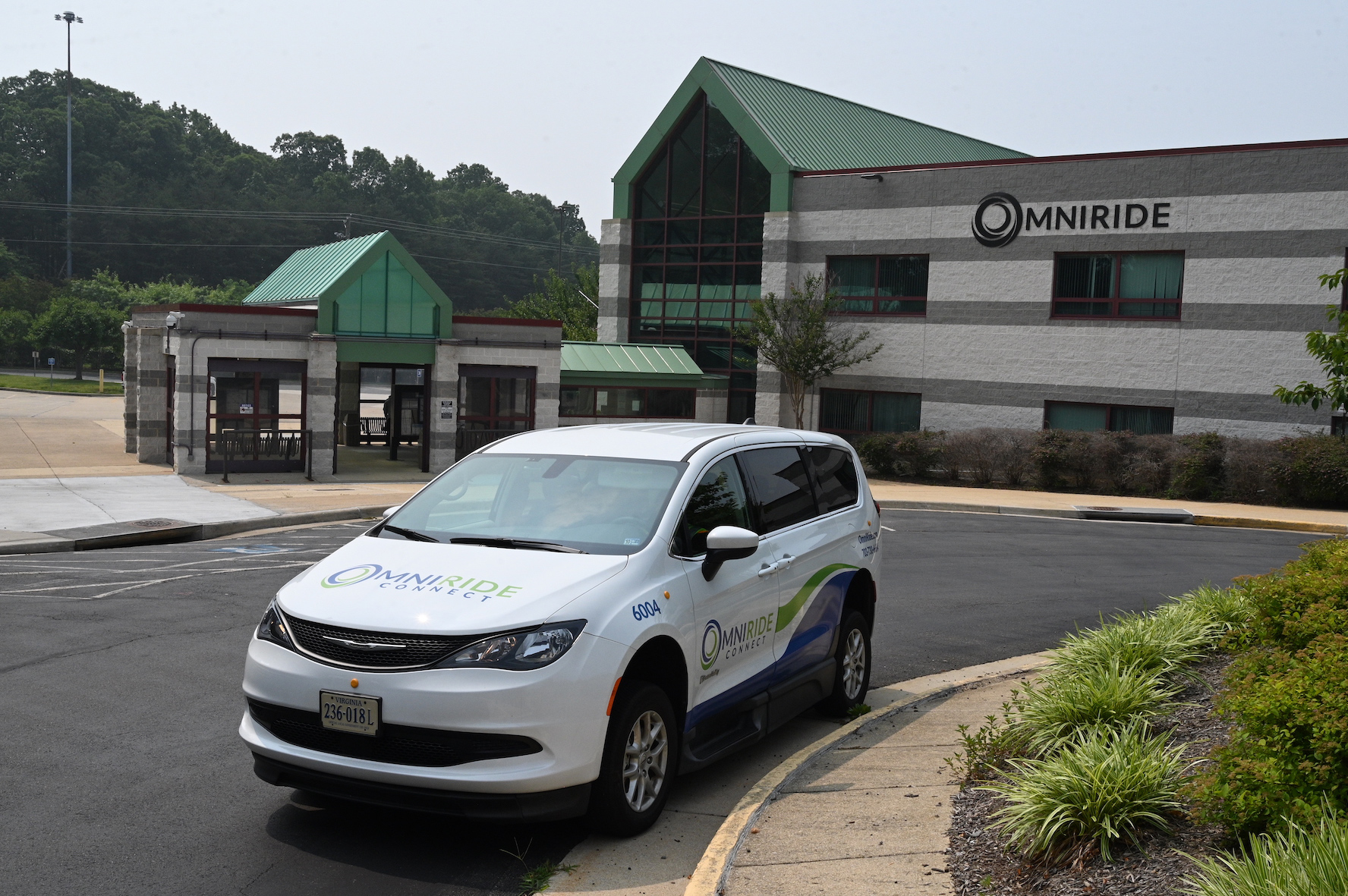 Residents within the five-to-seven-mile service zone can now be picked up by an OmniRide van at an intersection close to their home, even if it isn't a current bus stop. The van also drops people off either at or very close to their destinations. One of the best parts is that this is all on demand. As long as the rider makes the request within OmniRide's hours –currently 5:30 a.m. to 10:30 p.m. during the week, and 7:00 a.m. to 10:30 p.m. on weekends –the van will arrive within about 15 minutes of the rider's request. And perhaps best of all, it's free.
"We're seeing a lot of people making use of the service to get to medical appointments, and to shopping areas such as the Walmart at Route 1 and River Heritage Blvd or the Target at Fortuna Center Plaza," says Palistrant. "We're also seeing a lot of customers using this service to get to the Route 234 commuter lot, where they then take our bus up to the Pentagon or D.C."
Though many people have learned about the new service, OmniRide is looking to get the word out even more. Marketing plans include reaching out to the Board of Supervisors and to area businesses who can let their customers know about the service. "Even if a customer might not use it themselves, they may know someone who would," Palistrant adds.
Making Microtransit as User-Friendly as Possible
For anyone who has never used OmniRide's services, there's a Rider's Guide online that is specifically for microtransit. It goes over all the basics, such as operating hours, zones, how to use the app, and much more. For those who don't like to use apps on their phones, there are couple of other options. Trips can be booked online using a regular computer, or the future rider can call Customer Service, where a human will book the trip for them.
The vehicles are similar to a Chrysler Voyager and have all been retrofitted with ramps so that they are wheelchair accessible. The app will also give people walking directions to the pickup location, even telling them which corner of the intersection to stand at. Palistrant hopes that as OmniRide has more opportunities to speak to the public at events such as festivals and farmers markets, people will become familiar with the vans when they see them driving around town and be reminded to take advantage of the service.
Safety, Reliability, and Flexibility
Palistrant points out that though customers can use microtransit for a variety of reasons, they can all be assured of OmniRide Connect's safety, reliability, and flexibility. Van drivers have to complete the same training that is required for bus drivers. And taking an OmniRide Connect van may provide users with reassurance when they don't want to wait outside at night at a bus stop. Even people who don't normally use public transportation might consider taking it for safety reasons when they want to go out to a restaurant for dinner.
Regarding flexibility, Palistrant says that since the service is still in its early days, officials are evaluating it weekly and monthly so that they can make changes according to riders' usage. Compared to the normal fixed-route service which requires public hearing when routes may be changed, mictrotransit routes can be tailored much more easily and quickly to better serve people's needs.
So whether you're a regular bus user, Uber user, or neither, now is great time to try out one of the many benefits of living in the Prince William area.
Wendy Migdal is a freelance writer who has lived in the Northern/Central Virginia area since 2000. She enjoys history, reading, and all things dog.