Provided by Prince William County Schools (PWCS)
Connecting With Cellists Around The World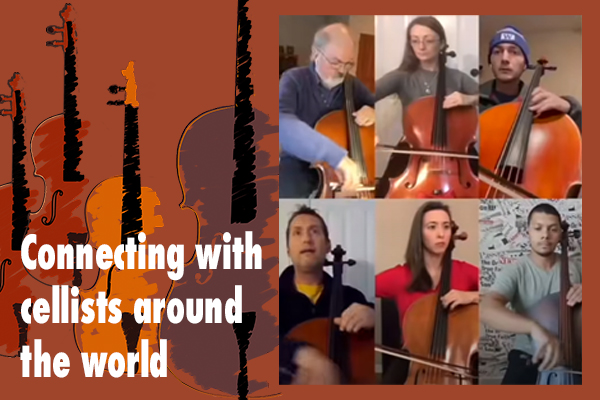 It's tough when a musician is unable to perform, so when Taryn Wood, strings teacher at Woodbridge High School, saw videos of cellists virtually performing together during the pandemic, she knew she wanted to join. Soon thereafter, Wood discovered the Global Cello Project and became a part of a worldwide cellist community.
The Global Cello Project, started by Austin musician Tony Rogers, is an online recording project created for cellists of all abilities and all cultures. Rogers arranges the music, consisting of both classical and non-classical pieces, and then shares the parts with interested cellists around the world. These musicians then record their part individually and send them to Rogers who edits them together into one video.
"This project fed what we [the musicians]needed," said Wood. "One of the worst things for a musician is to not be able to perform. Virtual performances were not a replacement, but it was a good opportunity to make the best of the situation."
It's proven to be a fun and challenging project for Wood as she used the opportunity to stretch herself as a cellist. She chose to record more difficult parts to both improve her craft and become a better musician for her and her students.
While this project allowed her to keep performing, even if only on a virtual stage, Wood also gained valuable skills and knowledge regarding performance to bring back into her classroom at Woodbridge High.
"I wanted to use the same ideas at Woodbridge," said Wood. "We talked about [the project]and its creation in class, and then, when we did our own virtual performance, I used the same procedure."
Even more so, Wood used the Global Cello Project to bring joy to the Woodbridge community. She recognizes the importance of the arts and the great role they play in our society, especially throughout the pandemic, so she continued to share the performances with her student musicians, the Woodbridge administrative team, and other members of the school community.
"The arts are what keeps us hopeful. Think about what people turned to when quarantine started," said Wood. "When we [musicians]stay engaged, it brings us joy, and then we can also bring joy to others."
The Global Cello Project is still on, and Wood is continuing to participate. To view the latest performances, visit The Global Cello Project homepage.
Hylton High School's Boys Soccer Team Honored at State Capitol
C.D. Hylton High School's boys soccer team won the 2020-21 Virginia High School League Class 6 championship by defeating Yorktown, 3-2. This was Hylton High's first soccer state championship since 1999.
The team's achievement was noticed by Delegate Elizabeth Guzman (HD-31). Guzman invited the team to Richmond to tour the State Capitol. She also read a House Resolution in the House Chambers congratulating the team on its success. Watch video.
Student Shows Canine Soldiers Help Win Wars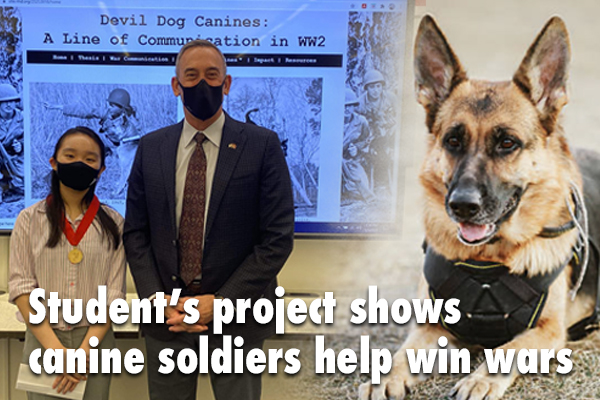 Congratulations to Julienne Lim, eighth-grade student at Porter Traditional School, whose website earned a top spot in the National History Day (NHD) Contest. Julienne placed first in her category at the Northern Virginia district contest, then second in the junior individual website category at the state level Virginia History Day Contest, earning her the right to advance to the NHD National Contest. She attributes her skills in coding and animation to her involvement in school robotics. This knowledge led to her ease and success using the NHD website builder tool on which she produced her project, "Devil Dog Canines: A Line of Communication in World War II."
"As someone with a strong preference for technology, the website category heavily appealed to me," said Julienne. "I have a background in coding and animation, since I do robotics. My goal was to present clear and coherent information in a nostalgic way; therefore, I used the monochrome effect."
Julienne's research and resulting website focused on the important role messenger dogs played in sending battlefield communications in the Pacific Theatre of World War II to support the national theme, "Communication in History: The Key to Understanding."
"The work of these four-legged heroes resulted in enormous contributions to multiple victories of the United States and its allied countries during World War II, and to the improvement of war communications," she writes.
Similar to a science fair, the NHD competition encourages original research that begins at the local level, but for history. Student projects can progress from local to a state contest and, during the summer, culminates at the NHD National Contest.
The Virginia Museum of History and Culture (VMHC) sponsors the Virginia History Day Contest, the state affiliate of NHD. Students participate in the program by selecting a topic in history they are interested in, connecting it to the annual NHD theme, conducting primary and secondary source research, and presenting the findings in one of five forms: documentary, exhibit, performance, website, and paper.
Julienne also received the United States Marine Corps History Award, which is sponsored by the Marine Corps Heritage Foundation and is awarded to an outstanding entry that demonstrates an appreciation of Marine Corps history.
Students Receive Crash Course in Tough Reporting
This past summer, Alessia Matory, ninth grader at Woodbridge High School, and Zoe Mendis, ninth-grade student at Forest Park High School, worked with Jenna Conner-Harris, their former gifted education teacher at Lake Ridge Middle School, on a project with National Public Radio (NPR).
Conner-Harris proposed the project to Matory and Mendis after the students' many requests to remain challenged over the summer break. The girls worked diligently reading, researching, and practicing journalism skills to prepare for an author interview they had been invited to conduct with NPR reporter and editor, Malaka Gharib. NPR was looking for "two savvy students in middle school" willing to read a new book on a short deadline. Matory and Mendis then interviewed Charles Kenny, author of a new book targeted to 12-15 year olds, or 'Gen Zers,' as the article calls them.
"I am so utterly proud of them," said Conner-Harris. "Digging deeply into a fully optional assignment within days of school being out, conquering a 210-page book, writing and refining and cutting down questions, working with a professional organization like NPR, and following it through with their interview. They have been working closely with me, doing a crash course on how to read, write, dress, and present themselves in a professional manner."
Kenny is director of technology and development and a senior fellow at the Center for Global Development. In his book, "Your World, Better: Global Progress and What You Can Do About it," Kenny suggests that, with the exception of the environment, society is on a positive trajectory, moving forward and evolving for the better. And while Gharib had final editorial rights to the article, she indicated that the students wrote and asked Kenny tough, challenging questions from differing points of view and research perspectives, leaving very little left for her to do except write the article's introduction and conclusion.
The resulting NPR article, "Two 14 year olds grill an author about the future of humanity," demonstrates the passion and thoughtful maturity Matory and Mendis put into their project. They did not shy away from direct inquiry. Their questions show true commitment to considering author motive as they looked at how topics raised in the book may impact the future of society and our world. For example, they asked Kenny whether he sees their generation as too sensitive on social justice issues, and if he thinks people are "hardwired to assume the worst when it comes to grand social issues."
Ultimately, Kenny demonstrates that it is students like his interviewers who give him hope for the future. By turning the tables and asking them what issues they think will be important 20 years from now, he points to Mendis' reply as she speculates that, in the future, education, and history in particular, will likely be taught from a variety of viewpoints, rather than only that of the victor.