By Amy Falkofske
 Tragedy Gives Birth to a Show
In 1997, on the day after Christmas, tragedy struck a Hispanic family in Dale City. Some clothes left too close to the water heater in the basement ignited and caught the house on fire. The entire family, including the children, died in the fire. At that point, Stephanie Williams, Creator and Executive Producer of the Spanish language TV show Panorama Latino, was approached by the vice president of Comcast Cable about doing a TV show to reach the Hispanic community with life-saving information. This year Panorama Latino celebrates its 20th anniversary.
Twenty Years of Helping the Hispanic Community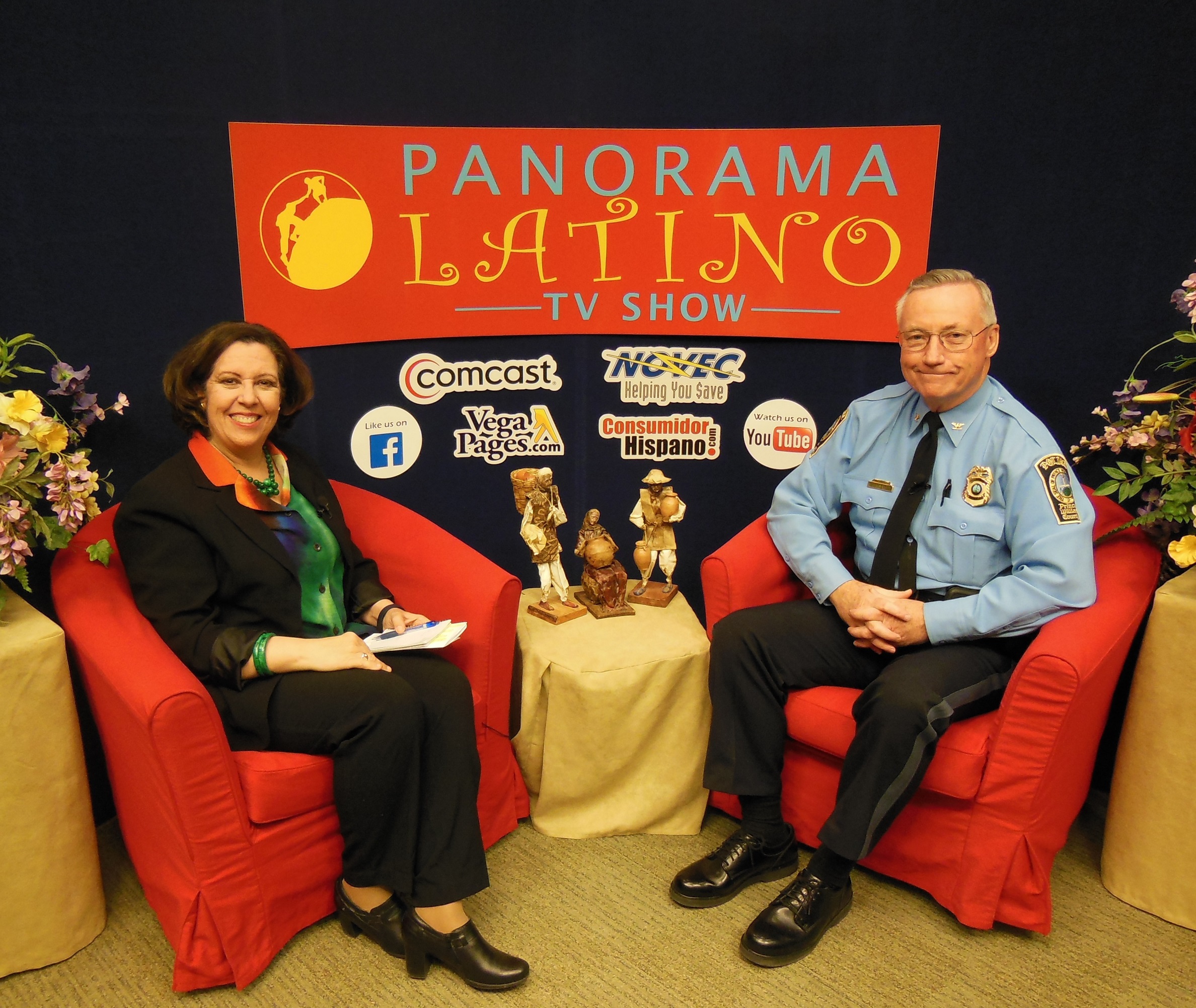 "The overriding goal [of the show]is to provide life-saving information to the Hispanic community, using the Spanish language, which research shows is the most effective language for important information even if the person is bilingual," said Williams.
Williams also pointed out that Panorama Latino "provides life enriching information that helps the Hispanic community assimilate by giving them information about things going on in the community and other important information that they need to be safe and live productive lives."
Over the years, Panorama Latino has had many important and distinguished guests such as former Prince William Police Chief Barry Barnard, former Prince William Fire Chief Kevin McGee, superintendent of Prince William County Public Schools Dr. Steve Walts, Dr. Hill, provost at the Woodbridge campus of Northern Virginia Community College, and Raúl Torres, head of the Prince William Human Rights Commission.
A number of well-known figures have accepted invitations to come on the show including Senators Tim Kaine and Mark Warner and Rick Davis, Executive Director of the Hylton Center for Performing Arts. Also, Dr. Karla Lacayo from Novant Health and Dr. Ramfis Márquez from the Greater Prince William Health Center have accepted invitations to talk about issues concerning health amid COVID-19.
The show features a cultural segment that informs the Hispanic community of events like performances at the Kennedy Center and Hispanic theaters.
Another segment of the show that focuses on youth, called Sí Se Puede (Yes, You Can) addresses topics facing today's youth such as bullying, depression and suicide. The segment also features students from different area high schools who have outstanding academic achievements to serve as role models. Roberto Rolong, a counselor at Freedom High School, hosts the segment.
Williams pointed out that she's most proud of "knowing that we're filling a need that existed 20 years ago and still exists."
"The Hispanic community has grown exponentially. If you look at the demographics back in 1990, I think it was 4.3%, and every 10 years it has doubled according to the U.S. census. So the demographics speak for themselves, and the need is still there, much more than ever before," she said.
Uniquely Qualified
Williams is uniquely qualified for her role as the Executive Producer of Panorama Latino. Her stepmother is from Colombia and her stepfather is from Mexico, and she has been working with the Hispanic community most of her adult life. She has an undergraduate degree in Mexican American Studies, a Master's degree in Spanish and a Master of Science degree in linguistics.
Additionally, Williams is specifically trained in community organization and she is not only fluent in Spanish, but also is a certified court interpreter. When she first moved to the area, she spent a lot of time volunteering in the jail. In fact, she was the first professional court interpreter in Manassas and was has gotten recognized for her extensive work with the court. She was the first recipient of the Liberty Bell Award from the PWC Bar Association.
Williams said that her goal for Panorama Latino is to inform and educate. She has taught both at the college level and also in grades 7-12.
"I believe strongly in education," she said.
A Dedicated Team
Despite her impressive qualifications, Williams points out that Panorama Latino is a team effort. Suzanne Alvarez Przygoda has hosted the show for over a dozen years and is proud to be a part of a show that supports the Hispanic community.
"Being a part of Panorama Latino means being a part of a team that supports the Hispanic community of Prince William County by providing important and timely information in Spanish to our viewers on safety, health, emergency procedures, community resources, cultural events and enrichment, and many other topics of interest to our viewers," said Alvarez Przygoda.
The show has also been hosted by Roberto Rolong for the last four years.
"Being in Panorama Latino is an honor because we are empowered to educate and bring awareness to the Hispanic community on various topics such as the importance of voting, medical resources, fire prevention and police safety," said Rolong.
Veronica Rosa is in charge of the show's social media and has been with the show for a few months now.
"As the youngest member on Panorama Latino team, being a part of the show means that I can connect with my Latin roots as well as showcase the wonderful local Hispanic community that I've always known and love."
Collaboration with the Community
Panorama Latino is sponsored by Comcast Cable, NOVEC, the town of Dumfries and the Prince William County Police Department.
Former Police Chief Barry Bernard has this to say about the show: "Throughout our long standing partnership, Panorama Latino has assisted the Police Department in building bridges and making a positive difference within our Latino community. The Police Department is forever grateful to Panorama Latino for helping us in our community engagement opportunities."
Panorama Latino is continuing its work with police department and now working with the Acting Police Chief, Jarad Phelps.
In September, Panorama Latino received a commendation from the Prince William County Board of Supervisors for providing "vital information and education to the ever increasing Hispanic population in the Prince William Area, now numbering well over 100,000."
Where to Watch
You can watch Panorama Latino on Comcast channel 2 at 8:30 every Friday night. If you don't have Comcast, you can watch the show on YouTube. Panorama Latino also has a Facebook page where they post a link to the show and shorter segments just for Facebook.
If you would like to contact Williams to talk about the show, you can call her at 703-851-5525.
Amy Falkofske is a freelance writer and photographer. She has a Master's degree in Film-TV with a concentration in screenwriting. She lives in Bristow with her husband, two boys and two Beagle dogs.