Provided by Fetch! Pet Care
Bron is a 6-year-old boy Manx who lives in Manassas. He has a fluffy gray-and-white lady friend.
How I Met My Pet Parent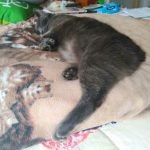 I was at a PetSmart adoption center, and my mom-to-be saw a little girl holding me belly-up in her arms. I was acting all chill and happy to catch my new mom's attention. The little girl and her family clearly were considering adopting me (I mean, who wouldn't), but while they walked around the store to think about it, my new mom slid in and snatched me up instead! My mom said I just looked like such a good boy and was so happy, she was also impressed on how patient I was with the little girl (bonus points). My new mom was sad because she had just lost her first cat of 19 years two months beforehand. She  needed someone new to love and I was just the ticket!
Favorite Thing to Do
I like to play with my bug –  it's a bug-shaped toy on a cat wand. I will sit politely near the bug and wait until mom makes it move for me so I can pounce on it.
Favorite Food
Anything and Everything! No picky kitty here.
Favorite Toy
I love my bug cat wand like a lot. Sometimes I just like dragging it around the house like my catch of the day.
Funniest Habit
I tend to hold one of my feet kind of upright when I'm in a cat loaf (see top photo). I have particularly long paws; what's a boy to do?
What I Taught My Pet Parent About Cats
My mom had never owned a Manx before. She found out the expensive way (ER visit) that we Manxes are prone to constipation! I'm sorry mommy!
Fetch Pet Care of Manassas

571-364-7250