Provided by Fetch! Pet Care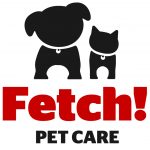 Duffey is a ten-month-old male Sheepadoodle from Manassas Park. His other animal friends include his big sister dog Reva and cousin dogs Mack and Millie.
How he met his owner
It was love at first sight when Duffey's owner saw him in a big litter of puppies.
Favorite thing to do
Chew and/or steal things.
Favorite food
All things edible and otherwise, especially paper towels/napkins! He is a puppy, after all!
Favorite toy
Giant stuffed pickle and a rubber Kong.
Funniest habit
Loves to watch TV; it doesn't matter what's on. Duffey likes all different kinds of shows.
What he taught his owner about dogs
He has taught his owner how to smile even when she is very sad and how much the love for a dog can help fill the heart after the loss of a loved one.
Fetch Pet Care of Manassas
fetchpetcare.com/manassas
571-364-7250
facebook.com/fetchpetcaremanassas
instagram.com/fetchofmanassas
twitter.com/mochsfetch