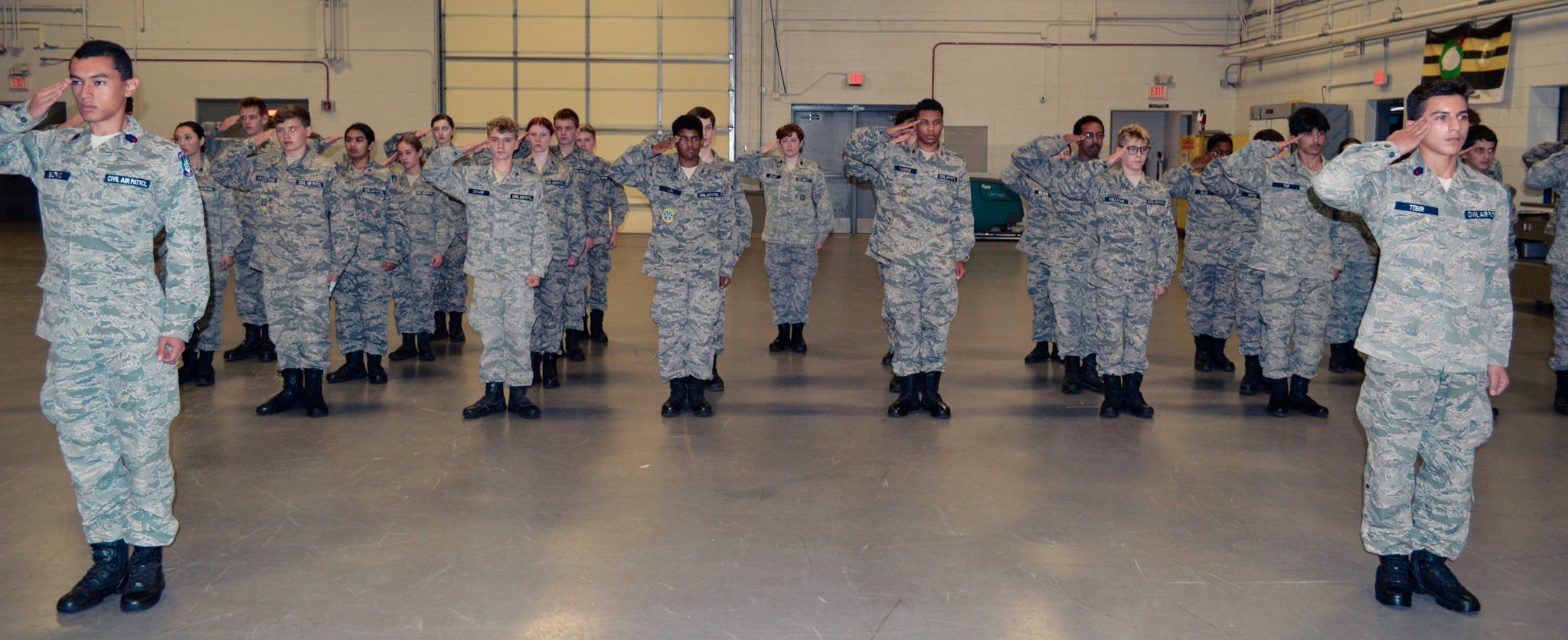 Provided by Prince William Composite Squadron of Civil Air Patrol's Virginia Wing 
The Prince William Composite Squadron of Civil Air Patrol's Virginia Wing recently witnessed a significant change of command ceremony. Cadet Lt. Col. Chris Pewett stepped into the role of squadron cadet commander, succeeding Cadet Major Yashvir Sabharwal.
Pewett, a high school senior, brings a wealth of experience to his new position, having served in various cadet leadership roles for the past two years, including cadet commander and deputy cadet commander.
Pewett expressed his enthusiasm for the role: "I knew I could positively impact the future of the cadets and cadre. Coming back from serving as a squadron commander for Virginia Wing Encampment 2023, I was re-energized and rejuvenated to be cadet commander again. The leadership skills I have learned from when I relinquished command back in February and now, eight months later, are ones I want to use at the squadron."
His vision for the squadron goes beyond routine meetings, as he aims to make CAP a dynamic and engaging experience for all cadets. "I do not want them coming just because they feel like they have to. Also, I don't want anyone to feel like the meetings will be the same every week. It is always a goal for the cadet cadre to make meetings interactive and enjoyable, but most importantly, impactful. Cadet Maj. Sabharwal and his cadre have done a great job bringing an interactive and high-energy element into meetings, and I look to continue that."
Outgoing Cadet Commander Sabharwal expressed his pride in the squadron's achievements during his tenure. "The previous term went exceptionally well," he said. "The squadron grew tremendously, and we were successfully able to get four teams in our squadron up and running. These four teams included the physical training, public affairs, activities and drill/color guard teams. Additionally, we were able to move from two flights to four flights, including a Great Start Academy. Overall, the term was an amazing experience, and because of the help of the senior members and cadets, I was able to command the squadron with 110 percent of my effort."
Sabharwal told the squadron that he has complete confidence in Pewett's leadership. "I am excited for Lt. Col. Pewett and his adventures during this next term," he said. "I have no doubts that he will excel in this position again. I am happy to transfer my command to a friend and exceptional leader, and I can't wait to see what Cadet Lt. Col Pewett implements for our squadron in the next six months." Sabharwal will continue to serve in cadet leadership as the cadet executive officer.
Reflecting on the significance of leadership and assuming command, Capt. Stephen Littlewood, PWCS Commander, emphasized the responsibilities that come with the role. "Leadership is a burden that few get to experience, but when they do, it has a life-changing impact on them. Learning to lead your peers as a youth is an invaluable life lesson. It teaches them increased responsibility, not just for those that they are appointed over, but also the decision and the consequences of those decisions, good or bad. Leading in the Civil Air Patrol is a prime opportunity to learn how to succeed and fail in a controlled environment for our cadets. It will show them that failure is not something to be feared but rather an amazing learning opportunity that initiates personal growth and knowledge."
The Prince William Composite Squadron looks forward to a new era under Pewett's leadership, building on the achievements of its dedicated cadets and senior members.