By Erin Pittman
If you're a word lover, you likely notice them everywhere. Perhaps you find alliteration in the latest billboard on 95 — a little mind-occupying fun amidst the traffic. Maybe you create poetic descriptions of the people passing by as you sit in the local coffee shop. Creativity with words can help us escape the daily grind and get into the inventive depths of our mind.
Imagine if you could easily find rhymes to ruminate on while you relish a baker's latest recipe? Or sonnets to savor as you sip a locally brewed saison? Or even words to wonder over in between wondrous works of gallery art?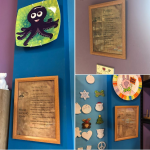 In the Prince William area, you don't have to imagine. Just take a look around local businesses and you'll find Poems Around Town.
Poems Around Town is a program sponsored by the Prince William Chapter of the Virginia Writers Club, Write by the Rails. The program launched in August and encourages businesses to display local writers' poems within their shops. There are currently more than 60 pieces of poetry on display in a
variety of businesses throughout Prince William.
Write by the Rails Vice President Jan Rayl came up with the service idea hoping people would stop and read a piece of literary art they otherwise might not — something short that would get them thinking in a different way.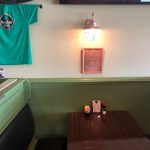 "Poems Around Town was inspired by Seattle, Washington's Poetry Poles. I had read about them and thought it would be a great idea for our area writers," said Rayl. "I mentioned the idea at a Write by the Rails Board meeting. The next thing I knew [President] Katherine Gotthardt had put feet to the idea and was
posting our poems around the county." That effort soon spread to Manassas and Manassas Park, as well.
The goal is to have 50 organizations hosting the poems, and local owners are responding well — even reaching out — since the poems began popping up last summer. There's no cost to the host organizations and all poems are family friendly.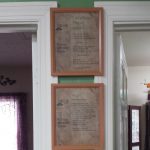 "The response … has been wonderful. Dozens of businesses have allowed us to post poems in their establishments. As I have lived in the Greater Manassas area for many years, I have been stopped several times by someone telling me how much they love seeing the poetry around Prince William. As a poet, it is heartwarming to walk into a business and see someone reading a poem you or
someone you know wrote with a smile on their face," said Rayl.
Gotthardt has also been thrilled with the response local businesses have had to the project.
"They like to be part of a community project. They want to participate in the arts in a unique way," Gotthardt said.
To become a host for the Poems Around Town literary project, send an email of interest to writebytherails@gmail.com. For more information about Write by the Rails, visit wbtr.org.
Erin Pittman has been a writer for 10 years, but a lover of words her entire life. Her work is published in local magazines and on local and national blogs. Contact Erin at epittman@princewilliamliving.com.