Like this article? Support us by subscribing here. Your donation will help us continue to provide quality-of-life news and make local impact possible.
By Carla Christiano
You might not know the name Preservation Virginia, but you may have seen the results of their work across the Commonwealth and even in Prince William. Formed in 1889 as the Association for Preservation of Virginia Antiquities, Preservation Virginia is the oldest statewide nonprofit organization in the country focused on preserving historic Virginia sites, advocating for historic preservation, and sharing information
through various educational programs.
"A lot of people get us confused with the Department of Historic Resources but we are not a state organization, we are a nonprofit," said Sonja Ingram, Associate Director of Preservation Field Services for Preservation Virginia.
Although many states in the U.S. have similar organizations, one thing that makes Preservation Virginia stand out is they work across the state and also manage six sites in Virginia including Patrick Henry's Scotchtown, Cape Henry Lighthouse, and the John Marshall House, explained Ingram. The organization also
manages Historic Jamestown, the site of the original fort and a favorite field trip for Prince William fourth graders for decades.
In 2004, APVA merged with Preservation Alliance of Virginia. Three years later the organization was renamed Preservation Virginia. One of the programs it now oversees is the Most Endangered Historic Places list, which was started in 2000 by the Preservation Alliance of Virginia to raise awareness and help
preserve historic sites. "For elected officials and people outside of the preservation world it helps them pay attention a bit more," said Ingram. So far, it's been paying off.
"A few years ago, when we reviewed the program to see if it was helping or not, we concluded it was." Of the 171 properties that have been included on the list, "Fifty percent have been saved, 10 percent have been lost and about 40 percent are still endangered," said Ingram.
How it Works
Each year in January, Preservation Virginia accepts nominations for threatened historic sites from individuals or organizations throughout Virginia. Typically, they get about 20 to 30 nominations, but in 2021, they received 40 to 50. "Last year's was probably the highest we've had in a while," said Ingram.
A committee that changes annually reviews the nominations and picks 10 to 12 for the list, though there is no set number, and announces the results in May, Historic Preservation Month, said Ingram.
Nominations reflect the diversity of Virginia history. "We've had schools. We've had courthouses and bridges. You name it. We've had every type of historic place. We've had battlefields and lighthouses. We've had industrial sites like furnaces, but we have also had cemeteries, historic roads, landscapes, and other places that are not buildings or structures. All of these are endangered in different ways," said Ingram.
Endangered Prince William Sites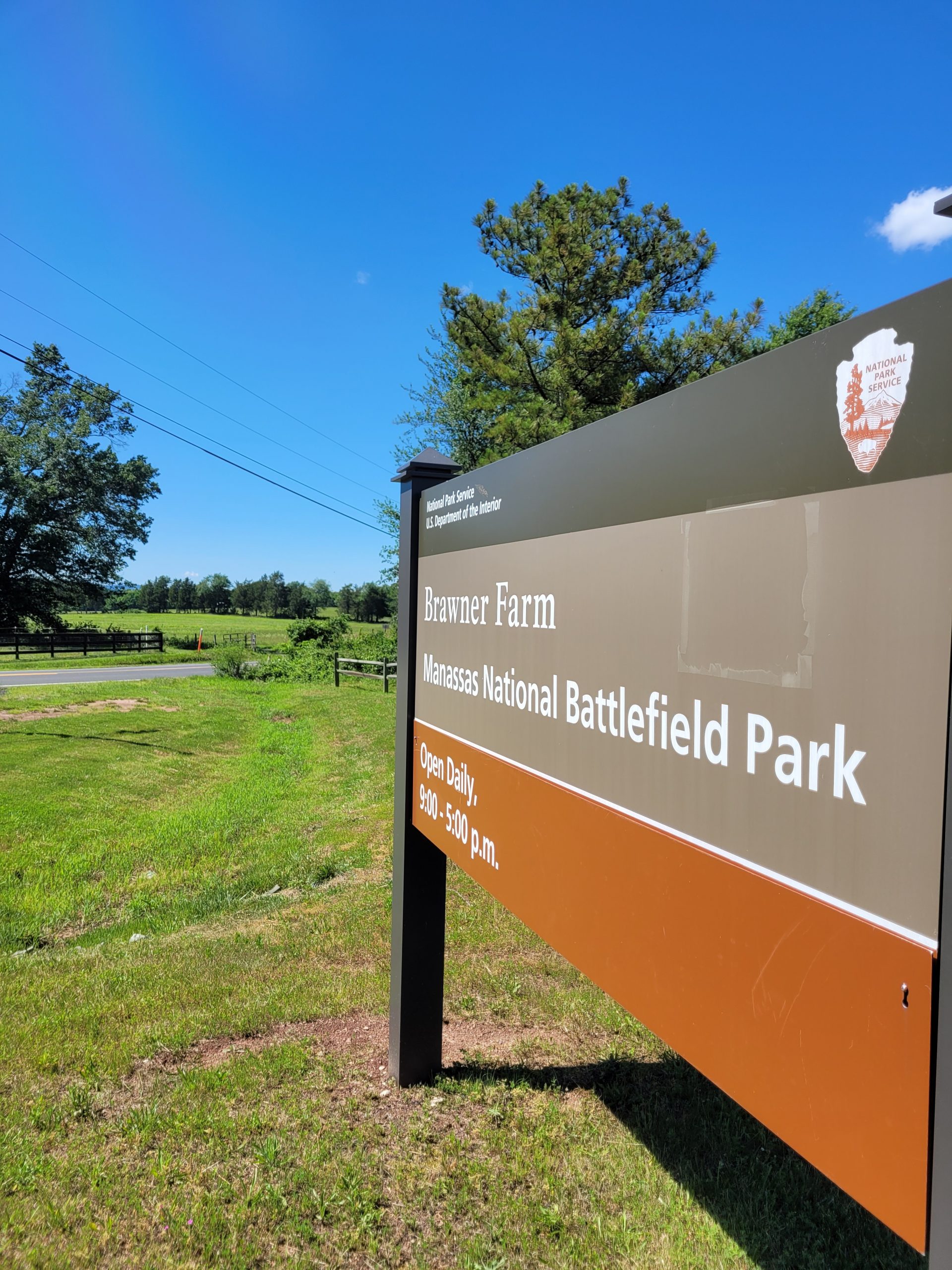 One Prince William site made the list this year: Manassas National Battlefield Park. The Board of County Supervisors is considering rezoning 2,100 acres of farmland directly adjacent to the park for 27 million square feet of data centers (the size of about four Pentagons or 150 Super Wal-Marts opponents say) even though there are already designated technology areas elsewhere. The data centers will be "huge industrial buildings right next to Brawner farm [an important battle site], changing the view of the historic landscape, causing noise in the park, and damaging the watershed. It's just a really big threat and the idea has been to get out the word as much as possible so that citizens, who we know love the park, can help us oppose this," said Christy Forman, Membership and Outreach Coordinator at Manassas Battlefield Trust, who nominated the park on behalf of an 11-group coalition that opposes the development.
The inclusion of the park on the MEHP list brings this issue to people who may care about historic preservation but may not live in Prince William or near Manassas Battlefield, said Kyle Hart, who represents the National Parks Conservation Association and is coordinating the coalition effort. "It highlights the importance and urgency of the effort. This is proof that groups that care about the preservation of historic resources across the state agree with us. This is urgent. This is a big deal. It's bad news for the battlefield
and historic resources," he said.
The park and three other Prince William sites also made the list previously: Mount Pleasant Baptist Church (2021), the Conner House in Manassas Park (2021), and Bristoe Station Battlefield (2014). The church is currently on a watch list as they try to rebuild after an arson fire damaged the building in 2012. The rest
are still considered endangered because of nearby development projects.
Value of Historic Preservation
A noticeable benefit to preserving historic sites is education. "If you can go to a historic site, it's tangible. You can feel it. You can get a sense of history so much more than reading from a textbook," said Ingram. Historians often call that the "power of place," said Forman. "There's no substitute for standing in a place
where history happened."
Historic sites can provide economic benefits through heritage tourism, but they also give an identity to a community. "You can go anywhere in the United States and see a shopping mall with Target," said Ingram. "However, if you take a historic place like downtown Petersburg, for example, there's nowhere else in the
entire world that looks like that because of its historic buildings, streetscape, and landscape."
Preservation vs. Development
Preservation doesn't mean no development. "There are ways that preservation and development have worked well together, such as housing developments where they are able to preserve the historic house or were able to sensitively incorporate a cemetery or an industrial park," said Ingram.
To ensure resources are protected, localities create strategic plans and determine where and what kind of development should take place. Unfortunately, the plans aren't a guarantee for preservation because of rezoning applications or special use permits, said Ingram. In most communities, there's usually an emphasis on "building and developing and developing, to get as much tax revenue as possible," she said.
"Historic sites and natural resources are some of the least valued. These things are always at the bottom of the list," said Ingram.
Ultimately, it depends on a community and its elected officials as to what they value and whether places are preserved. "It really comes down to the community. If they can organize and be really vocal, that really tips the scales. If the community does not seem to be that interested or that passionate about saving a place, it's not going to happen," said Ingram.
For more about Preservation Virginia, go to preservationvirginia.org. For information about the data center opposition, go to growsmartpw.org and manassasbattlefield.org.
Carla Christiano is a native of Prince William, admitted history geek, and a technical writer for SAIC.