Like this article? Support us by subscribing here. Your donation will help us continue to provide quality-of-life news and make local impact possible.
By Erin Pittman
We've all seen the ASPCA commercials where the sweet, sad faces of dogs and cats living in shelters stare deep into our souls, yearning for their perfect forever homes. Those 30 seconds of puppy dog eyes leave many of us wanting to make a beeline for the local shelter in an empty bus to bring all the sweet furballs home with us.
While Natalie Huls didn't make a rash decision like that, she did find a way to team up with other volunteers and make a tremendous difference for shelter animals in the Prince William area. Huls, Pat Hiltibidal, and Karen Edwards created the nonprofit Prince William Animal Advocates.
The History
In April 2019, Huls began walking shelter dogs at the Prince William County Animal Shelter. While out on walks, she photographed them in more natural environments — on trails and at the dog park — and videoed them performing tricks.
Edwards, Huls' neighbor, runs the shelter initiative for the food truck Dave's Dogs, run by Edwards' brother David Gray. The initiative collects donations through their "not tips" jar, a jar in place of tips where 100% of the money contributed goes toward sponsoring shelter animals through covering adoption fees, spay and neuter costs, and medical procedures. Dave's Dogs has a large social media following and has had a very positive response to their efforts.
"I got them to start posting my photos, videos, and stories that I would tell about what these dogs are really like outside of the shelter environment," said Huls.
At the same time, Hiltibidal was also walking shelter dogs, and she noticed some of the dogs had a variety of medical needs, such as masses that needed to be removed.
"She would try to put a bug in Karen's ear about which dogs to sponsor, who to help, how, and offered to donate money and collect money through volunteers," said Huls.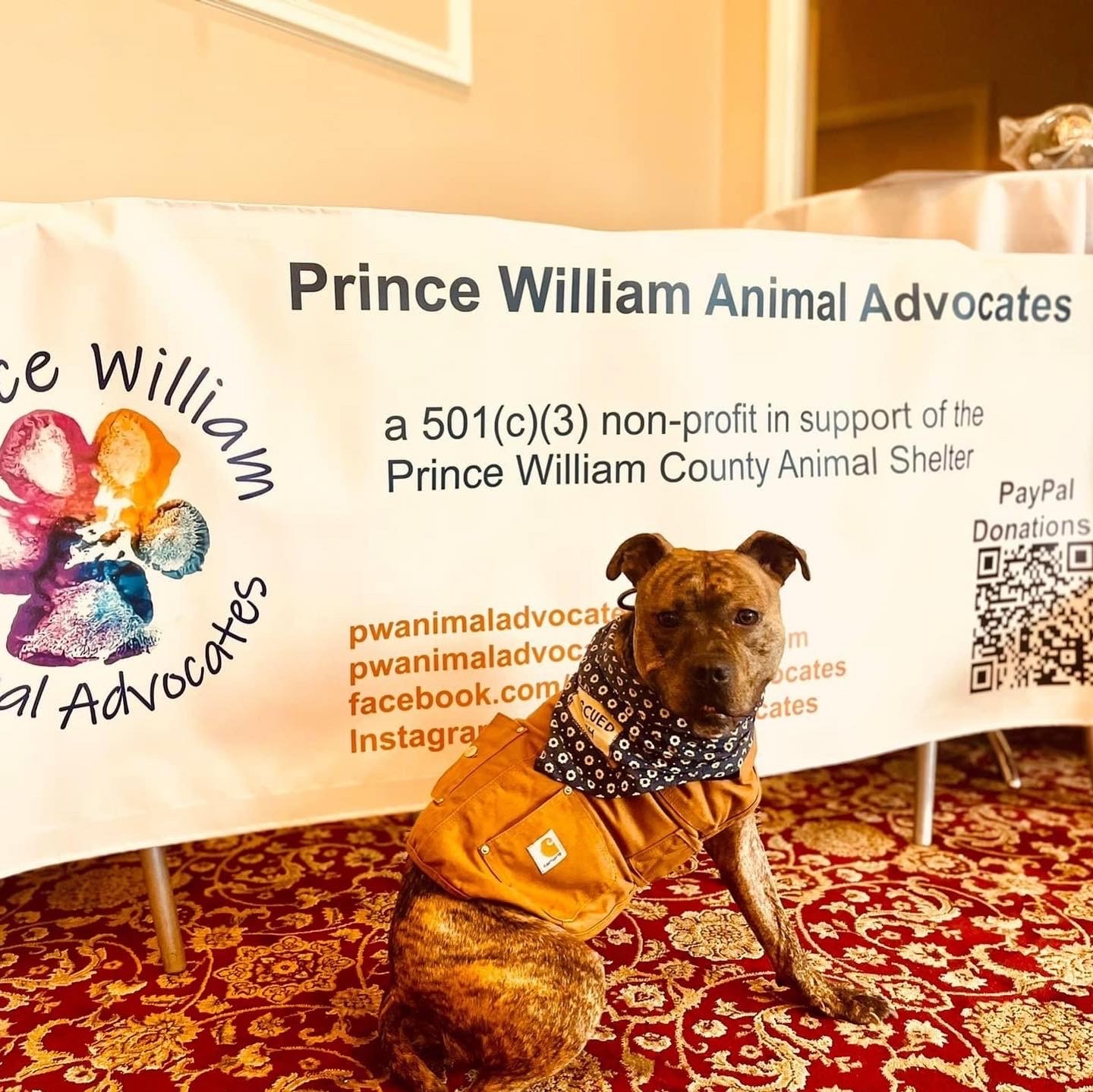 Putting It All Together
After about a year, the ladies realized that what they had were the pieces of a nonprofit organization similar to Friends of Fairfax County Animal Shelter.
"We had a networking ability. Pat was good at raising funds. Karen was good at advertising. I was good at photographs and stories and writing," said Huls. "So, we all got together, and in the summer of 2020 our pandemic project was to make a formal 501(c)(3) of this. We got incorporated in August of 2020. We got
our 501(c)(3) status in November of 2020."
The group followed the path laid out on the Friends of the Fairfax County Animal Shelter's website to mirror their setup.
"Pat is a retired Chief Administrative Officer who was trained as a legal secretary, so she had experience writing legal documents. So, she did a lot of that. And then I eventually actually just called up Evelyn Grieve, who's the president of Friends of Fairfax, and she gave us some tips on how to be successful and how to raise some money, set goals for ourselves, and do some strategic planning," said Huls.
After PWAA was established, they added Mike Donnelly, who along with his wife Michele, had been independently sponsoring the adoptions of shelter animals for several years. PWAA's Work
As the group formalized their efforts, creating the mission statement was easy: to help animals in our county mostly through Prince William County Animal Shelter. They aim to help animals be healthy and adoptable so they spend as little time in shelters as possible.
And how do they accomplish this? "We do that by pretty much taking care of any medical need that we can see, or that is asked of us, of the shelter animals," said Huls.
PWAA frequently pays for spays and neuters of adult cats and dogs, because they can't be adopted out unless they're spayed or neutered. If they're up for adoption and they're intact, the owner must pay for the spay/neuter and schedule it with the shelter after adoption.
"So, if we can get these animals spayed and neutered, while they're still relatively early on in their shelter stay, they can get adopted more quickly. People are just more drawn to animals who have already been fixed," said Huls.
The nonprofit also handles medical needs like mass removals, dental procedures, amputations, and more.
Coordinating with the Shelter
Working on their mission requires daily coordination with the animal shelter staff.
"We have a really great relationship with both the staff and the management, and also our volunteer and foster coordinator. Our volunteer and foster coordinator came from a rescue, so she knows a lot about 501(c)(3)s and raising money. So, she's been helpful to us," she said.
As the Executive Director and Treasurer, Huls works with the administrative staff to request appointments and take requests for animals who need help.
"It's really a two-way street, where sometimes we'll suggest animals that I've walked. And I've said, 'Well, this guy, sounds like he needs some help. He's a little bit shy. Maybe we can get him sponsored. Maybe we can get him neutered.' And then sometimes they'll say, 'Oh, these cats have been here for a while. They could use a spay;'" she said.
Fundraising
PWAA depends almost exclusively on small donors for funds. "We go online and ask for Facebook donations, word of mouth through the shelter. The shelter recommends us because they can't take monetary donations directly. We have a donation box at the shelter," said Huls.
The nonprofit is run by volunteers who all work other full-time jobs, limiting the time they have to put into organizing fundraising events. However, they partnered with Waters End Brewery for an event in 2021 and were the beneficiaries of a recent golf tournament, as well. Huls shared they are certainly open to more partnerships and events in the future and are grateful to the businesses and volunteers they have worked with thus far.
To help PWAA continue to help local animals become more adoptable and spend less time in the shelter, email pwanimaladvocates@gmail.com. And be sure to check out their success stories at pwanimaladvocates.org. (For hands-on volunteering, contact the Prince William Animal Shelter.)
Erin Pittman is the Editor in Chief of Prince William Living. She's a lifelong animal lover and just might be one of those people tempted to fill a bus with homeless pets. Reach her at epittman@princewilliamliving.com