By Jane Fullerton Lemons
A wide range of Prince William's independent businesses, public schools and government services were represented in the most recent Book of Lists published by the Washington Business Journal.
Three Prince William County small businesses were listed among the 75 fastest-growing companies in the Washington area for 2018 (bizjournals.com/washington/news/2018/11/02/rankings-revealed-2018-fastest-growing-companies.html). To qualify, the companies had to show revenue growth each year between 2015 and 2017, with revenue of at least $2 million in 2015 and at least $10 million in 2017.
Coming in at No. 2 was TechAnax, a Woodbridge-based company that provides technology services.
"We have seen tremendous growth and fantastic numbers, which have occurred thanks to our dedicated Prince William Countybased workforce delivering quality solutions and building customer relationships," said TechAnax CEO Byron Athan.
Able Moving & Storage Focuses on Company Culture
Ranking at No. 62 was Able Moving & Storage, a family-owned company founded in 1987 by Jim, Joe and Bill Singleton. In 1990, the company moved from Fairfax to Manassas.
According to Joe Singleton, it's unusual for a company that has been in business more than three decades to make the list of fast-growing companies, and it underscores the commitment Able Moving & Storage makes to customer service and employee engagement. It fosters that company culture by offering benefits
that extend to profit sharing, English classes, driver training, customer service training, mentorship programs and weekly company breakfasts.
"Every Friday during our peak season, we provide breakfast for every employee," said Joe Singleton. "In an industry that's always in a hurry, we use the Friday breakfast to slow down for a bit and let everyone sit together have a good meal and catch up."
That attitude applies to community involvement, too. Able Moving & Storage works with Northern Virginia Family Services, sending a moving truck and crew to pick up donated turkeys from local schools and businesses during its annual holiday turkey drive. The company also works with SERVE as well as career advancement programs at both George Mason University and Osbourn High School.
"Our leadership team understands that they are the stewards of someone's precious child not just an employee," Singleton said. "We have always known that if we don't take care of our people, someone else will, and the same goes for our customers."
Open Systems Technologies Practices Core Values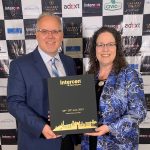 Listed as No. 66 was Open Systems Technologies Corp (OST). Founded in 1996, the family-owned business that provides cybersecurity and cloud computing services moved its operations to Gainesville in 2007.
The award reflects the company's ability to adapt to the ever-changing technology landscape, said Thomas R. Truitt, OST's founder and president. The company is also committed to putting people ahead of profits when it comes to both customers and employees.
"We still believe in loving your neighbor more than yourself. And in business, our neighbors are our loyal employees and valued clients," Truitt said.
OST also steps up when it comes to serving the community, both in Prince William County and beyond, by donating to Wounded Warriors as well as children's charities worldwide that provide food, clothing, education and housing.
Contract Solutions Gives Back in Time and Money for the Community
Contract Solutions Inc. (CSI) was honored twice – ranking No. 3 in financial donations for providing $263,000 for charitable causes and No. 2 for providing 4,000 volunteer hours, among smaller companies in the Greater Washington area.
For the company's founder, Corliss Udoema, service is an essential pillar of her national award-winning company. CSI provides professional staffing and management support services and has been located in Prince William County since 2009.
"Being recognized is not the main motivation for us," she said. "We want to deliver the message that all small businesses can make a positive difference in our community. Rather than focusing on the mountains that may lie ahead, we try to focus on taking one step at a time. We try to set an example that by joining hands, minds and hearts, we can make positive change."
Udoema works with individuals, nonprofits, businesses, churches, community colleges and the cities of Manassas and New Bern, N.C. She has orchestrated efforts to distribute bags to the homeless, handing out more than 5,000 last year and on pace to double that this year. She also sponsored computer literacy classes for seniors, conducted mentoring sessions for veterans and provided disaster relief to hurricane victims in North Carolina, Louisiana, Florida and Puerto Rico. She often partners with other small businesses on such projects.
"Many have joined hands with us on our journey to make a difference," she said. "I don't see the other companies as competitors, but rather as co-laborers. I don't necessarily see us as different, but rather this time, we were the company that was noticed."
Perfect Planning Events Values Teamwork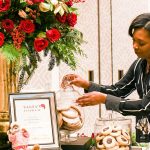 In the category of meeting and event planning companies, Perfect Planning Events of Woodbridge ranked No. 24 on the list.
Tara Melvin, the company's CEO and creative director, founded her event planning and management company in 2004 to encompass all the details that go into organizing corporate events as well as weddings and other social gatherings.
According to Melvin, "The community is our pillar and foundation that allows me to thrive as a small business owner."
She emphasized that teamwork – within the company, with the customer and throughout the industry – is vital to creating unique and memorable experiences. "What gets me up in the morning is our clients – seeing the expressions on their faces during their events and having the continued relationship with them long after their event is over," she said. "Our clients become our friends."
Additional Companies Honored along with Schools and Government Services
A number of other Prince William area organizations made the Book of Lists:
Ennis Electric Co. Inc. ranked No. 8 for electrical providers.
My Plumber Heating and Cooling was No. 9 for mechanical contractors.
Federal Conference ranked No. 23 for veteran-owned companies.
Others on the list included:
Sentara Northern Virginia Medical Center ranked among the top 25 hospitals.
Northern Virginia Community College ranked first with the highest enrollment in colleges and universities, followed by George Mason University at No. 3; both schools have campuses in Prince William County.
The Prince William County Department of Economic Development tied along with the Prince William Chamber of Commerce at No. 8 in terms of annual budget size among other jurisdiction organizations.
Prince William County Public Schools ranked No. 15 and Prince William County Government ranked No. 34 among the entire region's top non-federal public and private employers.
The Marine Corps Toys for Tots Foundation placed No. 28 for corporate philanthropy.
Among the region's largest malls and shopping centers, Potomac Mills ranked No. 4, Virginia Gateway ranked No. 8, and Manassas Mall ranked No. 12.
American Type Culture Collection (ATCC) ranked No. 4 among the largest bioscience employers.
Jane Fullerton Lemons (jlemons@princewilliamliving.com) is a freelance writer and journalist. A longtime resident of Prince William County, she holds an MFA from Goucher College. Follow her work at
janefullertonlemons.com and on Instagram.