Provided by Civil Air Patrol Prince William Composite Squadron
A change of command is a tradition that has its origins during the time of the Roman legions, when one commander would pass the commander's baton to another in front of the troops to signify the new leader who would take them into battle.
Civil Air Patrol's Prince William Composite Squadron had its own piece of that tradition recently when Maj. Arch McCleskey relinquished his role as commander and passed the guidon to Capt. Stephen Littlewood in a ceremony held at the Army National Guard Readiness Center in Manassas. Littlewood has been a senior member of CAP since 2021 and has made the squadron his home unit since then, serving as the deputy commander of seniors and its emergency services officer.
Although this will be Littlewood's first command in CAP, as a former warrant officer of the U.S. Marine Corps, he is not a stranger to service.
"I am excited and welcoming of the challenge of the position, but obviously a little nervous as well," Littlewood said. "It is a big commitment to the organization, the members of the squadron and from my family. My primary order of business is to create an environment where all members feel welcomed and appreciated for their dedication and volunteer service. I want cadets and senior members alike to be excited about attending meetings and feel that they are not only giving back to their community, but that they are receiving what they need to grow as a person, leader and as a volunteer. My focus during the first year is not on the perception from the outside looking in, but rather creating an environment that feels more like family than work from within."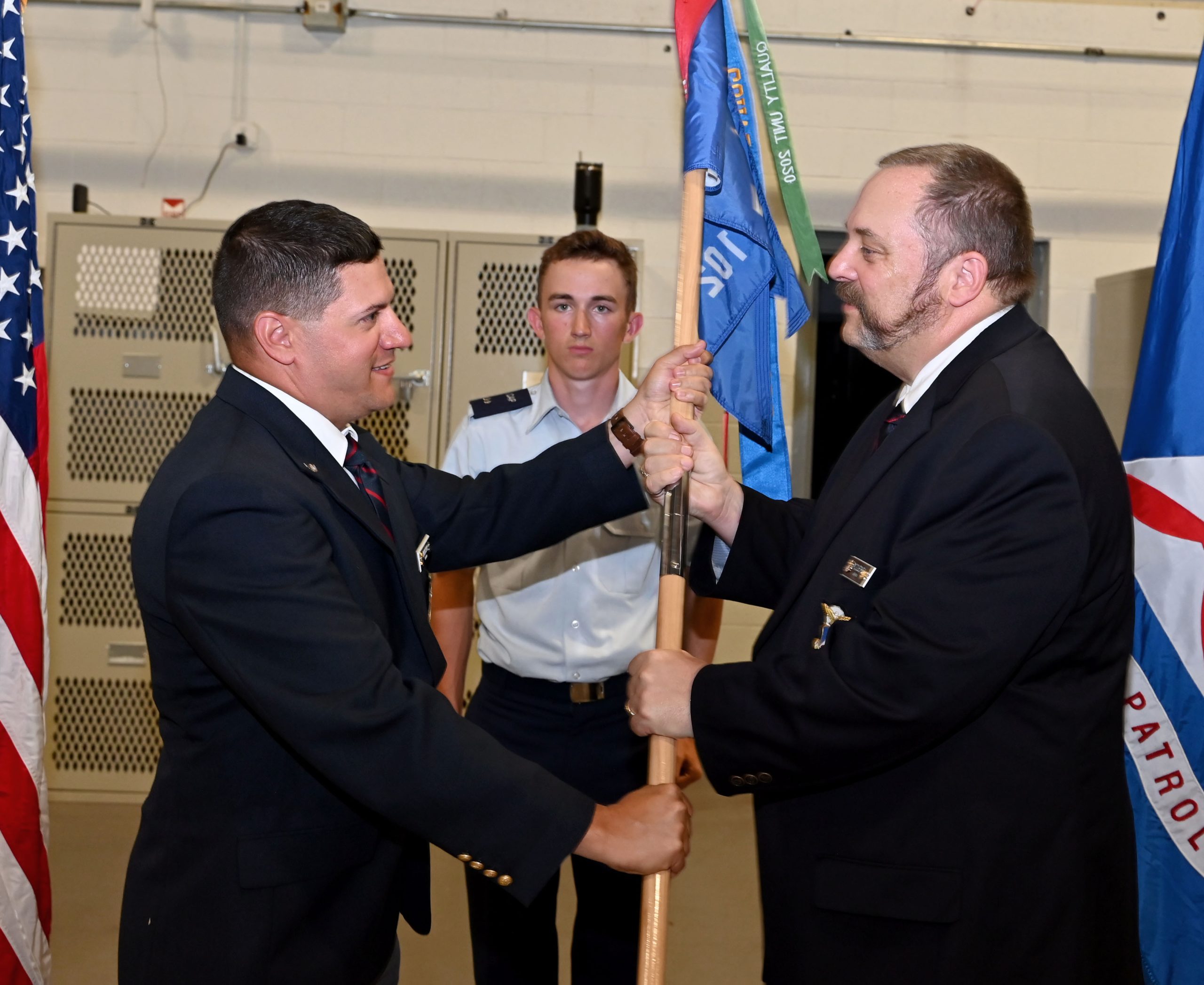 Littlewood, 40, holds multiple CAP emergency services qualifications including planning section chief, ground branch director, ground team leader, and sUAS instructor pilot among many others. He was a 2022 distinguished graduate at the National Emergency Services Academy's Incident Command System School. He has also instructed the Mid-Atlantic Region Search and Rescue Colleges, North Carolina Ranger Training Weekends, National Emergency Services Academy, and Hawk Mountain Ranger School.
As part of the ceremony, Littlewood raffled off the chance for a CAP member to shave off his five-inch beard and mustache. Cadet Airman Temperance Hill won the drawing and quickly did away with the beard. Then Littlewood donned the Air Force blues uniform, surprising the audience with his clean-shaven face.
During his command, McCleskey led the squadron post-pandemic, reinvigorating the membership reduced by 50 percent after the COVID-19 pandemic. McCleskey worked diligently with the Army National Guard Readiness Center's leadership, an action that brought back many members who had stepped away from CAP. His leadership has assisted in seeing a 25 percent increase from the squadron's lowest numbers following the pandemic.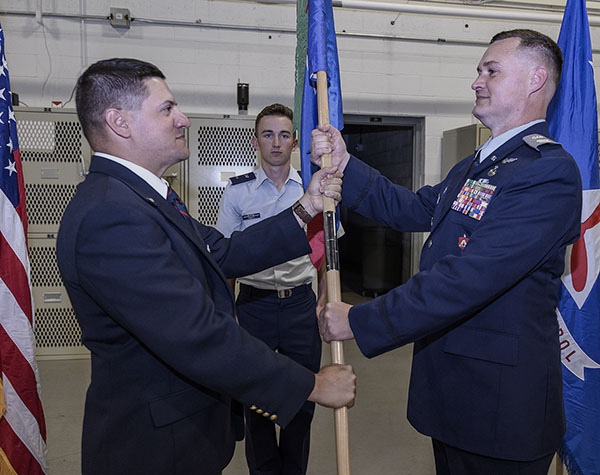 After the ceremony, McCleskey took opportunity to express his appreciation for the squadron's volunteers. He said he was proud of everything they accomplished over the last two years, including being selected as Virginia Wing's 2020 Squadron of Merit (for performance in 2019). They also received consecutive Quality Cadet Unit Awards since 2013, multiple Aerospace Education Excellence awards, and coordinating wing and group-level training in emergency services which qualified many new members in that field, just to name a few.