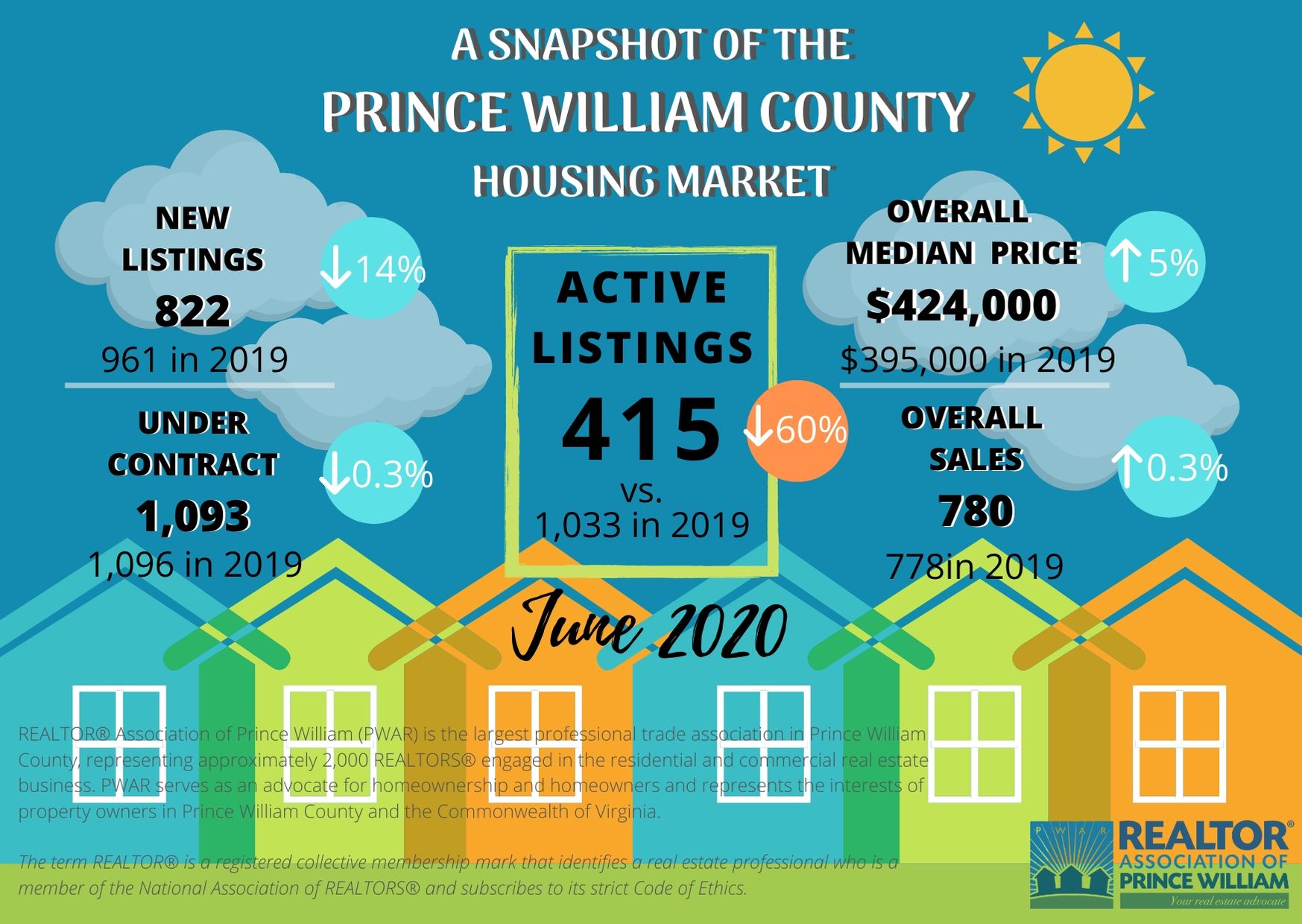 Provided by REALTOR® Association of Prince William (PWAR)
REALTOR® Association of Prince William (PWAR) has gathered Prince William County's most recent market statistics, generated by SmartCharts, an affiliate website of Showing Time. The market statistics are gathered through data provided by Bright MLS, which serves as the multiple listing service for Prince William County.
A total of 780 homes were sold in June 2020, a slight increase of 0.3 percent compared to June 2019 at 778. The number of contracts pending decreased only 0.3 percent year-over-year, from 1,096 to 1,093.  New listings also showed a decrease year-over-year, with 822 new listings, as opposed to 961 in June 2019. There were also noticeably fewer active listings available this year with 415 active listings in June 2020, compared to 1,033 in 2019. The median sold price of homes saw a rise in June, increasing 7.3 percent to $424,000 as compared to $395,000 last year.
To review June's market statistics, visit our website at pwar.com/market-statistics.
REALTOR® Association of Prince William (PWAR) is the largest professional trade association in the Prince William County, representing approximately 2,000 REALTORS® engaged in the residential and commercial real estate business.  PWAR serves as an advocate for home-ownership and homeowners and represents the interests of property owners in Prince William County and the Commonwealth of Virginia.
Note: The term REALTOR® is a registered collective membership mark that identifies a real estate professional who is a member of the National Association of REALTORS® and subscribes to its strict Code of Ethics.