by Patrick King
Northern Virginia is fortunate to enjoy one of the most plentiful food supplies in the world. However, our abundance contributes to an ever-growing pile of wasted food because it simply can't drive itself to where it's needed.
The Prince William Food Rescue (PWFR)
PWFR began as a brainchild of Aaron Tolson in the summer of 2018, started by a Facebook post from a friend volunteering for the 412 Food Rescue in Pittsburgh. 412 provides an app for volunteers to find donations of food that can be quickly driven to a nearby designated drop-off point. Every bit of perfectly good (but "expired") food can be routed to food pantries and away from landfills. What they've created is brilliant.
A few days later, Aaron shared with me how that model can be brought to Northern Virginia. Like many of us, I've had times where I couldn't count on my next meal. I was immediately on board.
First, we needed input from the community and to make sure that a program like this wouldn't interfere with any existing programs. We hosted with a series of information sessions to elected officials, government agencies, churches and nonprofits and the feedback was overwhelmingly positive. At one meeting, Steve Liga of Dumfries-based ACTS offered resources to get it off the ground, becoming a full-time supporting partner. We had buy-in of the community, and it was then time to visit 412 Food Rescue and start putting our plan together.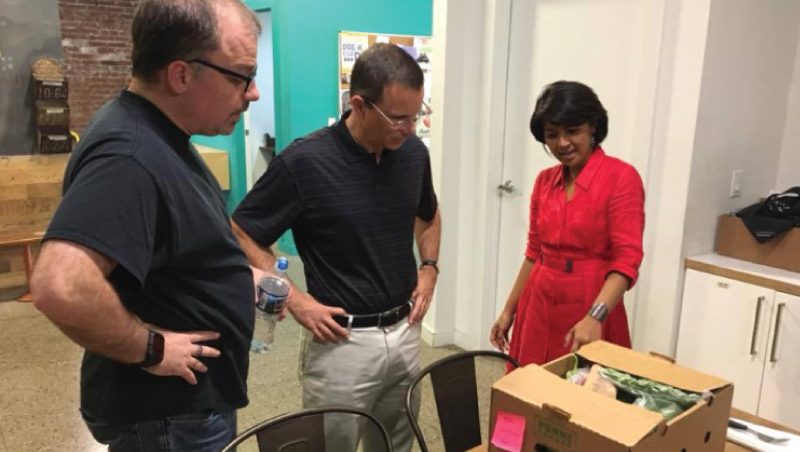 Aaron, Steve and I drove to Pittsburgh in August 2018 and spent the day with their leadership for a behind-the-scenes tour of how their program is managed. Bringing a concept that has thrived in an inner city and adapting it to suburban Virginia would require making our program unique. The following 12 months would be spent getting it off the ground.
My First Food Rescue
Fast forward to July 31, 2019. I met Aaron at Dar Alnoor Community Center to perform a test rescue on the new PWFR system. The run was simple:
claim the pickup on the app,
drive to the neighboring Food Lion and pick up 4 cases of produce,
load it into my car and drive it back to Dar Alnoor,
Log the pickup as complete in the app.
The entire run took me 15 minutes – you can see how the PWFR app works here. The ease and quickness were impressive, but it was something I heard at the Food Lion that made a lasting impression on me.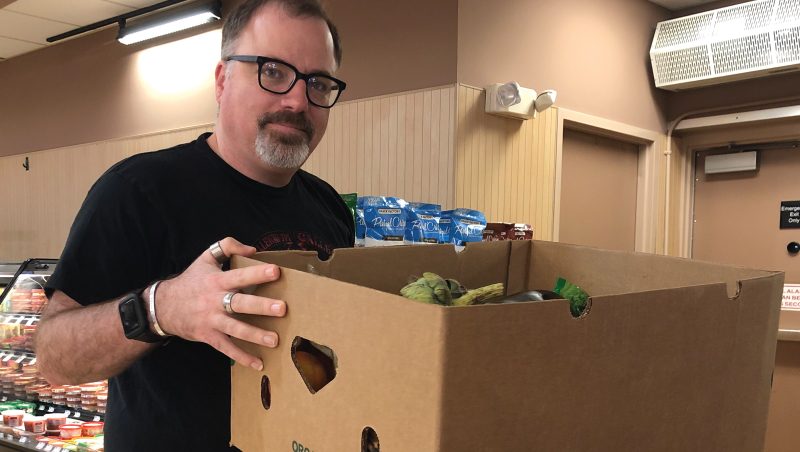 It was said by a deli employee and was so simple, yet so exactly why we were launching the program. She said "I've had to go without food recently – I'm glad you're doing this so that others won't have to".
That comment summed it up. I had been involved for a year on this project, but I hadn't realized how close the food going to waste was to those that need it. Many of us have felt the shame of their children going to bed hungry. It's something you never want anyone else to experience, and shocking that it can happen right next to the food being thrown away.
This program will allow people throughout our community to take on food disparity by giving only a few minutes a week. Together, we can make sure that our neighbors aren't just given a hand up – they're given hope.
I'm truly proud to be a part of this program. With people like Aaron Tolson and Steve Liga, organizations like ACTS and programs like the Prince William Food Rescue in our community, we can do more than "imagine ending hunger". We can put a stop to it for good. The app is now ready for prime time – grab it at https://www.pwfoodrescue.com.
More Help Than I Can Mention
This article may come across as if it was a small group of people that got PWFR off the ground. I want to make clear that wasn't the case. A list of all of the number of community leaders, nonprofit professionals and people close to the project would be staggering. PWFR was launched on August 14th, 2019 because the community came together to make it happen. I'm sure I'm not alone when I say that this experience has been nothing short of awe-inspiring.