By Amy Taylor
If you're looking to adopt a pet in Prince William, the Prince William Humane Society (PWHS) is a great place to start your search. If you adopt from the Adopt Shop in Dumfries, you know that you're getting a pet that is fully up-to-date on vaccines, has been seen by a veterinarian, is micro-chipped as well as spayed or neutered, and has been socialized with various people and other pets at the facility.
PWHS cares for homeless pets with a small staff supplemented by volunteers, who generously give their time to provide the animals with the socialization and exercise they need.
Tips for Finding Your Perfect Pet
Lori Leary, president and founder of the Prince William Humane Society, has some tips for people looking to adopt a cat or dog from the Adopt Shop.
"If you are interested in a dog and have never had a dog before or are renting your home, please do your homework and make sure you know what it takes to care for a pet and that your landlord will accept the pet you adopt," Leary said. "Next, come visit the Adopt Shop and let our friendly adoption counselors assist you in finding the perfect match for you and your lifestyle," she continued. "Whether it's a kitten or an adult cat, a puppy or an adult dog, we want to make sure it's a good fit for both parties, and we strive to ensure each adoption will be a forever relationship."
If you're interested in a pet that you found online, Leary suggests having a meet and greet. See if there is a bond upon meeting the pet. Consider if there are any limitations or concerns you have about that particular pet or pet ownership in general. If you have other dogs at home, you should bring them in to meet your potential pet to make sure everyone gets along. She suggests spending some time with the pet and getting to know him or her to determine if the dog or cat is a good match for your household
before adopting.
The Adoption Process
Leary said, "Prince William Humane Society's philosophy is that the pets are better off in a loving home with people that care for and love them than they are in a facility, and as such, we have implemented a low-barrier system for adopting our pets."
Once you've met your perfect pet and decided to take him or her home with you, you complete an adoption contract and pay the adoption fee. You can bring your new pet home right away. The society also offers a foster-to-adopt option where you can take the pet home for three days after paying $50 of the adoption fee. If all goes well after that three-day period, the society charges the rest of the adoption fee, and the people adopting complete the adoption contract. If they decide not to adopt, they can return the
pet to the society, and the $50 becomes a donation to help care for other homeless pets.
Love Cats and Dogs? Here's How to Help with the Society's Mission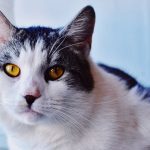 According to Leary, the Prince William Humane Society can always use the public's help in so many ways. Here's how animal lovers can help:
Adopt a homeless pet.
Foster a homeless pet while it awaits adoption or through a medical recovery or adjustment period.
Volunteer your time at the Adopt Shop to work with the pets or at events and fundraisers to promote the organization's mission and the homeless pets in its care.
Donate funds, supplies or assets to help the organization continue to save lives.
Humane Society Programs That Are Helping Pets All Across the County
The Prince William Humane Society helps homeless pets in more ways than just finding them homes through its Adopt Shop. Here are some of the life-saving programs the society has started.
Poor Animals Welfare and Surgical Fund—"One of the first and most successful programs PWHS started was our Poor Animals Welfare and Surgical (PAWS) Fund to ensure that animals brought into the County  Animal Shelter with life-threatening injuries or illnesses would get the medical care they need," Leary said. "Prior to that, the animals would have been euthanized due to lack of funding. Since 2012, PWHS has  saved the lives and limbs of 80-plus pets at a cost of more than $38,000."
Fur-Ever Together Pet Retention Program—"We recently started this program to increase the adoptability of homeless animals, preserve the loving bond between pet owners and pets and prevent pet homelessness. Pet owners typically relinquish their pets due to behavioral and financial issues," Leary said. "But this is a solvable problem, and through a generous grant of $5000 from Maddie's Fund, PWHS will be able to engage a pet behaviorist to assess perceived behavioral issues, offer one-on-one assistance to correct those problems and in so doing keep the pets in their homes. Additionally, the behaviorist will be called upon to assess and work with homeless pets at our Adopt Shop in Dumfries."
Enrichment programs—"Our enrichment programs include our Dogs Day Out Program, where individuals can come foster for a few hours to a few days to get dogs out into the community for
more exposure, exercise and human kindness, and Running with the Big Dogs, where runners and joggers can come get a dog and go for a gentle run. We will do whatever it takes to enrich our pets' lives while they are in our care," Leary said.
Putting Exceptional Pups to Work
When PWHS workers notice pups with a special ability or those that may not be quite right for family life, they go to work on getting those dogs the proper training to be working dogs.
Leary said, "Jasper is one of those special dogs. A homeless and highly exuberant young pit mix, we felt he was not a good fit for a family and needed to be challenged all the time. We contacted Nick White, owner of Off-Leash K-9 Training, for assistance in assessing Jasper's possibilities. He agreed that this special dog
was destined for police work and contacted Carol Skaziak of the Throw Away Dogs Project, who pulls hard-to-place dogs from shelters around the country and trains them for police departments that otherwise wouldn't be able to afford a fully trained law enforcement dog.
"She came from Pennsylvania, evaluated Jasper and took him home that day to begin his training. He was a quick and enthusiastic student, and it wasn't long before he graduated with flying colors. Jasper is now serving the Kennard, Indiana Police Department as its drug dog."
Upcoming Events
If you're thinking about adopting an animal, there are two upcoming events where the society will offer discounted adoption fees:
My Furry Valentine, February 14-17, 2019
St. Pawtricks Day Celebration, March 16-17, 2019
PWHS is also planning a big yard sale in early spring as a fundraiser for its Adopt Shop. For more information, visit pwhumane.org.
Amy Taylor is a contributing writer for Prince William Living magazine.