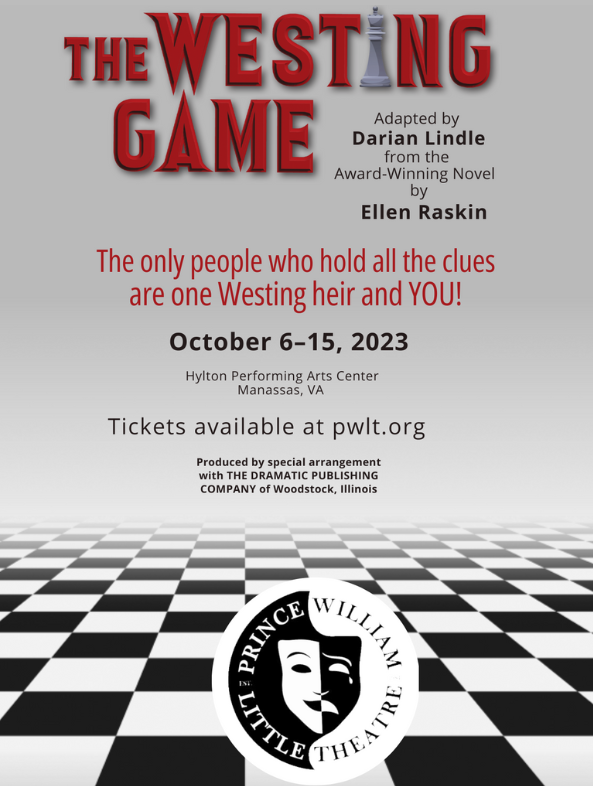 Provided by Prince William Little Theatre
Prince William Little Theatre invites theater enthusiasts and mystery lovers alike to join them for an exciting production of "The Westing Game," produced by special arrangement with THE DRAMATIC PUBLISHING COMPANY of Woodstock, Illinois. Based on the novel by Ellen Raskin and adapted for the stage by Darian Lindle, this captivating play promises an unforgettable experience for audiences of all ages.
In "The Westing Game," the unsuspecting residents of Sunset Towers are gathered for the reading of a mysterious will, only to find themselves embroiled in a thrilling game. Their mission: to uncover the truth behind the death of an eccentric millionaire. As the story unfolds, blizzards, bombings, and unexpected alliances make for an electrifying journey that will keep you on the edge of your seat.
Performance Dates:
October 6, 2023, at 8:00 pm

October 7, 2023, at 8:00 pm

October 8, 2023, at 2:00 pm

October 13, 2023, at 8:00 pm

October 14, 2023, at 2:00 pm

October 14, 2023, at 8:00 pm

October 15, 2023, at 2:00 pm
Performance Location:
Gregory Family Theater, Hylton Performing Arts Center, Manassas
Tickets are now available for purchase, and you're encouraged to secure your seats early to avoid disappointment. Prices are as follows:
$25 for adults

$20 for seniors, students (ID required), and military personnel

$18 per person for groups of eight or more

$15 for youth aged 12 and under
To purchase tickets, please visit the official Hylton Performing Arts Center website. You can also acquire tickets in person at the Hylton Box Office, 10960 George Mason Circle, Manassas, or by phone at 703-993-7759 (Tuesdays to Saturdays, 10:00 a.m. to 6:00 p.m.).
Don't miss this thrilling theatrical experience that promises to engage your mind and captivate your imagination. Be a part of an extraordinary journey into the world of mystery, suspense, and unexpected twists!
For more information about Prince William Little Theatre and its upcoming productions, please visit our website at www.pwlt.org.