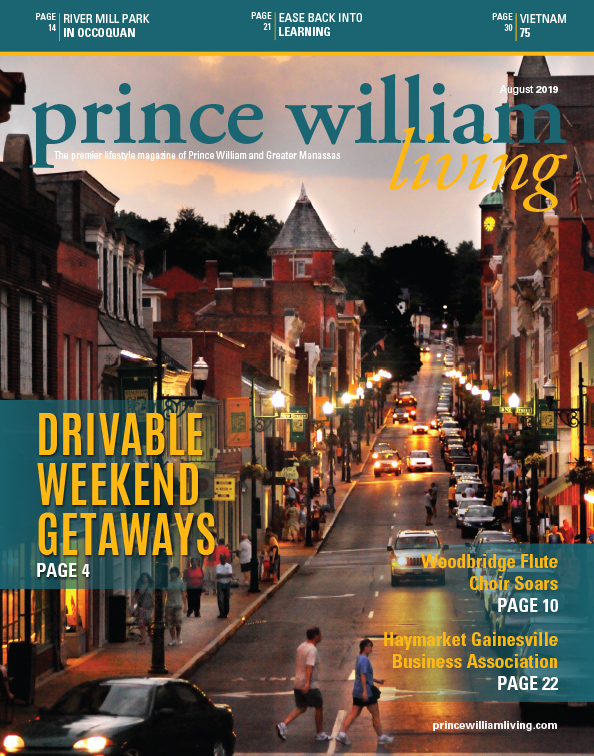 Transitions: Ending the Summer on a High Note
As I wrote that headline, I was a little sad at first because I realized that August marks the end of summer for many people. Kids are prepping to go back to school, vacations have come and gone, and thoughts of heading back to a "normal" schedule are pretty prominent. But while everything has an ending, new things have a beginning, and there's time in between. I think of August as that time in between, a transitional month. You'll see some of that theme as you explore this month's issue of Prince William Living.
First, you'll find that even if you've used your vacation time, there's opportunity to transition from long vacations to short ones with a weekend getaway. Check out our feature article that details some great places to visit, this month and all year round.
Then, learn how history is being preserved in our area, so everyone can understand and enjoy the transitions through time that make our region unique. That's in Giving Back this month.
In Local Flavor, sample a taste of fabulous Vietnamese food right in Woodbridge. This restaurant offers delicious pho and so much more.
And in Lifelong Learning, find out how one mom is ensuring her kids are educated even during their remaining summer downtime, making them better prepared to start school in a few weeks.
Transition of another kind is at the forefront of our finance column. Learn about social security and how work affects benefits. And in Taking Care of Business, discover one of the oldest networking groups in the area and how it helps businesses and non-profits transition from one stage to the next as they grow.
We have all this and more, so keep reading. As always, remember you can have Prince William Living delivered to your mailbox each month for under $2 per issue. It's a great value that will help you keep current with the many resources and places that create the lifestyle we enjoy in this ever-changing area. With so much happening every day, you'll want to make sure you are taking advantage of all Prince William has to offer.
Enjoy your August, enjoy the transition, and enjoy this issue.
All the best,
Rebecca