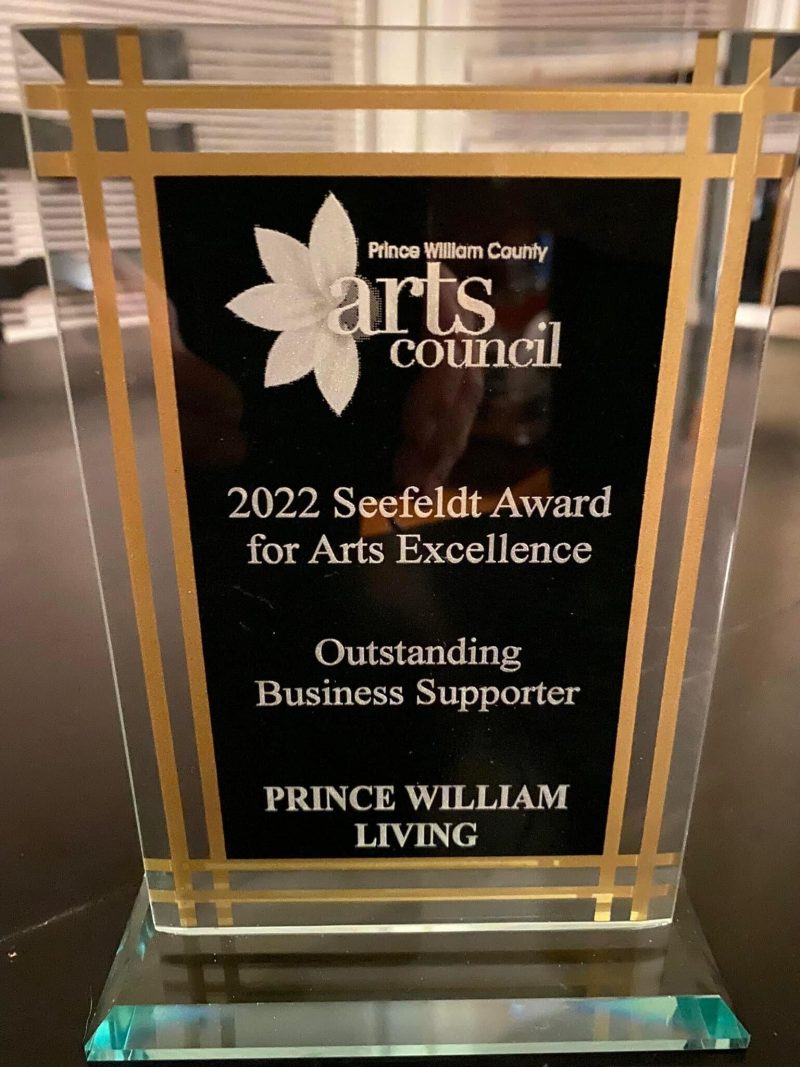 Prince William Living is pleased to announce it has been honored with a Seefeldt Award for Arts Excellence in the category of Outstanding Business Supporter of the Arts. This award is given to a business that provides significant support of the arts in Prince William County, Manassas, and Manassas Park.
Prince William Living magazine features artists and arts groups in our print column, On a High Note, at no cost to the artists or organizations. These are written by professional writers and include high-quality images. Prince William Living the monthly print magazine is then distributed to homes and businesses in Prince William County, Manassas, and Manassas Park. These articles are also published online at www.princewilliamliving.com and shared through multiple social media profiles, generating 75,000 views per month. In addition, Prince William Living publishes, at no cost to local artists and arts organizations, press releases and calendar events. Many of these are included in email blasts that reach audiences exceeding 50,000 residents. In 2021, Prince William Living featured more than 65 artists and 18 arts organizations. Last year alone, Prince William Living provided more than $43,000 in free visibility and giveaways for creatives, galleries, clubs, venues, schools, and more, all local.
Publisher of Prince William Living, Rebecca Barnes, is passionate about the arts and has been promoting them since she launched the lifestyle magazine back in 2011. "The arts are near and dear to my heart and always have been. They are not just tools for self-expression and personal transformation, though those are important facets of the arts," Barnes said. "The arts inspire creativity, express emotions, and assist in growth and communications. The arts are an asset to the community that I love and call my own."
While she does not get paid for her work as publisher, through the magazine, Barnes gives hundreds of thousands of dollars in no-cost support, all while encouraging whole communities to celebrate the arts. And besides publishing articles on the arts and artists, she offers opportunities for writers and graphic designers to develop through mentorships and internships. Last year, Barnes took 5 interns under her wing, working more than 40 hours with them and offering a variety of resources for learning new and strengthening existing skills.
Several of Prince William Living's online columns are written by aspiring authors. Barnes gives these writers a forum and an audience and inspires them to keep writing. When they do publish, she features their books. By offering tools, education, and encouragement, she helps grow new writers and keeps the literary arts alive. "Working with literary and visual artists is one way I can give back to the community that has given me so much. I'm always pleased when I can help get someone to the next level, and I'll do what I can to make that happen."
The Kathleen K. Seefeldt Award for Arts Excellence was established over 15 years ago by the Prince William County Arts Council to recognize and celebrate the artists, arts organizations, volunteers, educators and businesses that build upon and sustain Seefeldt's legacy of public service and support for the cultural arts. This year, the formal awards ceremony was held on Thursday, May 12, 2022, at the Hylton Performing Arts Center in Manassas. The judging panel consisted of previous award winners and local community leaders. Other awards categories included Outstanding Arts Educator, Outstanding Individual Artist, Outstanding Arts Organization, Outstanding Patron, and Outstanding Volunteer. The full program was live-streamed and recorded.
"I'm just so excited that Prince William Living and our team who make it possible were recognized in this important way," said Barnes. "Congratulations to everyone at our magazine and to all those who were nominated for awards. Our whole community wins when we support the arts."