Provided by Prince William County Schools (PWCS)
Mask guidance for the start of the 2021-22 school year

PWCS' commitment is to the safety of all students, teachers, employees, and families. And PWCS is committed to limiting disruptions to student learning caused by quarantines or illnesses, as well as ensuring there is the staffing necessary to avoid shuttering classrooms or schools.
The Centers for Disease Control and Prevention (CDC) is recommending universal indoor masking for all teachers, staff, students, and visitors to schools, regardless of vaccination status. The Virginia Department of Health (VDH) is supporting universal masking for students. Additionally, Virginia law (SB1303) requires in-person instruction be available to all students, and to the maximum extent practicable, schools follow mitigation strategies that have been provided by the CDC.
Universal indoor masking will be required in all PWCS schools at the start of the 2021-22 school year for all teachers, staff, students, and visitors to schools, regardless of vaccination status with some exceptions. Additional exceptions may include medical conditions or students whose disability may prevent masking. Through masking, our schools will be:
Maintaining a layer of mitigation for staff and students when physical distancing is not possible.
Significantly reducing potential disruption to the educational environment caused by student quarantines.
Providing time for vaccines to become available at all ages and for more students to receive vaccinations.
Reducing potential impacts to staffing due to employee illness or quarantine.
PWCS shares 2021-22 Back-to-School Plan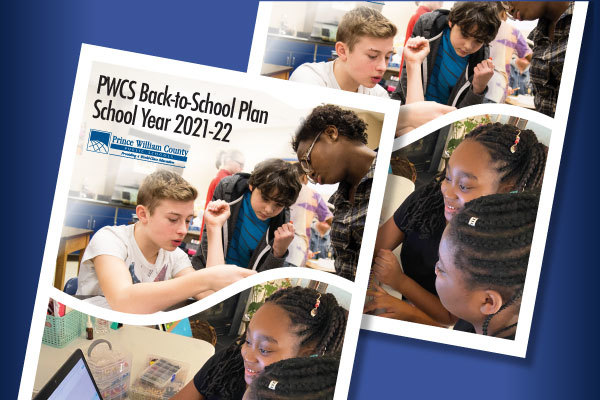 Prince William County Public Schools is looking forward to the upcoming school year with 97% of students returning in-person to the classroom. View the PWCS Back-to-School Plans for both in-person and virtual learning.
PWCS releases ARPA summary plan to address unfinished learning efforts

The American Rescue Plan Act of 2021 (ARPA) provides additional funding to school systems to support unfinished learning efforts. Prince William County Public Schools (PWCS) is eligible for approximately $88 million in ARPA funding with an additional $4.8 million in Title 6B ARPA funding. Within 90 days of receiving ESSER III formula funds, each school division must make publicly available on its website a plan for its use of funds.
The PWCS plan for recovery, acceleration, and re-engagement provides comprehensive academic, social-emotional, and mental health support in schools. This legislation requires PWCS to use at least 20% of formula funds from ARPA to address learning loss/unfinished learning. The PWCS plan utilizes approximately 78% of the PWCS formula funds to address learning loss/unfinished learning, or nearly $72 million of the total amount available to PWCS.
School Meals

Breakfast and lunch will be offered at no cost to ALL students throughout the 2021-22 school year.
Applications for free and reduced-priced meals, which impact other services families may need, will be available on the School Food and Nutrition Services website when available from the USDA.