Provided by BOCS Chair Ann Wheeler's Office
Prince William Public Libraries' (PWPL) creative marketing efforts have earned several prestigious awards. Additionally, it was the only public library to receive a Platinum and Gold Hermes Creative Awards for in-house created marketing products from the Association of Marketing and Communication Professionals (AMCP), one of the world's largest and oldest third-party evaluators of creative work. In total, AMCP recognized PWPL with four Hermes Creative Awards, which evaluates the creative industry's best publications, branding collateral, websites, videos, advertising, marketing, and communication programs.
The PWPL's Hermes Creative Awards
There's More
AMCP also awarded PWPL two Gold VIDDY Awards for the libraries' "RELIC: Your Genealogy and Local History Questions Answered" and "1,000 Books Before Kindergarten at PWPL" videos. VIDDY Awards, one of the largest competitions in the history of film and video, honors excellence in all aspects of video production.
Wait – There's Even More
The American Library Association, which recognizes the best public relations materials produced by libraries nationwide, awarded a PR Xchange Gold Award in the Category "Born Digital – Materials Promoting Collections, Services, Resources" for the libraries' "MAGIC Minute" video series. A team of experts in public relations, graphic design, communications, and marketing evaluated the video series on content, originality, and design.
MAGIC
MAGIC, the Management and Government Information Center, is a special collection and information service located at Chinn Park Library that focuses on local and state government information and publications. Its specialized staff and resources assist members of the community, including local government agencies and area businesses and nonprofits, to start or grow a business, retrieve industry information, seek grant funding, and access laws and regulations.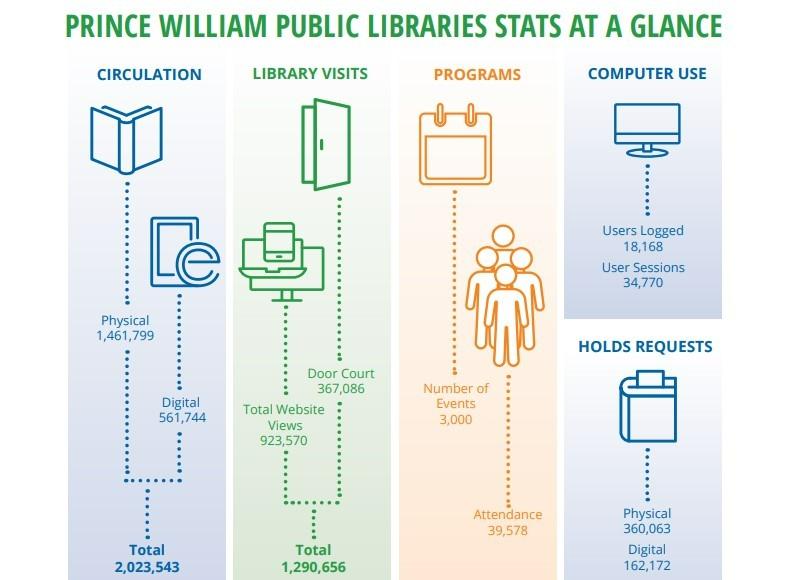 Source: Prince William Public Libraries Annual Report FY2021
"I am proud of our marketing team. Without the help of external marketing firms, PWPL produces effective marketing strategies that are key in serving our communities. We constantly improve our buildings, enhance our services, adapt to changing environments, and respond to community needs. But unless we market these achievements and ensure our community is aware of them, their reach only goes so far."
Deborah Wright, Director PWC Public Libraries